2022: A Year of Impact

The past year has been a monumental one for the Rollins School of Public Health with the opening of a spectacular third building; a transformative $100 million gift; leadership changes; major grants, awards, and discoveries; and outstanding faculty, staff, and students contributing to the school's mission at a local, national, and international level. With 2023 quickly approaching and a new strategic planning process currently underway, it's an opportune time to pause and reflect on the school's accomplishments and noteworthy headlines from the past year, before welcoming a new year of discovery, innovation, and collaboration. Here, we share a handful of major highlights over the past year.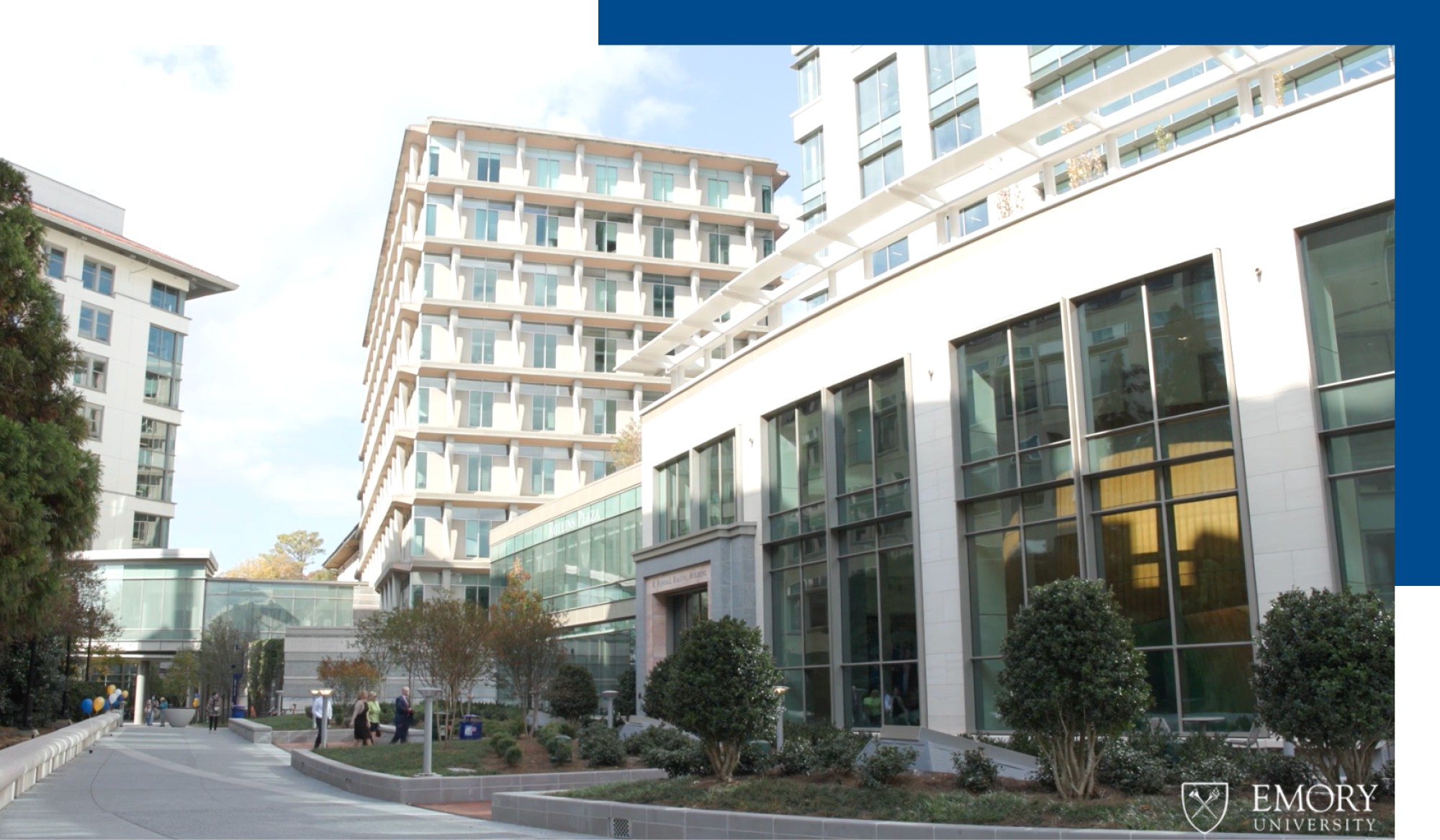 Rollins Expands with the R. Randall Rollins Building
The R. Randall Rollins Building joins sister structures, the Grace Crum Rollins and Claudia Nance Rollins buildings, to compose the substantial physical footprint of the Rollins School of Public Health, which now encompasses 500,000 square feet.
This new facility, like those before it, will serve to foster the unique sense of community and purpose shared by the students, faculty and staff of Rollins as they continue to work toward the school's shared mission of improving the world's most pressing public health issues through learning, collaboration, and research.
Spanning a whopping 185,000-square-feet, the 10-floor LEED Gold Certified- R. Randall Rollins Building is radiant with natural light, thanks to illustrious usage of glass. Work spaces are conducive to a variety of working styles, with open-floor office spaces, collaborative meeting rooms, and private offices that will be occupied by a variety of the school's service units and academic departments.
The building brings 10 new classrooms to the school — located on the lower level, and floors one, two, and three — that range in capacity from 24 to 120, as well as multiple areas for studying, training, and congregating. Dancing Goats coffee shop and adjacent lounge has made a home on the first floor, next to the bridge, and an expansive reading room and outdoor terrace on the second floor invite opportunities for quiet study and meaningful connection.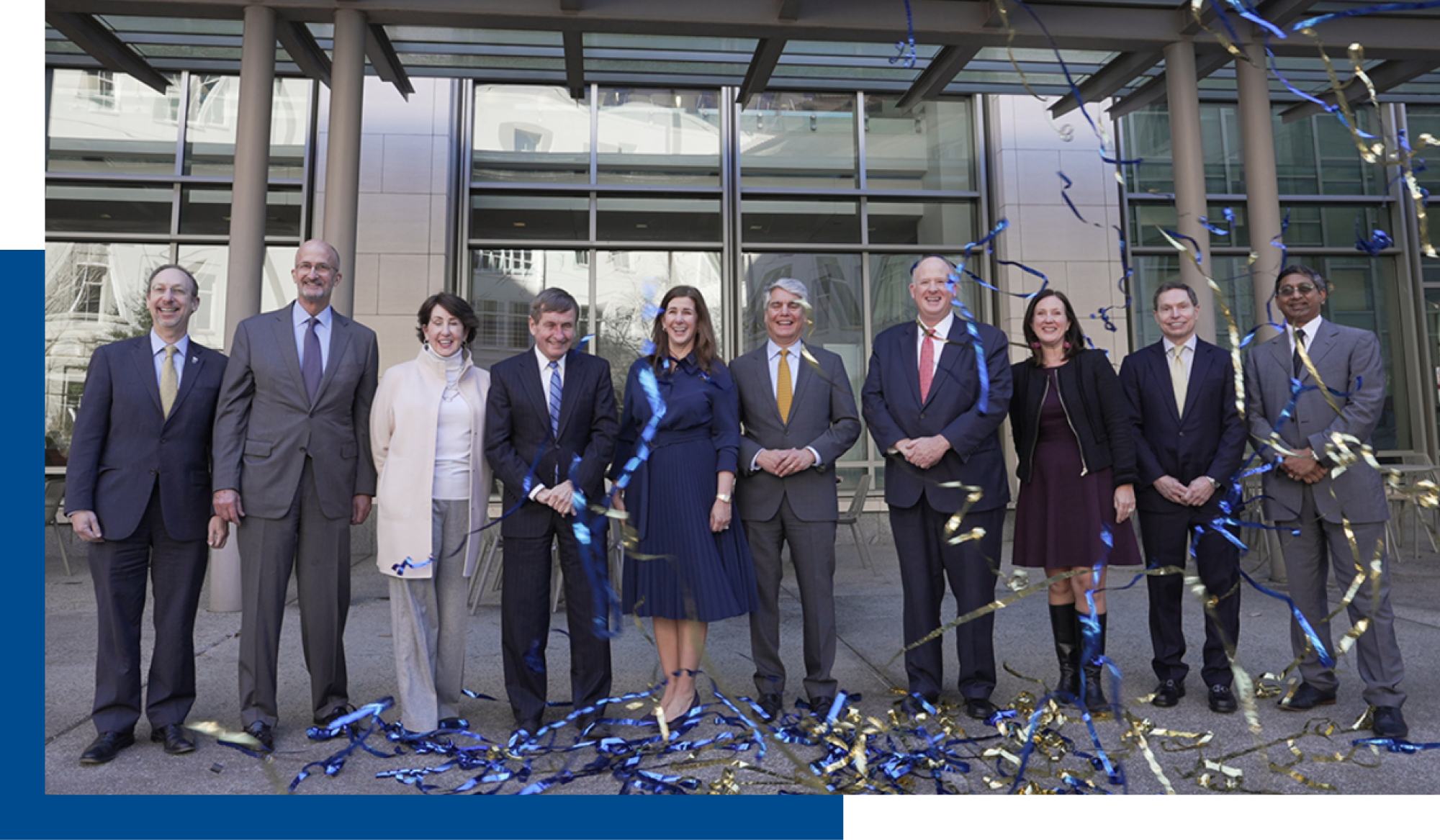 Rollins Receives $100 Million from Rollins Foundation
The O. Wayne Rollins Foundation has committed $100 million to Emory University's Rollins School of Public Health. The transformative gift, which is the largest in the school's history, will establish two endowed funds: the Rollins Fund for Faculty Excellence and the Rollins Fund for Student Success.
The Rollins Fund for Faculty Excellence will focus on recruiting and retaining distinguished senior faculty leaders dedicated to addressing the world's most pressing public health challenges and provide early career support for gifted junior faculty members.
The gift will allow the Rollins School of Public Health to deepen the bench of exceptional faculty members in key areas where the school is recognized as a national leader, from cancer research and infectious diseases to global safe water, sanitation and hygiene, mental health and substance use disorders, and more. Additionally, in selecting recipients, Rollins will expand the faculty in departments where the school has a significant opportunity to gain national prominence.
The Rollins Fund for Student Success will expand the school's ability to provide financial support and valuable career-enhancing experiences to the nation's most promising students through the Rollins Earn and Learn work-study and global field experience funds. The fund will also allow the school to support increased student interest in public health spurred by the global pandemic.
New Leadership Join Rollins
July 1 marked the start date for two new leadership members for the Rollins School of Public Health: M. Daniele Fallin, as the new James W. Curran Dean of Public Health, and Don Operario, Grace Crum Rollins Professor and Chair of the Department of Behavioral, Social, and Health Education Sciences.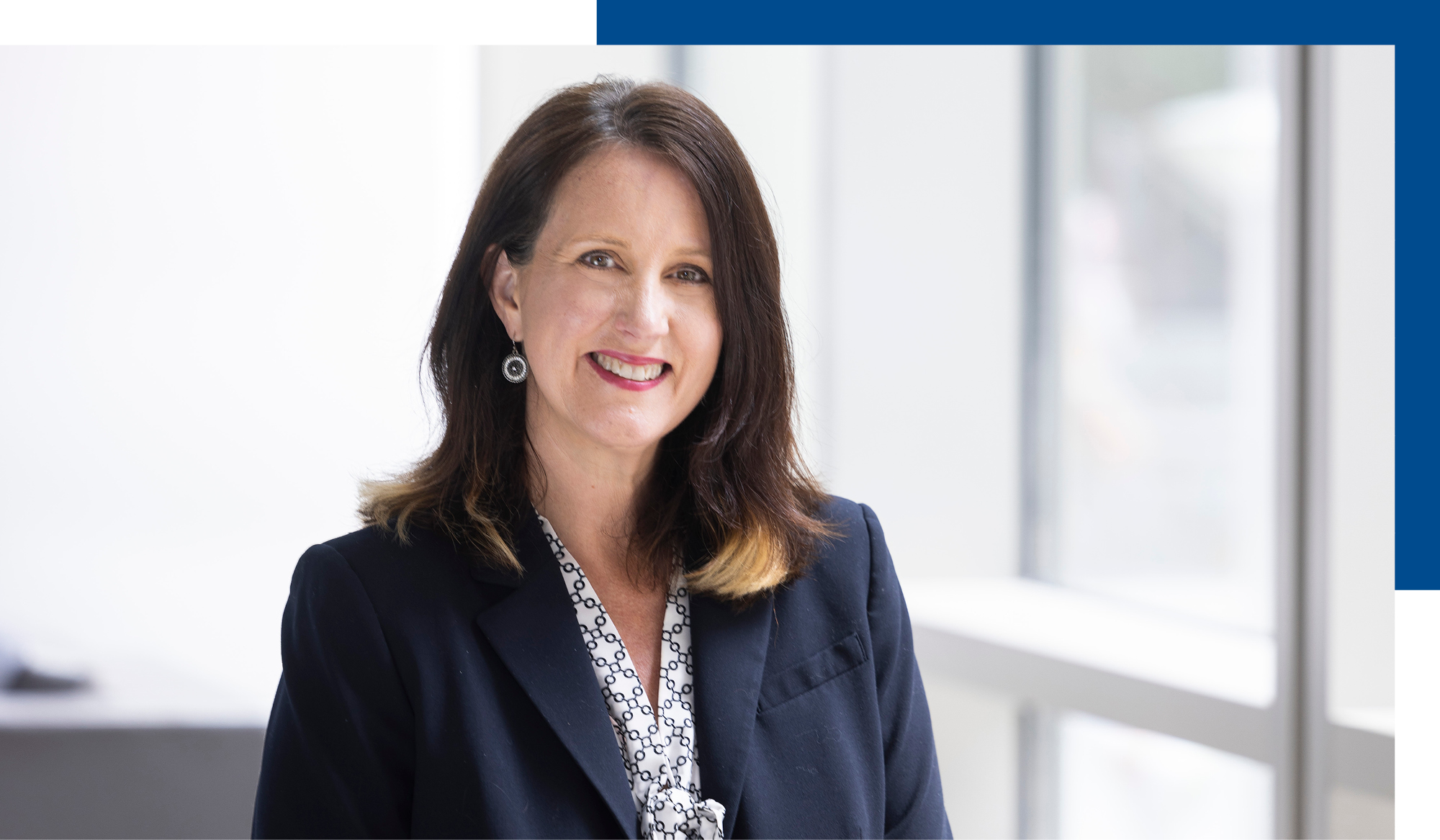 About Dean Fallin
With more than 250 scientific publications that have been cited more than 22,000 times, Fallin's globally-recognized research focuses on applying genetic epidemiology methods to studies of neuropsychiatric disorders including autism, Alzheimer's disease, schizophrenia, and bipolar disorder and to developing applications and methods for genetic and epigenetic epidemiology, as applied to mental health and development.  
Fallin has led multiple CDC- and NIH-funded projects regarding how environments, behaviors, genetic variation, and epigenetic variation contribute to risk for psychiatric disease, particularly autism. She currently leads the B'more Healthy Brain and Child Development (HBCD) study, one of 25 sites of the NIH's newly initiated HBCD study, where she also serves as an associate director of the administrative core to guide epidemiologic design.
Watch a welcome video from Dean Fallin. 
Listen to an interview with Dean Fallin on the HealthBeat podcast, created by the Emory Student Chapter of the Georgia Association of Healthcare Executives.
Read more about Dean Fallin in Rollins magazine.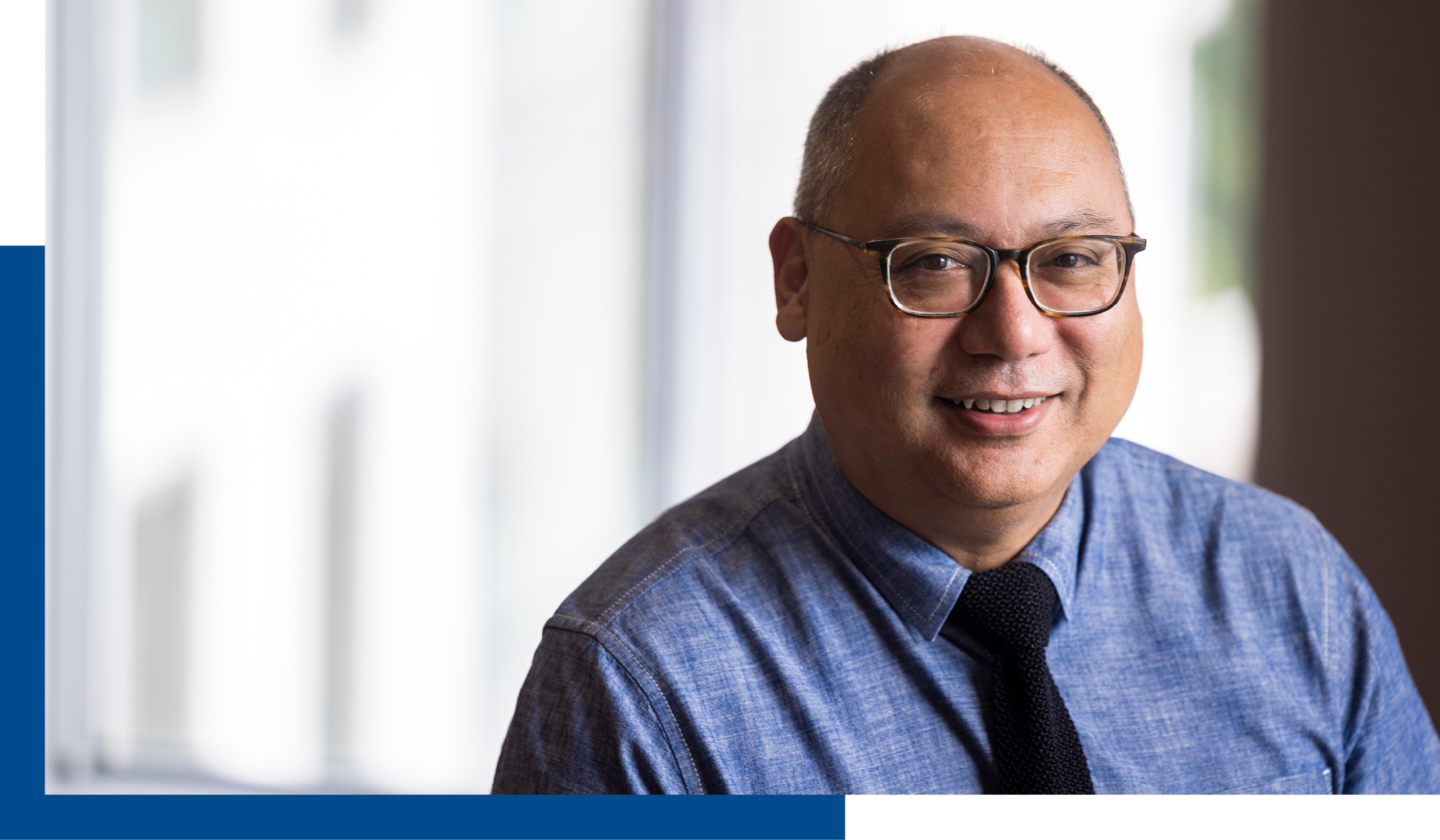 About Dr. Operario
Operario's research addresses two interrelated areas. The first general area concerns the social psychological determinants of HIV, mental health, and related health issues (substance use, structural violence, access to services) in historically marginalized communities, with an emphasis on developing and evaluating theory-based social and behavioral interventions that are relevant for delivery in complex communities. A second research area focuses on the lived experiences associated with social inequality, with an emphasis on understanding the perspectives of intersectional identities and addressing health and psychosocial disparities.
His NIH-funded projects examine these public health issues among racial and ethnic minority populations as well as sexual and gender minority populations in the United States, the Philippines, China, South Korea, Kenya, and South Africa.
Operario has published more than 250 scientific articles, is on the editorial advisory board of Culture, Health & Sexuality; is a consulting editor of Psychology of Addictive Behaviors; is academic editor of PLoS One; and is on the editorial board of both AIDS Education and Prevention and International Journal of Transgender Health.
Read more about Dr. Operario in Rollins magazine. 
---
Examples of Research Collaboration and Excellence
Over the course of the past year, Rollins researchers have been prolific in their contributions to academic literature, discovery, and innovation. Major contributions include:
The Rollins-designed public health intervention, M-Cubed (Mobile Messaging for Men) was added to the Centers for Disease Control and Prevention's Compendium of Evidence-Based Interventions and Best Practices for HIV Prevention in both the Risk Reduction and PrEP.
In fall 2022, a university-level Climate Change Task Force was approved that will coordinate climate-related research, education, and outreach activities across Emory's different entities, including the Rollins School of Public Health.
---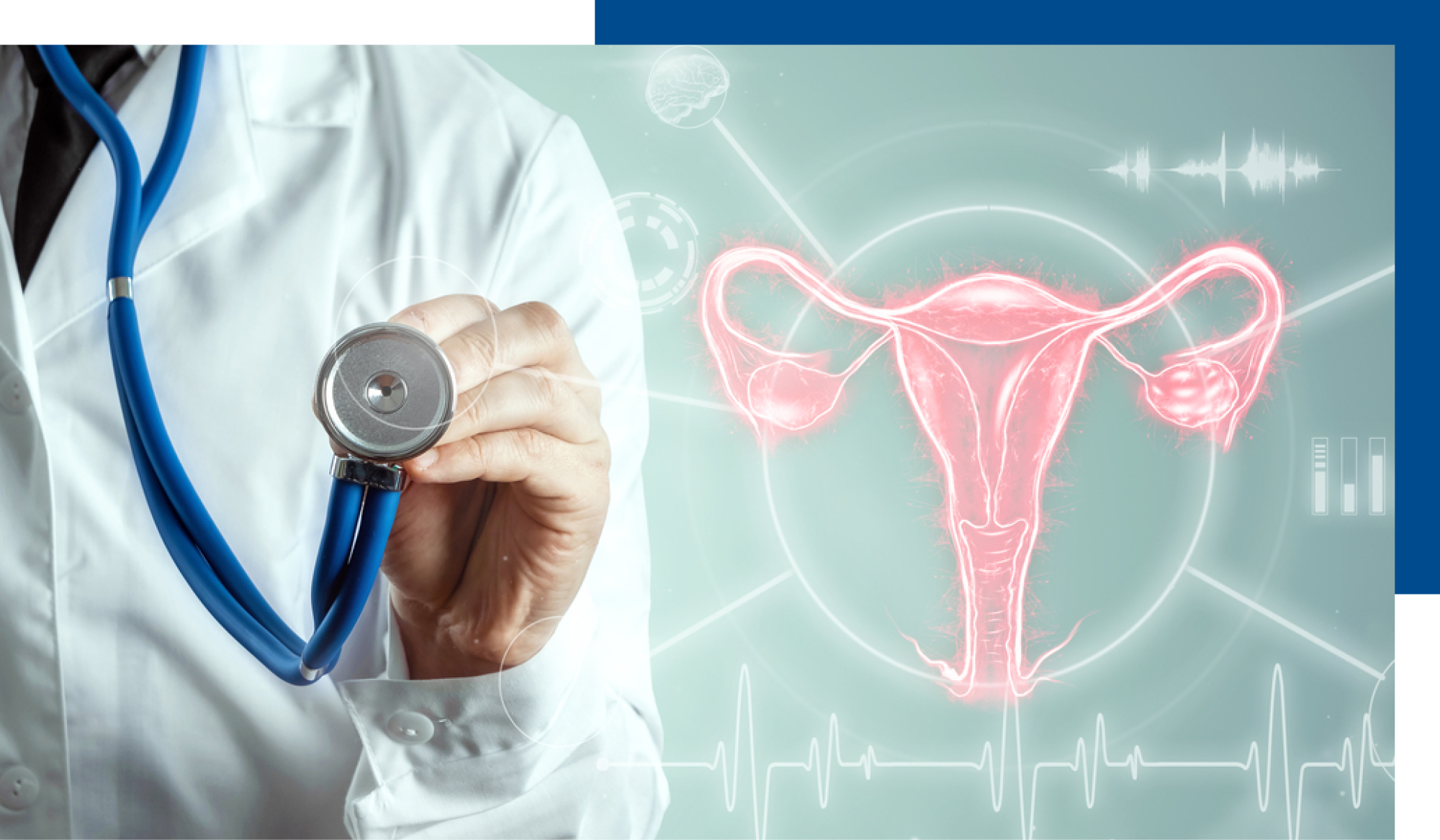 Thought Leadership, Research, and Training in Reproductive Health
Dedicated focus toward improving women's health—particularly as it relates to maternal mortality and impacts of reproductive choice on health—has long served as a vital component of the research portfolio at the Rollins School of Public Health. Many of the res­­earchers working in these spaces have devoted their lives to improving the lives of women and, following recent legal decisions, this focus is more important now than ever.
On July 20, a federal appeals court reversed the injunction on Georgia HB481, a law that bans abortion in most cases after the detection of fetal cardiac activity, which is typically about six weeks into a pregnancy. While this change will impact women across racial and socioeconomic groups, past research has shown that this ban will disproportionately impact women of color and lower-income households. The anticipated negative public health and socioeconomic implications of these recent decisions are far-reaching and may include increases in maternal mortality rates, depression and anxiety, intimate partner violence, poverty rates, and rates of unsafe abortions.
These recent changes have diminished the rights for many women in the U.S. to legally obtain access to safe abortions. This urgent reality has accelerated the research and educational offerings at Rollins surrounding reproductive health. A sampling of these activities is highlighted here.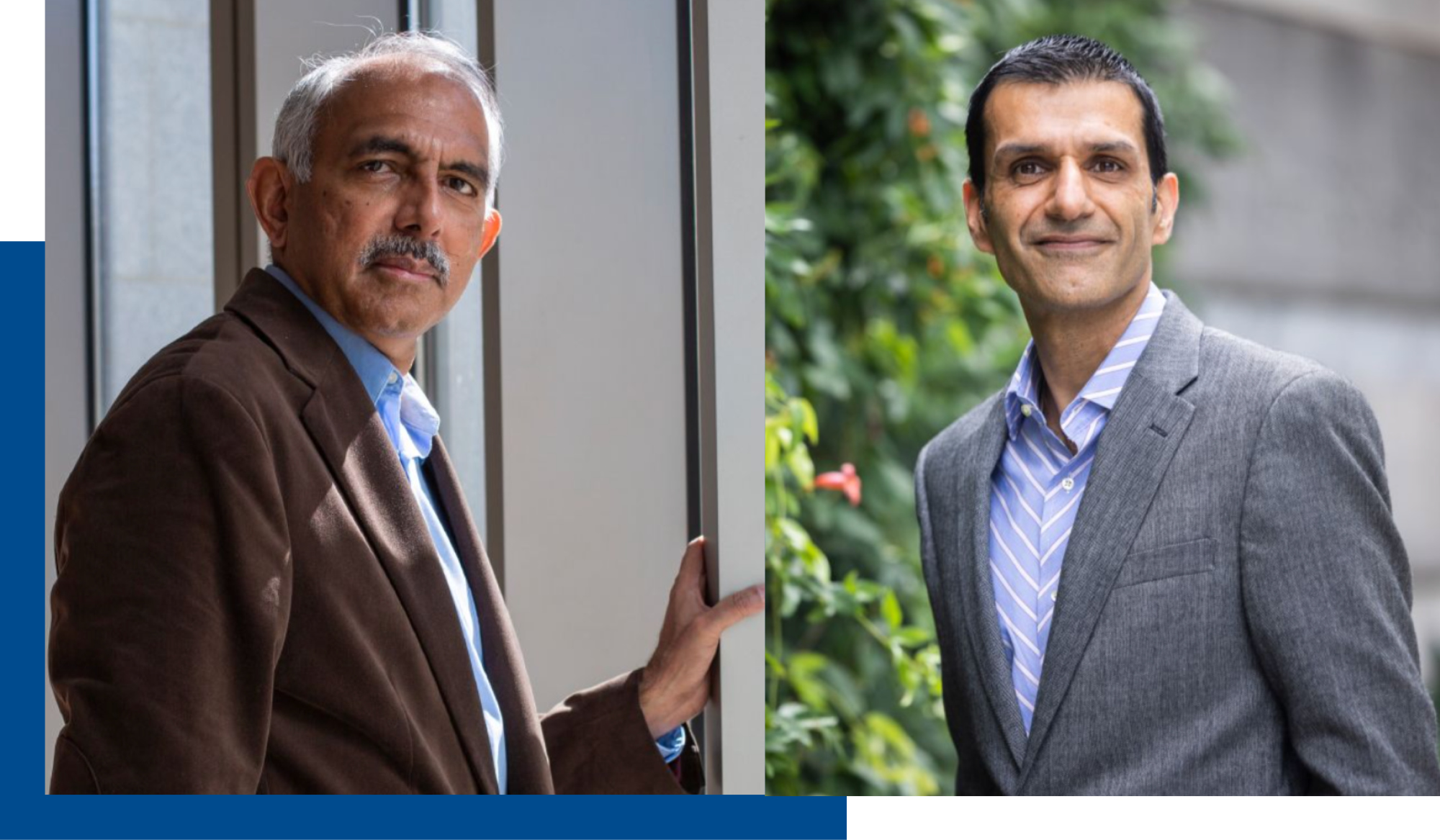 Emory Explores a Global Approach to Researching Diabetes
The outlook for diabetes is getting both better and worse at the same time. Treatment and prevention of the disease is better than it has ever been. As a result, the death rate from diabetes has declined in developed countries in North America and Europe. 
But simultaneously, medical expenditures associated with the disease have risen.
Diabetes is notorious for causing health complications throughout the body, from vision and kidney failure to stroke, heart disease, and amputations. With so many debilitating consequences, it's no surprise that the Centers for Medicare and Medicaid Services says diabetes is the single biggest contributor to its rising costs.
The ominous news is that the diabetes pandemic will almost certainly get worse before it gets better. Projections show the disease afflicting a rising percentage of the global population for the foreseeable future.
The Emory Global Diabetes Research Center has grown with the problem, expanding from one researcher in 2008 to more than 150 faculty and staff members in 2022, spread across schools and departments at Emory, as well as at partnerships institutions Georgia Tech and the Morehouse School of Medicine in Atlanta. During that time, the center also has forged partnerships with eight major research universities and institutions total. And it now holds investigative partnerships in 21 countries on six continents, with an emphasis on research in South Asia and Africa.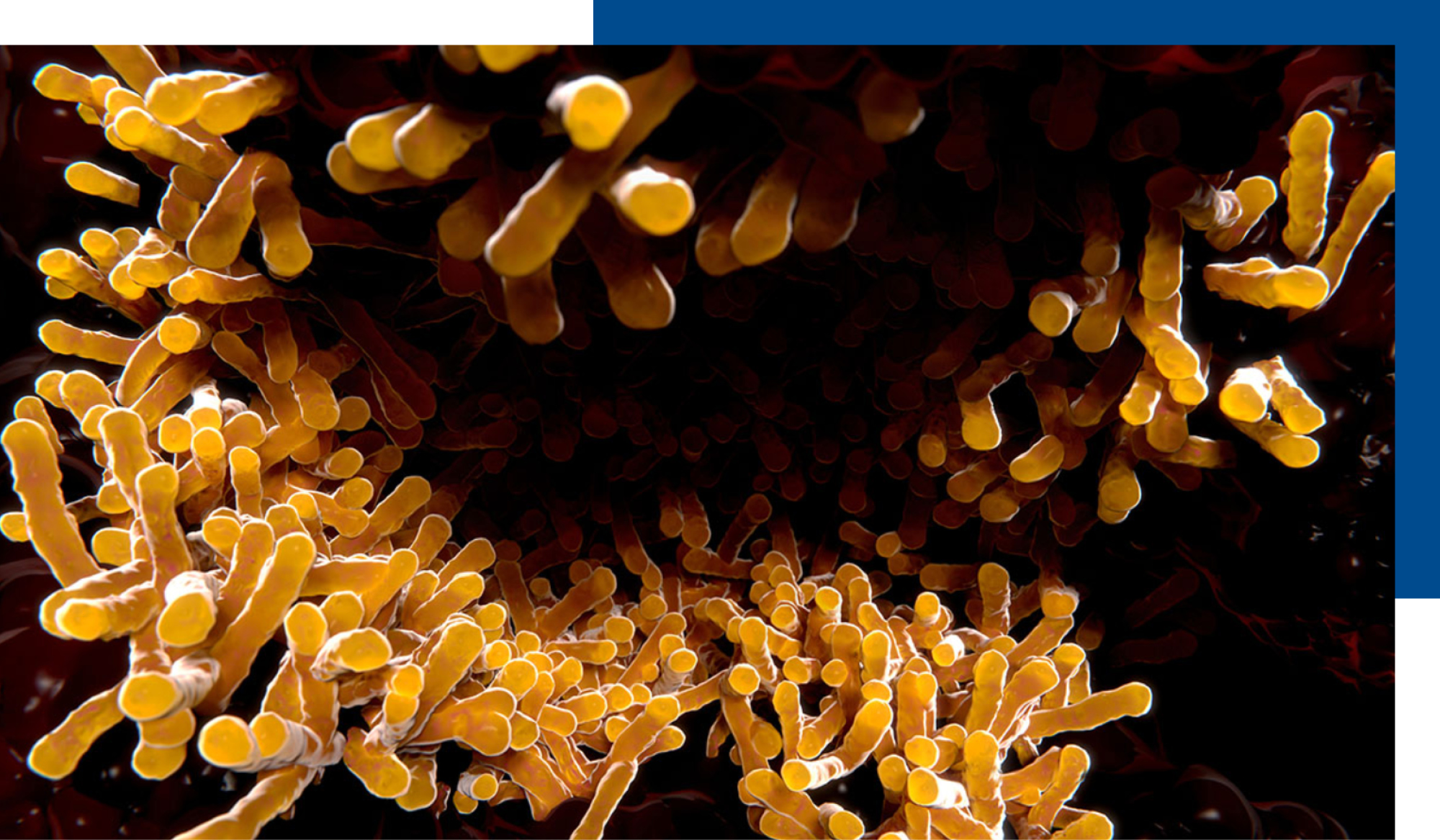 New Emory TB Research Center to Help Draw Attention to an Old but Still Deadly Disease
A century ago, tuberculosis was the equivalent of COVID-19 today: a respiratory disease that was everywhere, killing men and women across all strata of society. Once the world discovered an effective antibiotic treatment for TB, it became mostly relegated to the margins. And yet, until the arrival of SARS-CoV-2, more people died of TB every year than any infectious disease, especially in poorer countries.
Now, a new grant from the National Institute of Allergy and Infectious Diseases will support scientists at Emory and three other institutions in the U.S. to further research into an airborne bacterial disease that killed approximately 1.5 million individuals and was responsible for an estimated 10 million new cases in 2020.
The goal of the  Emory/Georgia Tuberculosis Research Advancement Center  (Emory/Georgia-TRAC) will be to catalyze and expand collaborative multidisciplinary TB research in the U.S. and internationally; capitalize on the strengths of the Emory/Georgia TRAC universities to grow and diversify TB research in new directions; and identify, train and mentor the next generation of TB researchers and scientific leaders. 
Principal investigators Neel Gandhi, MD, professor of epidemiology at the Rollins School of Public Health, and Jyothi Rengarajan, PhD, professor of medicine at Emory Vaccine Center and the School of Medicine, say the initiative will harness Emory's deep infectious diseases expertise as well as tap into the complementary strengths of other institutions in the state.
---
Funding Highlights
An Emory University-led collaborative project was awarded $8.3 million for the first of a five-year CDC award to implement Together TakeMeHome, a national HIV at-home, self-testing program designed to increase awareness and diagnoses of HIV infections in the U.S.
Yun Hang, a post-doctoral fellow in the Gangarosa Department of Environmental Health, was recently awarded a one-year grant by NASA's Applied Sciences program  to assess the feasibility of using NASA Earth Observations to support science education and decision-making in Metro Atlanta's environmental justice communities. Hang was the only post-doc to have received the grant as a principal investigator — a rare occurrence for NASA grants.
Household Air Prevention Intervention Network (HAPIN) researchers recently received a  4-year $6.8M R01  from the National Institute for Environmental Health Sciences to continue following HAPIN children for growth and neurocognitive development outcomes until their fifth birthday.
Additional recent major research funding includes: The Center for cArdiometabolic Risk Reduction in South Asia (studying rates of cardiovascular disease, diabetes, and related illnesses in South Asia); the HERCULES Exposome Research Center (recently renewed for five more years); and the Southern Liver Health Cohort (studying liver health and liver cancer in the South, with a focus on Black Americans).
---
Major Appointments and Points of Pride  
The National Academy of Medicine (NAM) has elected Camara Phyllis Jones, MD, PhD, MPH, to its elite 2022 class. Jones is a family physician, epidemiologist and past president of the American Public Health Association whose work focuses on naming, measuring and addressing the impacts of racism on the health and well-being of our nation and the world. She is an adjunct professor in the Department of Behavioral, Social and Health Education Sciences and the Department of Epidemiology at the Rollins School of Public Health of Emory University. She also is a senior fellow and adjunct associate professor at the Morehouse School of Medicine. In addition to her election this fall to the NAM, Jones also was elected to the 2022 American Academy of Arts and Sciences class this spring. 
The Infectious Diseases Society of America (IDSA), the nation's leading infectious diseases professional organization, has selected Carlos del Rio, MD, FIDSA, as its new president beginning October 24. Described by IDSA as being "deeply committed to resident and fellow education, diversity, equity and inclusion," del Rio will work with the board of directors, alongside other newly elected representatives, to advance the society's strategic priorities focused on promoting excellence in patient care, education, research, public health and prevention relating to infectious diseases. IDSA is made up of more than 12,000 practicing physicians, academic scientists and researchers, infectious disease specialists and hospital epidemiologists.
Kayoko Shioda, a post-doctoral fellow/epidemiologist at Rollins, was recently featured in a short documentary about women's empowerment produced by the Japanese Cabinet Office in collaboration with CNN Japan to represent Women in STEM. Shioda was also recognized earlier this year as the Marie Skodowska Curie Award Recipient for Research Excellence.
Kathryn Yount was appointed to serve on the National Academies of Sciences, Engineering, and Medicine, Division of Behavioral and Social Sciences and Education, Committee on Population panel on Women's Empowerment, Population Dynamics, and Socioeconomic Change. Her appointment began November 2022 and will run through September 2023. In addition, Yount was the winner of the 2021-2022 Marion V. Creekmore Award for Internationalization.
---