Kathryn Yount Wins 2021-2022 Marion V. Creekmore Award for Internationalization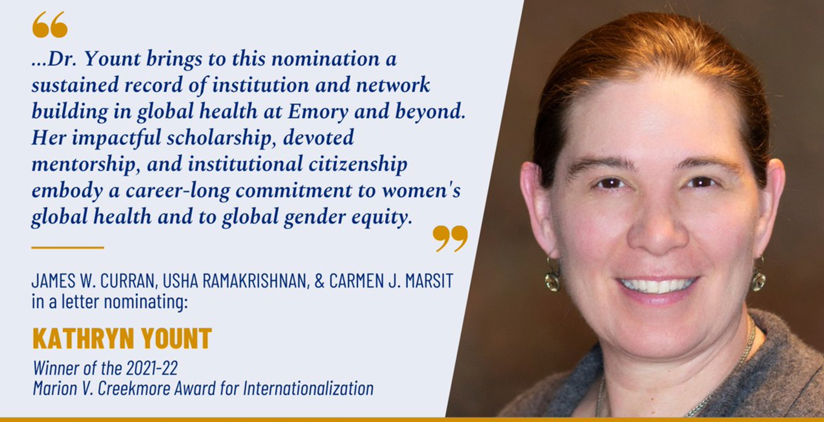 By Kelly Jordan
Kathryn M. Yount, PhD, has been selected as this year's recipient of the Marion V. Creekmore Award for Internationalization by Emory's Office of Global Strategy and Initiatives.
Yount is the Asa Griggs Candler Chair of Global Health at Rollins and is professor of global health and sociology in Emory College. She is a leader in women's empowerment research and is the founding director of GROW, an initiative to advance scholarship, leadership, and social change with respect to women's and girls' empowerment, the prevention of gender-based violence, and women's health.
"It is an honor to have been nominated by my peers and selected by faculty who have been role models throughout my career at Emory," says Yount. "I am inspired by the students, faculty, and staff at Emory and by our in-country partners, without whom our team's work would not be possible. Over decades, these collaborations have advanced Emory's eminence in research on women's empowerment and global health, have created a pipeline of scientists working in this field, have strengthened in-country capacities for this critical work, and have tangibly improved the capabilities of young women and men who have benefited from our programming. I am grateful to be part of this amazing network."
At a university level, Yount is known for her collaborative nature and efforts to advance opportunities for women—students and peers alike. In 2016, she was recognized for her contributions to this space through her receipt of the Women in Excellence Award for Mentorship, a university-wide award sponsored by the Center for Women at Emory. 
"Dr. Yount embodies the spirit of the Marion V. Creekmore Award, given her two-decade, exceptionally productive research career in the social determinants of women's health and of health inequities in underserved populations around the world," says Carmen Marsit, PhD, one of her nominators.
This is the second year in a row in which a Rollins faculty member has been the recipient of this award—Usha Ramakrishnan was the winner in 2020-2021. Additional previous awardees among the Rollins faculty include: Uriel Kitron (2018-2019), K.M. Venkat Narayan (2017-2018), Jeffrey Koplan (2015-2016), Henry Blumberg (2014-2015), Reynaldo Martorell (2008-2009), and Carlos del Rio (2007-2008). 
The Marion V. Creekmore Award for Internationalization is an annual award given to an Emory faculty member who excels in the advancement of the University's commitment to internationalization. The award was established by a generous gift from Claus M. Halle and honors the work of Marion V. Creekmore, who served as Emory University's inaugural vice provost for international affairs and first director of The Claus M. Halle Institute for Global Research and Learning. Recipients of the award are generally full-time Emory faculty and are chosen by a selection committee composed of previous Creekmore Award recipients.
Yount will be recognized during the 2021-22 International Awards Ceremony on March 23 at 3 p.m. ET via Zoom. Learn more and register.