Student Organization: Association of Black Public Health Students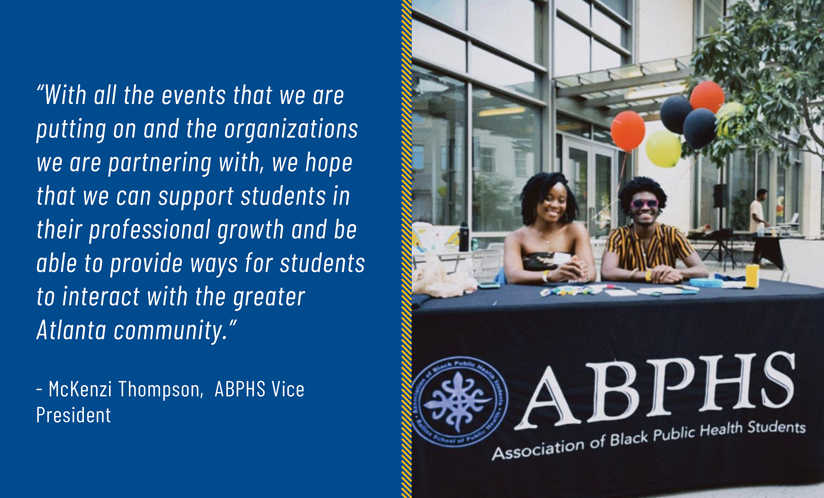 By Christa Ishimwe
The Association of Black Public Health Students (ABPHS) is a student organization designed to enhance the graduate experience of Black students attending Rollins. Through community events, mentorship, and service, ABPHS aims to help Black students build community at Emory and within Atlanta, while raising consciousness of health issues concerning Black communities in the U.S and abroad.
The current executive board includes Jeffery Whatley (President), McKenzi Thompson (Vice President), Jacarra Eshan (Advocacy Chair), Teniola Balogun (Historian), Imari Genias (Treasurer), Chisom Okereke (Communications Chair), Michael Sandifer (Community Service Chair), Margret Olawoyin, and Dontray Crump (Social and Academic Co-Chairs). 
"During our term as an executive board, our goal is to make sure people know that when they come to Rollins, they have a support system that looks like them that is here to listen to them and support them," says Whatley. "Since Emory is a predominately white institution, Black students are not as well represented as they should be. I joined ABPHS to help build a strong foundation for Black students at Emory."
ABPHS strives to provide opportunities for academic support, professional growth, and social connection to help strengthen that foundation. "Ultimately, we want to connect current students with enough resources, black alumni, and faculty to bridge that space between being a public health student and public health professionals," says Thompson. 
Once a month, ABPHS hosts general body meetings led by the social and academic co-chairs—Olawoyin and Crump. These monthly meetings are a space for students to congregate and share about their journey, build networks, and express any needs that ABPHS can advocate for on their behalf. General body meetings are held in person, with a Zoom option for those unable to attend, and often have a theme pertaining to networking and social connection.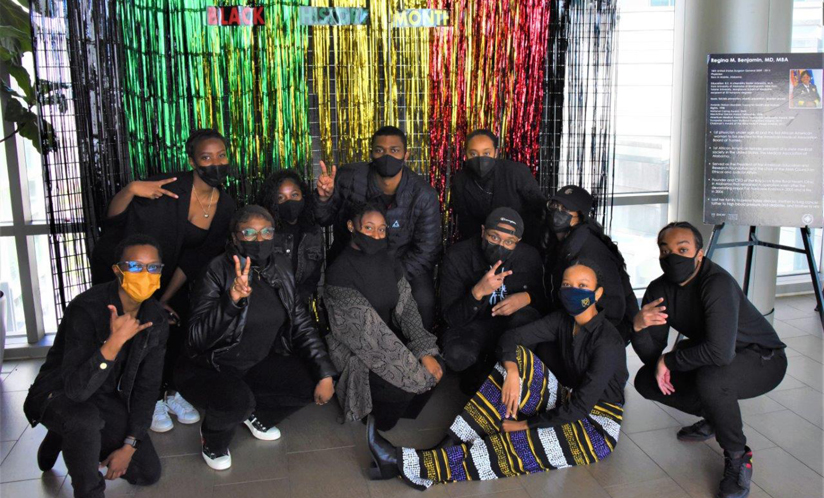 During Black History Month, ABPHS has provided opportunities for students to engage and network with community partners in the metro-Atlanta area, while addressing key health issues facing Black communities under the theme "Health and Wellness." Throughout the month, ABPHS partnered with BLKHLTH (a health-education organization co-founded by Rollins alums during their time as students), to provide health education workshops, share information about both groups, and play fun games in which students can win prizes for their engagement.
February 25, ABPHS plans on hosting a Celebration of Life event to celebrate life across the African diaspora in partnership with student organization, the Emory Global Health Organization.
February 28 at 6 p.m. ABPHS will host "Healthy Love", a workshop on the importance of safe sex practice, in partnership with Sister Love, an Atlanta-based nonprofit focused on HIV education and prevention. Register here.  
 "With all the events that we are putting on and the organizations we are partnering with, we hope that we can support students in their professional growth and be able to provide ways for students to interact with the greater Atlanta community," says Thompson.
The organization's executive board also hopes to continue building on this momentum moving forward, and expand ABPHS' reach to the undergraduate community and deeper within Atlanta. 
Follow ABPHS on social media to learn about upcoming events and ways to engage with the student organization via @emory_abphs and/or monitor their Linktree for updates.