Department Overview
While enrolled at Rollins' Department of Health Policy & Management (HPM), students learn how to positively impact public health through public health policy decisions and health management.
We provide a multidisciplinary course of study that prepares students to meet the changing demands of health care, public health, and health policy environments.
The master of science in public health (MSPH) degree in health services research is aimed toward students interested in research or pursuing doctoral degrees in the field.
The PhD degree in health services research and health policy is offered through Emory's Laney Graduate School, and provides students with extensive research training.
Which Degree Program Should I Choose?
The three degree programs are distinct and it is important to understand which one best fits your needs. The table below details some of the major differences between the three programs.
| | MPH Management Track | MPH Policy Track | MSPH |
| --- | --- | --- | --- |
| Program Focus | Management | Policy | Research |
| Credits Required | 42 | 42 | 48 |
| 12-Month Option? | Yes | No | No |
| Elective Credits | 6 (5 for 1-Month) | 6 | 9 |
| Thesis Option? | No | No | Required |
| Cohort Size | 40 | 35 | 7 to 10 |
| Sample Key Skills | Accounting, marketing, human resources | Advocacy, policy analysis, economics/financing | Research design, methods, programming, analysis |
| Sample Career Paths | Managerial at hospital or nursing home | Legislative advocacy, consulting | Think tank, government, doctoral program |
Courses
Interdisciplinary in both philosophy and content, HPM courses provide students with a comprehensive background in health status and health services delivery. Coursework is academic and applied—all students gain real-world experience through a required practicum in a public health setting. 
ADAP, Lisa Raines
The Assistant Director of Academic Programs (ADAP), Lisa Raines, can assist with course-related questions.  Advise students with last names A-L
Phone: 404-727-4259
Email: llraine@emory.edu 
ADAP, Kathy Wollenzien
The Sr. Associate Director of Academic Programs (ADAP), Kathy Wollenzien, can assist with course-related questions. Advise students with last names M-Z
Phone: 404-727-5701
Email: kwollen@emory.edu 
Faculty
HPM adjunct faculty all work in the health sector. They teach courses and give students a professional practice perspective in an ever changing and evolving health-care system.
HPM faculty backgrounds span a variety of disciplines, including: economics, political science, management, epidemiology, and sociology, as well as clinical health sciences.
Determinants of Personal and Population Health 
Disparities
Access to healthcare
Health Literacy
Quality of Healthcare
Healthcare Financing
Cost of Healthcare
Healthcare Outcomes 
Approaches and Methods
Cost Effectiveness Analysis
Econometrics
Comparative Health Systems
Quality of Life Measures
Mixed Methods
Outcomes Measurement
Managing Secondary Databases
Qualitative Methods
Collaboration
Collaborative research occurs between the Department of Health Policy & Management and other components of Emory University, The Carter Center, the Centers for Disease Control and Prevention, local hospitals, health care institutions and organizations, voluntary organizations, corporations, the World Health Organization, and the World Bank, among others.
I believe the education I received at Rollins (both inside and outside of the classroom) truly set me up for success now and in the future.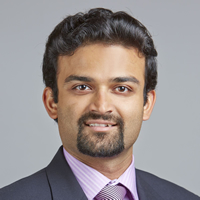 Hersh Gupta
MPH, HPM alumni