Course Schedule
Rollins School of Public Health courses are listed in the University Course Atlas. Atlas displays courses offered across the university. All course offerings beginning Summer 2020 will solely be posted to Atlas.
To view Fall 2020 Rollins School of Public Health Courses in Atlas select Public Health as Career.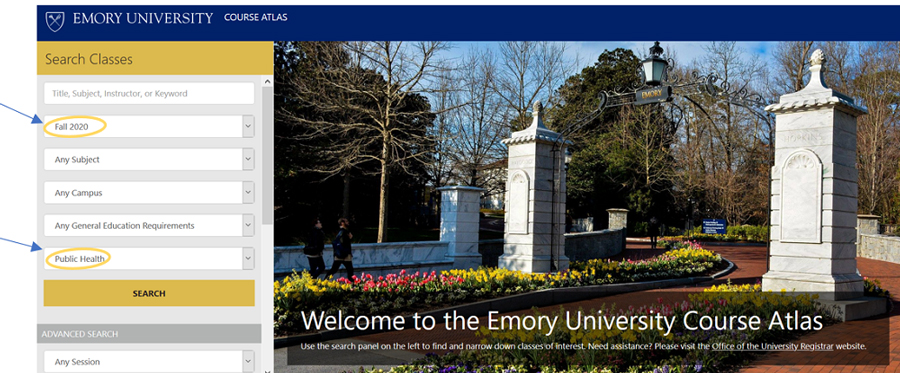 To view classes by department, add the Department/Program prefix to the search:
 
 

BIOS

Biostatistics

BSHES

Behavioral, Social, and Health Education Sciences

EH

Environmental Health

EPI

Epidemiology

GH

Global Health

HPM

Health Policy and Management

INFO

Bioinformatics

 

AEPI

APHI

PRS

Executive MPH Program

Applied Epidemiology

Applied Public Health Informatics

Prevention Sciences
To look for 700-level courses offered through Rollins' departments do the following:
Change semester to Fall 2020
View classes in a particular department (i.e. BIOS, BSHES, etc.)
Remove Public Health as Career or leave as "Any Career"
You can look for classes that are online or in person using the Advanced Search feature. Online courses use instructional method "Distance Learning."

For additional information on how to use Atlas, click here.
Current and Previous Course Schedules.
Please Note: This is included as a reference resource. Course schedules are uniquely designed each semester. Because a course was offered at a particular time in the past DOES NOT mean it will be offered at that time again.