Rollins Ranked No. 4 in the Nation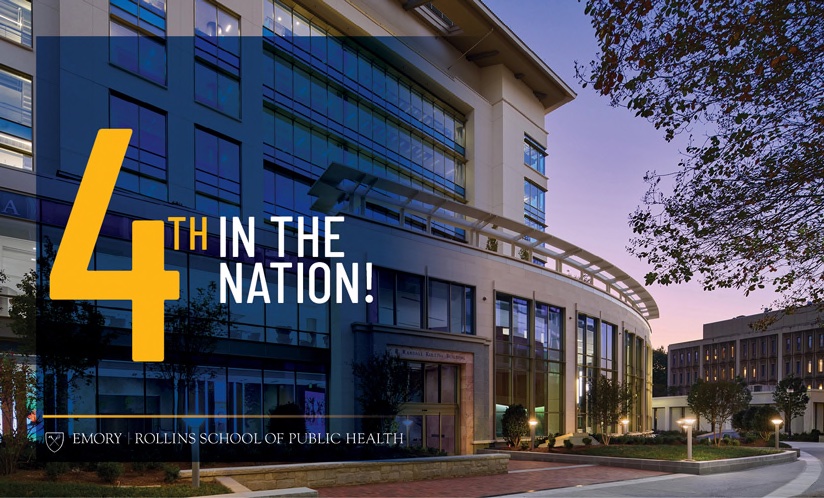 For the third year in a row, the Rollins School of Public Health is ranked the No. 4 public health school in the nation by U.S. News & World Report in its 2024 edition of Best Graduate Schools—placing Rollins in the top 10 for nearly two decades. 
Rankings were based on peer assessment surveys sent to academic deans, administrators, or faculty at accredited schools and programs of public health across the nation.
For the first time this year, U.S. News & World Report also included rankings for specific topics of study: environmental health science, epidemiology, health policy and management, social behavior, and biostatistics. Rollins' programs landed within the top eight for all fields.
Established as a graduate program in 1975 and as a school in 1990, Rollins has long been a leader in the public health sphere, and now claims more than 12,000 alumni working in 104 countries around the world. With six academic departments and an Executive MPH program for working professionals, students can earn master's degrees, doctoral degrees, dual degrees, and/or certificates while simultaneously gaining real-world experience through applied practice experiences, global field experiences, or public health work opportunities through the school's signature Rollins Earn and Learn program.
Rankings like those conducted by U.S. News & World Report are but one indicator of the school's continued reputation for excellence in research, teaching, and practice. The school received $126,240,242 in research funding for FY2022 and ranks No. 8 in NIH funding with more than $51 million supporting efforts in cancer prevention, cardiovascular epidemiology, nutrition, climate change, substance use disorders, environmental health, HIV/AIDS, maternal and child health, social determinants of health, safe water, tobacco control, mental health, addictive behaviors, injury and violence, antibiotic resistance, diabetes and obesity, health services, and more. Research projects span the globe with faculty research being conducted in more than 50 countries.
Additional recent noteworthy developments for the school include:
Completion and opening of the 185,000-square-foot R. Randall Rollins Building in 2022, bring the total Rollins campus to 500,00 square feet, set in a green-filled pedestrian-friendly campus.
New leadership, including M. Daniele Fallin, James W. Curran Dean of Public Health, and Don Operario, chair of the Department of Behavioral, Social, and Health Education Sciences in July 2022; and Elizabeth Mendes, associate dean of communications in March 2023
Initiation of an eight-month strategic planning process in fall 2022, with the goal of developing a five-year strategic plan by May 2023