Rollins and Carter Center Event Explores Advancements and Opportunities in Gene Drive Mosquito Technology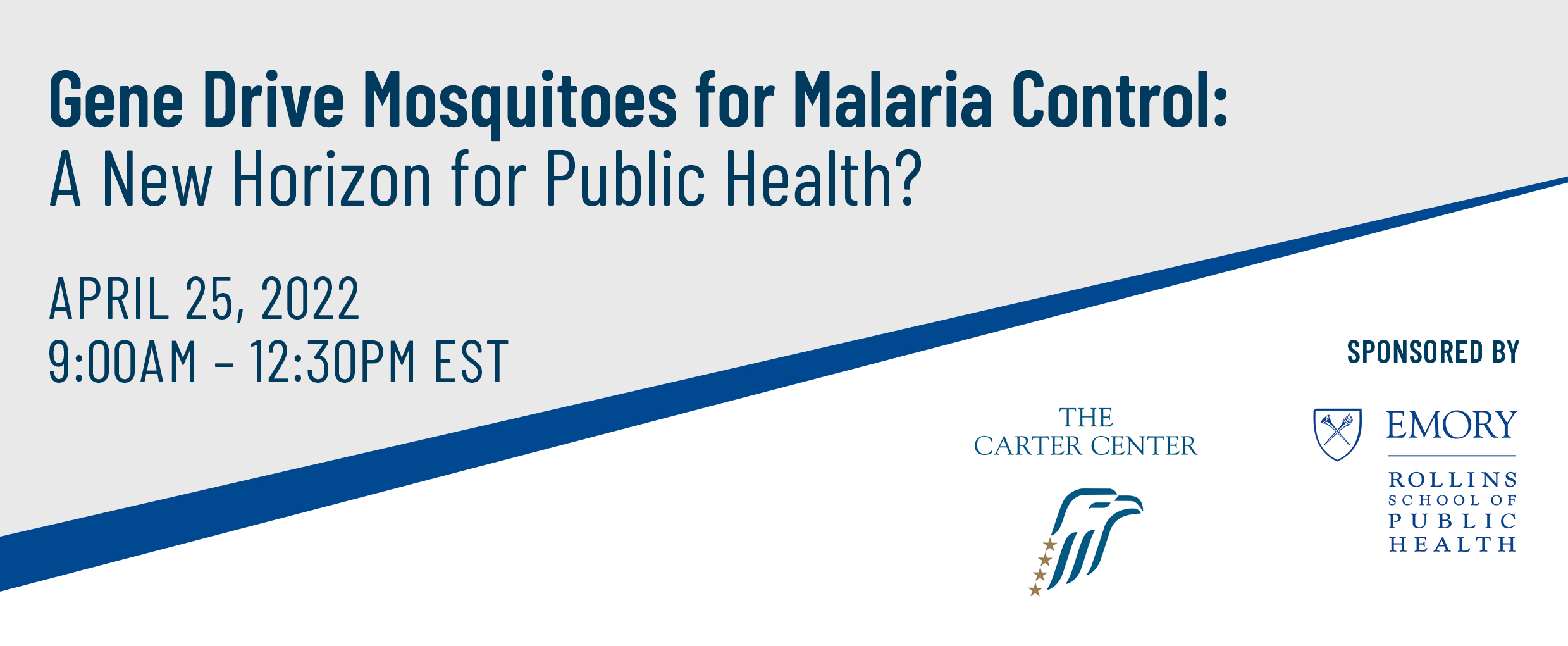 By Kelly Jordan
April 25 marks World Malaria Day, the theme of which is, "Harness innovation to reduce the malaria disease burden." In alignment with this year's theme, the Rollins School of Public Health will be co-hosting a free, virtual event with The Carter Center that will explore advancements and possibilities afforded by the usage of gene drive mosquitoes in accelerating the elimination of malaria and other mosquito-transmitted diseases. The symposium will bring together scientists, public health practitioners, ethicists, historians, and ministry of health officials from malaria-endemic countries to discuss issues surrounding the integration of these new technologies into malaria control programs.
James Lavery, PhD, Conrad N. Hilton Chair in Global Health Ethics, helped organize the symposium and Dean James W. Curran, MD, MPH, will deliver the event's opening remarks. The symposium will take place on April 25 from 9:00-12:30 EST. Those interested in attending should register here. 
---
Event Schedule 
Gene Drive Mosquitoes for Malaria Control: A New Horizon for Public Health?
9:00 – 9:20: Welcoming Remarks
Speakers: James W. Curran (Rollins School of Public Health) and Kashef Ijaz (The Carter Center)

9:20 – 9:40: Malaria control and elimination – current status, challenges, and prospects
Speaker: Gregory Noland (The Carter Center, and adjunct associate professor in epidemiology and global health at Rollins)

9:40 – 10:00: Can better biomedical technologies eliminate malaria? An historical perspective
Speaker: Randall M. Packard (Johns Hopkins University)

10:00 – 10:20: Perspectives from malaria eliminating countries: The Dominican Republic
Speaker: Keyla Ureña (Center for Prevention and Control of Vector-Borne and Zoonotic Diseases, Dominican Republic)

10:20 – 10:35: Break

10:35 – 10:55: Current State of the Art of Gene Drive Technologies
Speaker: David O'Brochta (Foundation for the National Institutes of Health)

10:55 – 11:15: Deploying gene drive mosquitoes for malaria elimination: How to speak to African policy makers
Speaker: Richard Mukabana (University of Nairobi)

11:15 – 12:30: Panel discussion
Host: Sarah Carter (Science Policy Consulting)
Panelists: Keyla Ureña (Center for Prevention and Control of Vector-Borne and Zoonotic Diseases, Dominican Republic)
Richard Mukabana (University of Nairobi)
Claudia Emerson (McMaster University)
Rebecca Wilbanks (Johns Hopkins University)
Mark Benedict (CDC)