Class Act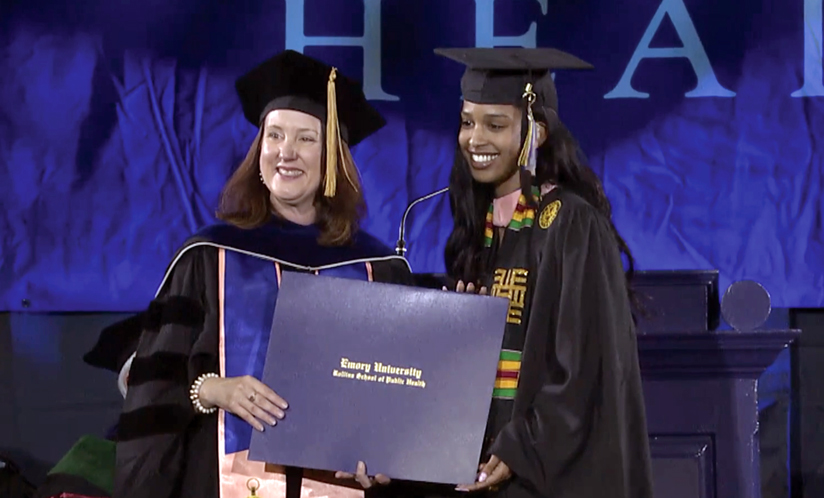 It was a standing-room-only crowd in the George W. Woodruff Physical Education Center Auditorium on May 6, 2023, as family and friends from cities around the globe gathered to celebrate Rollins' 2023 graduating class. 
 "You signed up for this in the height of the coronavirus pandemic," said Dean M. Daniele Fallin during her opening address. "As a new dean, I can tell you, you are simply an inspiration."
Inspiring Remarks
Ravi I. Thadhani, MD, MPH, executive vice president for health affairs, spoke to the challenging and necessary role of the public health work force. "This afternoon after you remove your robes, and take off your hoods and caps, you will emerge as graduates of this incredible program and you will be asked to face emergencies," said Thadhani. "You are going to be dealing with emergent situations and complex health crises. Whether these are acute emergencies or complex crises, you have the tools to face them that you've acquired during your time here. Emory can declare that it prepares leaders in public health because of all of you."
Helene Gayle, MD, MPH, president of Spelman College and decorated public health leader, delivered a rousing commencement speech laced with humor that challenged students to, "stand for something in a world where it's easier to be against almost everything." 
In speaking of her own massively impactful career, she noted her journey hasn't be linear, but that her convictions helped her remain true to herself and her personal mission. "Remembering your why goes hand in hand with perfecting your how," she said.
She urged students to identify their individual "why" and to approach their career paths with a sense of purpose and with a connection to their families, friends, peers, and support system at Rollins who have helped them along the way.
Student speaker Sabrina Chow, MPH, applauded her fellow graduates for their shared accomplishments and encouraged all to embrace the challenges ahead. 

Joining a Global Network
This year, Rollins awarded 662 MPH and MSPH degrees, 32 dual degrees, and 32 PhD degrees. The age range of graduates was 23-64, with 82 percent identifying as women. Graduates represented 45 U.S. states and 27 countries, including Cameroon, Colombia, Gambia, Ghana, Haiti, Hong Kong, Indonesia, the Republic of Korea, Pakistan, Taiwan, Turkey, and Vietnam. Rollins alumni now number more than 12,000 with a presence in all 50 states and 100 countries.
Award winners for various achievements were asked to stand, including LEAD recipients, those honored at the first annual RSPH Awards Ceremony, and winners of the Shepard Award (Zora Kesich, MPH ) and Provost's Distinguished Teaching Award (Kimberly Bob Sessions Hagen, EdD).  
New Traditions
Fallin marked her first commencement ceremony with a few changes to the run of show,  including seating the school's department chairs on stage and giving them the opportunity to address graduates in their departments as well as incorporating a quick stretch break about an hour into the event. 
To view a recording of commencement, click here.