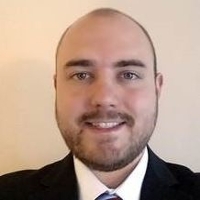 Health Economist
Research Triangle Institute, Massachusetts
James Wrocklage (MSPH 2015) is currently working as a health economist in the Health Care Financing and Payment Division of the Research Triangle Institute in Massachusetts. In this position, he conducts financial analyses related to the  Affordable Care Act working to make the U.S. health care system more efficient.
While at Rollins, James worked at the CDC with a health economics team and gained experience working with claims data by tracking venous thromboembolism (VTE) – a major cause of preventable death after hospitalization. He also worked on a local community health evaluation project that gave him valuable public health skills and a deep understanding of a number of health information technology systems and how these systems could be used to attain evaluation goals.
As an HPM MSPH student, James conducted his thesis research on health information technology (HIT) adoption among U.S. hospitals. He found that small hospitals (<100 beds) fall the furthest behind in HIT adoption and may be failing to implement even rudimentary HIT technologies. Also, rural and for-profit hospitals, as well as hospitals with poor network involvement lag behind national averages
Each of these experiences helped establish James as a public health professional and solidified his career path.