M. Daniele Fallin Elected to National Academy of Medicine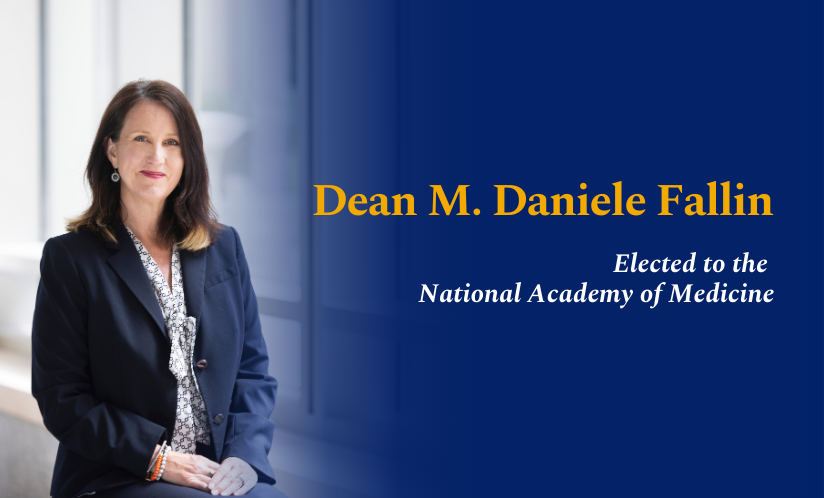 The National Academy of Medicine (NAM) announced this morning that M. Daniele Fallin, PhD, James W. Curran Dean of Public Health, has been elected as one of its newest members. Fallin is one of three individuals selected from Emory University for NAM membership this year. Igho Ofotokun, MD, professor of medicine, was also elected and holds a joint appointment at Rollins.
Members were elected by current members based on their significant contributions to health, medicine, and science. Fallin's vast contributions to public health, as articulated by her nominators, include, "being an international leader in elucidating genetic, epigenetic, and environmental mechanisms for neuropsychiatric and developmental disorders, particularly autism, Alzheimer's disease, and schizophrenia. As Dean of Public Health at the Emory Rollins School of Public Health, she contributes to population health efforts to recognize, understand, and prevent these neglected diseases."
"Your election reflects the high esteem in which your peers and colleagues regard you," wrote Victor J. Dzau, MD, president of NAM, in a letter to Fallin. "With your help, we are working across disciplines and sparking innovative approaches to advance knowledge and accelerate progress in science, medicine, policy, and health equity."
Fallin joins several Rollins faculty in her NAM election, including William H. Foege, MD, and James W. Curran, MD, as well as more than 2,000 leading minds in the health sciences.
 "I am honored and elated to be recognized by my peers in this way," says Fallin. "I look forward to contributing to this organization that I have long admired, and to build new friendships and collaborations with many of my heroes in the medical and public health space."
About M. Daniele Fallin
With more than 250 scientific publications that have been cited more than 22,000 times, Fallin's globally-recognized research focuses on applying genetic epidemiology methods to studies of neuropsychiatric disorders including autism, Alzheimer's disease, schizophrenia, and bipolar disorder and to developing applications and methods for genetic and epigenetic epidemiology, as applied to mental health and development.  
Fallin has led multiple CDC- and NIH-funded projects regarding how environments, behaviors, genetic variation, and epigenetic variation contribute to risk for psychiatric disease, particularly autism. She led the Maryland site of the Study to Explore Early Development (SEED) and of the Early Autism Risk Longitudinal Investigation (EARLI) for over a decade. She was also the inaugural principal investigator of the B'more Healthy Brain and Child Development (HBCD) study, one of 25 sites of the NIH's newly initiated HBCD study, where she currently serves as an associate director of the administrative core to guide epidemiologic design. Given her commitment to public mental health broadly, Fallin also co-led the Maryland POE Center for Workplace Mental Health and continues to be engaged in workplace and school-based mental health as key tools for promoting population mental health.
Prior to joining Rollins, Fallin worked at the Johns Hopkins Bloomberg School of Public Health for 22 years, where she served as chair of the Department of Mental Health, Sylvia and Harold Halpert Professor, Bloomberg Centennial Professor, and held joint appointments in the Bloomberg School's Departments of Epidemiology and Biostatistics and the Johns Hopkins School of Medicine's Departments of Medicine and Psychiatry. While at the Bloomberg School, Fallin directed the Wendy Klag Center for Autism and Developmental Disabilities and previously served as director of the genetic epidemiology area within epidemiology prior to becoming chair of the Department of Mental Health in 2013. 
Fallin completed a Bachelor of Science from the University of Florida–Gainesville and earned a PhD in genetic epidemiology from Case Western Reserve University.