Meet the PhD Student Selected for the Agents of Change Program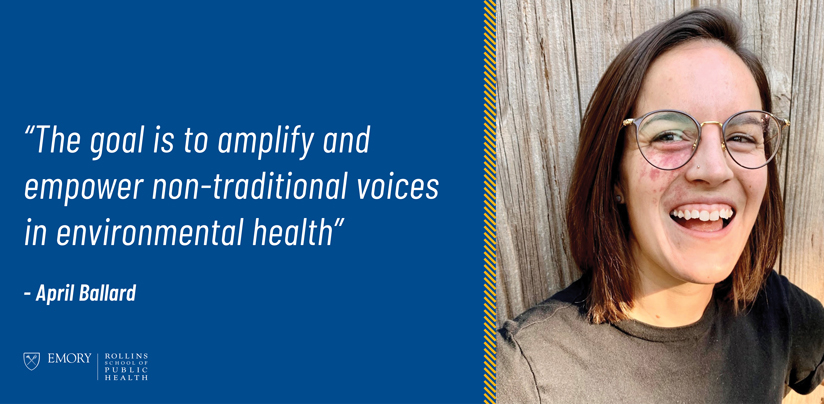 By Karina Antenucci
April Ballard, a third-year PhD student in the Gangarosa Department of Environmental Health Sciences, was accepted into the second cohort of the Agents of Change in Environmental Health program this year. The 2020 program, which began in November and runs through August 2021, is a part of an ongoing series featuring the stories, analyses, and perspectives of next-generation environmental health leaders who come from historically under-represented backgrounds in science and academia.
"The goal is to amplify and empower non-traditional voices in environmental health," says the new fellow, who will be collaborating with doctoral students, postdocs, and scientists in academic institutions, state government, and non-profit public interest organizations with training in public health, medicine, engineering, chemistry, and environmental education. "In the program, we'll get to discuss how our identities influence our science and our work, and will then learn how to communicate our science and story in various forms like blogs, social posts, and podcasts to be effective."
Ballard applied for entry into Agents of Change amongst a large pool of applicants. She notes that the simple process entailed submitting a CV and answering just two questions. The first asked about how the applicant identifies and their background and heritage; the second asked them to describe their research interest and what they do.
Ballard grew up in rural Kentucky and attended underserved public schools. She is the first generation of her family to graduate from college. She is also a member of the LGBTQ community. "All of those identities come together to influence me as a person," she says.
Until her undergraduate senior year at Transylvania University in Lexington, Kentucky, where she double majored in biology and Spanish language and literature, Ballard wanted to be a doctor. She pivoted to the field of public health because she was drawn to health but didn't have a desire to be in the healthcare field "where a lot of the work is focused on putting out fires instead of preventing them," she says. She landed in the environmental health niche because of her interest in ecology and human health after an experience traveling through Ecuador, where people in the Amazon region didn't have clean drinking water because of crude oil spills. 
After completing her undergraduate studies in 2014, Ballard continued on to finish her Masters of Public Health in Environmental Health and Epidemiology at the University of Kentucky in 2017. Prior to enrolling at Emory University's Rollins School of Public Health's Environmental Health Sciences PhD program in 2018, Ballard worked as a research assistant at the University of Kentucky studying substance use in Kentucky's Appalachia, where many people were experiencing homelessness.
This year, she and two master's students (Ana Rodriguez 21PH and Alison Hoover 21PH) received a grant supported by The Bill & Melinda Gates Institute for Populations & Reproductive Health and Bayer for an Atlanta metro area outreach project, Dignity Packs. They have served more than 300 homeless by handing out PPE, period, and hygiene products during the pandemic.
"I've done some heartfelt work over the past year, and I'm excited to translate that into a narrative [for Agents of Change]," says Ballard.
As part of the application process for Agents of Change, candidates were required to pose blog topics for Environmental Health News, a nonprofit, nonpartisan organization dedicated to driving science into public discussion and policy on environmental health issues. The fellows will each write first-person essays for the blog, and will receive oral and written feedback from the project leaders and the other fellows. "A lot of times in public health we're on the backend, but these blog posts are meant to be more narrative, grounded in how scientists are engaging with communities and experiences and elevate those in environmental health," Ballard explains.
In the year ahead, Ballard is looking forward to interacting with other scientists with varying perspectives. "When you're in your PhD program and focused on a very specific research niche, you don't necessarily meet a lot of other [types of] scientists in environmental health. And another challenge that has come with COVID is not being able to be around other scientists. I am looking forward to their ideas. When people come from different backgrounds, it leads to generating new, interesting, and important questions," Ballard says.