The Inaugural Rollins Election Day Initiative Empowers the Rollins Community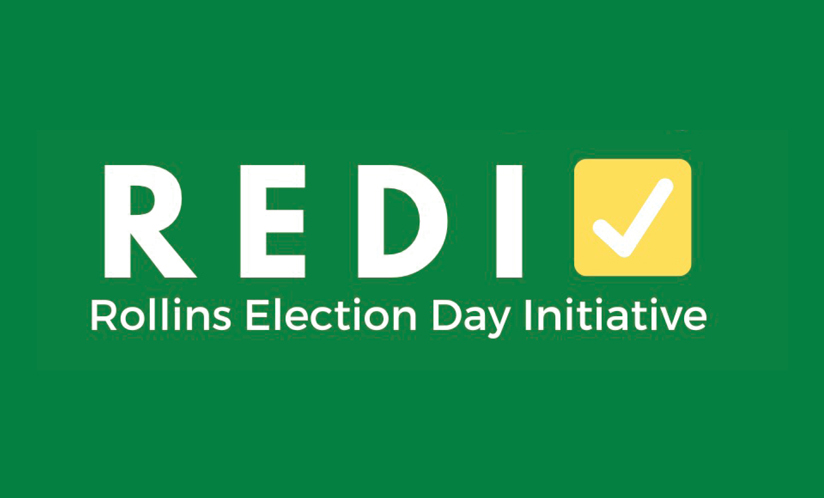 By Karina Antenucci
The seed from which the Rollins Election Day Initiative grew into a massive effort was planted only in late January of 2020. Nellie Garlow 21PH, a second-year epidemiology master's student, was participating in a roundtable discussion at the annual Scholars in Action Book Discussion about large public health issues including mental health and trauma. While valid, many of the solutions suggested by the nine students around the table would all take years to come to fruition and so Dean of Public Health James W. Curran, who was participating in the discussion, posed the question, "What can we do right now to make a difference with mental health?" Garlow, who grew up in the Washington, D.C. area and admits to always having politics top of mind, immediately thought of the upcoming 2020 election.
"My response was that we should cancel classes on Election Day so that students, faculty, and staff could vote and volunteer without barriers. When people face barriers to voting, they lose representation on key public health issues, and I wanted Rollins to be part of the solution. To me, this was something we could easily accomplish at Rollins," says Garlow.
Dean Curran responded with, "Put a proposal on my desk." And Garlow immediately got to work including forming a core proposal team to support the highly involved process.
Lisa Chung 21PH, also a second-year epidemiology master's student who has known Garlow since their first day at Emory, joined forces as co-founder and co-president of the Rollins Election Day Initiative (REDI). Having grown up in Seoul, South Korea, where a presidential election day is a national holiday, Chung was surprised and dismayed at the barriers people face to vote in Georgia. "I never had a barrier to voting neither in Korea nor in Washington State where I was previously registered to vote. The more I learned about the history of voting in this country and seeing people wait in line for hours, the more I knew it was a critical issue that I wanted to help address," says Chung.
Together, Chung and Garlow, along with three other students on REDI's executive proposal team, spent six months developing the proposal for Dean Curran. Joanne Williams, assistant director for student engagement, advised them throughout the process, which included researching what other schools were doing around election initiatives and meeting with various groups of students, faculty, and staff, as well as members of the Emory Votes Initiative (EVI)—and continuously adjusting the proposal along the way.
"No other school has put together a plan on the scale that we were envisioning. There are no models like REDI in the entire U.S., as far as we can tell,"Garlow says.
The REDI team hit a roadblock in March when COVID-19 shut everything down. "We began writing the proposal prior to the pandemic, and there was a good while in March and April when we didn't know what school or the election was going to look like," Chung says. "We were having to think outside the box and how all different scenarios of school and the election were going to play out. It ultimately came together with our incredible team."
The group met on a monthly basis with the faculty of EVI, which included Rick Doner, emeritus professor of political science; Mike St. Louis, adjunct faculty in Rollins School of Public Health's Department of Global Health; and Paige Tolbert, professor emerita (retired in March 2020 as Chair of Department of Environmental Health), who all served as informal advisors to the student organizers. They provided input on various draft materials, shared experiences from EVI, and helped the REDI students navigate the Rollins School of Public Health leadership effectively.
"I was impressed with how scrupulously non-partisan the REDI team was and how well they worked with faculty. The whole point of the initiative was that it was a day on, not a day off. They worked closely with faculty about their concerns," says Doner.
In early August, Garlow and Chung delivered the final version of the proposal and it was approved by Dean Curran and Rollins' leadership. Election Day 2020 would be called "Rollins Election Day On," a day off from live classes and assignment deadlines in order to vote and be civically engaged. "Participation was entirely optional and voluntary for students; we just wanted to minimize any potential barriers to voting," Chung says. 
After gaining approval to move forward, Chung and Garlow expanded REDI's core group to a 13-person executive board in charge of implementation. "Even within our core executive team, each committee has their own subcommittee to support their work and even more volunteers. The structure is massive. Way above and beyond what we had imagined," Chung says.
"While it was instigated and led by a small group of outstanding second-year students, they established an effective governance structure that included a strong group of first-year students, positioning REDI for success and continuity next year," says Tolbert. 
REDI's activities included presentations to educate students about how to vote and helping peers register. The group identified and publicized a wide variety of opportunities, both election-related and also other types of civic engagement for students to be involved in before, on, and after Election Day. To get the word out, the team blanketed every avenue with their messaging, from social media posts to fliers in elevators to information via large screens within Rollins' buildings. "Our diversity of platforms ended up being our strength. In addition, we had professors reaching out asking how to help. I didn't expect going into this that professors would be so interested in volunteering with us," Garlow says.
Perhaps echoing how many of those professors felt, St. Louis says, "The political will of our political leaders is universally recognized as a key determinant of whether public health initiatives will succeed. That fact should be more fully incorporated into the training of public health professionals. There are many ways to contribute to improving the quality and strength of the political will to improve the public's health, and this is an area that should be an important element of the training of public health professionals."   
Come Election Day, more than 100 volunteers from the Rollins community participated in the various opportunities REDI had teed up. Through the Georgia 55 Project, they handed out PPE, such as masks, and distributed snacks and water to voters in line. Through other non-partisan organizations or county board of elections, they worked as poll workers or technicians, or volunteered as poll watchers or monitors. 
The faculty and staff who were involved only have positive remarks about the event. "On the day of, people were directing their energy right into their civic engagement activities. I drove around and visited them. They were happy to see one another in person while practicing health and safety requirements. Overall, it was a positive experience," says Williams.
Tolbert adds, "From my perspective, it was a huge success. The REDI team will be conducting an assessment of REDI's impact, but there are difficult-to-measure intangibles such as increased awareness of the importance of being an active global citizen.  We know that students at other schools outside Emory used REDI as a model, so in that sense it has already had a broader impact."
"The stakes of these elections are quite high and students have historically voted at very low rates. Students can make a difference, as the demographic is quite large. In fact, students in Georgia in this recent election constituted the highest percentage of voter of any state at 20%. Georgia has a lot of young people, a lot of students, and they turned out. That's really important because all of the decisions made by elected officials are strongly going to affect students in the coming years," Doner says.
At every stage, Garlow says she's been surprised and happy about the outcome of the initiative and the support REDI has been given by the entire Rollins community. "This was our pilot year so we didn't know what to expect. Lisa and I have put hundreds of hours into this initiative. When you see the hope in people's eyes and watch them use their power to cast their vote and keep people are safe at polls, you know it has been fully worth it," Garlow says.
What's next for REDI now that the "main event" is over? The team is working on surveys to gauge its impact and collaborating to adjust strategies moving forward, as well as focusing on continued voter education efforts around the Georgia senate runoff election in January.
Garlow's ultimate vision is for "Rollins Election Day On" to be an annual school holiday and for Rollins to serve as an example for the nation. "This presidential election had a lot of attention but it's not going to be the last one to have public health consequences. Let's continue to engage civically in other ways even when it's not an election year," she says.
Interested in following and engaging with REDI? See the latest updates on Twitter
@EmoryREDI
and Instagram
@Emory.REDI