Global Health Seminar Series Live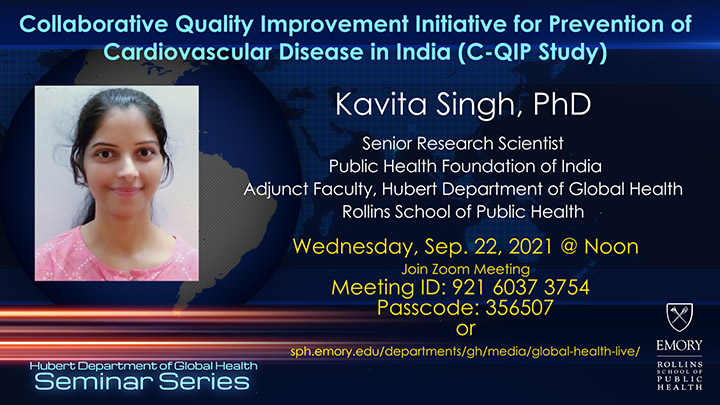 Click here to view the presentation on Zoom. Meeting ID: 921 6037 3754 Passcode: 356507
Biography
Dr. Singh is Senior Research Scientist at the Public Health Foundation of India. She has a secondary appointment as an Adjunct Faculty at the Hubert Department of Global Health, Emory University, USA.
 Dr. Singh is an epidemiologist by training and has interests in global cardiovascular health epidemiology, clinical trials, implementation science, health systems and policy research. Dr. Singh work across the spectrum of cardiovascular disease prevention in research on implementation and evaluation of multicomponent of quality improvement strategies, the interaction between COVID-19 and cardiovascular diseases, and health, psychosocial and economic impacts of COVID-19 on chronic conditions.
In 2019, Dr. Singh is the first Indian to receive the NIH Emerging Global Leader Award (K43 grant, 2019-2024), to conduct a study that aims to develop and test the feasibility/effectiveness of a collaborative quality improvement strategy for the secondary prevention of cardiovascular diseases in India.