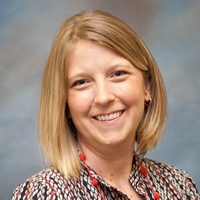 Senior Research Scientist/Industrial Hygienist
Georgia Tech Research Institute
Hilarie Warren, MPH, CIH, conducts on-site assessments for health, safety, and environmental hazards at construction sites and industrial facilities around Georgia as an industrial hygienist for the State of Georgia's OSHA Consultation Program. This includes conducting exposure assessments of physical and chemical hazards, and training employers and employees on ways to better protect themselves from workplace health hazards.
She acts as course director and instructor for several professional education courses offered through the Georgia Tech OSHA Training Institute Education Center and is an authorized OSHA outreach trainer for both construction and general industry. She is also a lead trainer for a Susan Harwood Grant that provides training on safety and health hazards pertaining to temporary workers and staffing agencies.
Previously, Ms. Warren served as project manager for the "Pandemic Influenza Preparedness Training for Businesses" program, which successfully trained more than 1,400 people in the Southeast.
Ms. Warren has presented at numerous national, regional, and state-level conferences, including the American Public Health Association (APHA) and the American Industrial Hygiene Association (AIHA). She is a certified industrial hygienist, and a member of the APHA and AIHA.
MPH, Rollins School of Public Health, GEH
BS, University of New Hampshire, Biology