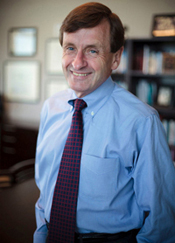 Thank you for your interest in the Rollins School of Public Health!
There has never been a more exciting or challenging time to enter the field of public health. Today's students must face complex issues, such as AIDS, violence, environmental hazards, access to health care, bioterrorism, and the re-emergence of infectious diseases. The Rollins School of Public Health at Emory University is preparing students to meet these challenges in an environment unique among schools of public health.
Located in Atlanta, often called the public health capital of the world, the school is adjacent to the U.S. Centers for Disease Control and Prevention. The national headquarters of CARE, The Arthritis Foundation, the Boys and Girls Clubs of America, and The Carter Center are each fewer than five miles from the Rollins School of Public Health multi-building complex.
Students Benefit From School's Partnerships
Our students benefit from the school's partnerships with these national and international agencies and with the Georgia Department of Human Resources, district health offices, and local health departments. Each of these relationships provides unique opportunities for faculty and students to engage in hands-on research and actual public health practice.
The Rollins School of Public Health is an integral part of the Robert W. Woodruff Health Sciences Center of Emory University, which has excellent schools of medicine and nursing, and programs in allied health, as well as the research facilities at the Yerkes National Primate Research Center of Emory University. We offer a flexible schedule of classes to accommodate the needs of students who work full or part time. The master of public health and master of science in public health curricula feature basic course work in the student's chosen department. Doctoral programs are offered in biostatistics, epidemiology, and nutrition. Joint-degree programs are available in conjunction with the schools of business, law, medicine, and nursing, and cross-registration is available with the graduate and theology schools. We also offer a distance learning program, the Executive MPH, where busy professionals can receive a traditional MPH degree in an online environment.
I am very proud of the school, faculty, staff, and, especially, our students. We welcome applications from individuals interested in combining academic training and knowledge with a commitment to solving the world's health problems.
Thank you for visiting the Rollins School of Public Health on the web.

James W. Curran, MD, MPH
Dean, Rollins School of Public Health
Office of the Dean
Rollins School of Public Health
Emory University
1518 Clifton Road, NE
Atlanta, GA 30322
(404) 727-8720