Humanitarian Crisis in Gaza Means Increased Rates of Disease, Trauma, and Violence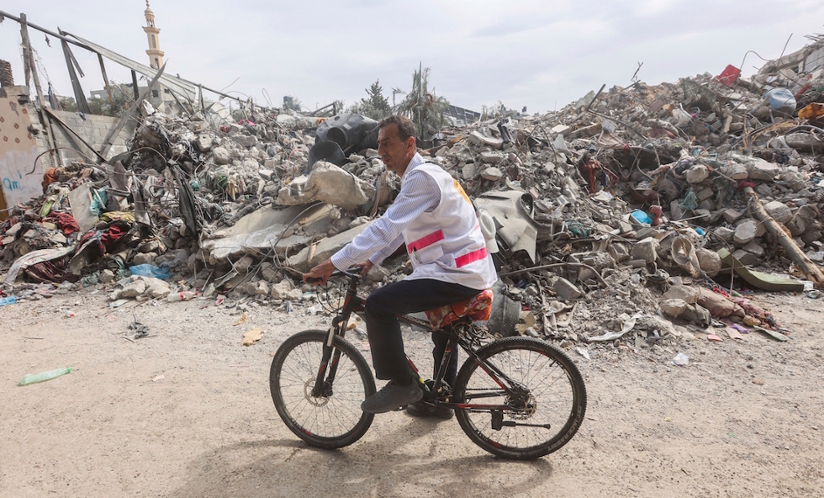 As the Israel-Hamas war has intensified, so too has the urgency surrounding the growing public health crisis in Gaza. A recent article released by the World Health Organization noted that since mid-October, there have been, "over 33,551 cases of diarrhea (more than half in kids under age 5), 8,944 cases of scabies and lice, 1,005 cases of chickenpox, 12,635 cases of skin rash, and 54,866 cases of upper respiratory infections." In addition, damages to health care facilities and homes, the separation of families, and limited access to fuel and clean water, pose severe threats to safety, health, and general well-being for civilians and health care workers in the area.
In this interview, Dabney P. Evans, PhD, MPH, director of the Emory University Center for Humanitarian Emergencies, shares her insights on what the latest developments mean to human health in the area, ways U.S. citizens can help, and future concerns related to this conflict.
---
How have the latest developments in the war impacted public health, both for civilians living in these war zones and health care professionals providing aid in the region?
We have to recognize this is a human crisis where the health of people and entire communities is being threatened and put under strain. War is bad for health. That is always true. What we are seeing in Gaza right now is a public health crisis.
Now that the conflict has dragged on, we are seeing some of the things we expected, like increases in diarrheal disease. We know there are vaccine preventable diseases that are circulating that can cause ill health, and also know because of the lack of clean water, there are likely waterborne diseases being circulated. All those things can be dangerous, especially for children, elderly populations, and those with chronic conditions. 
In addition, the public health infrastructure has been weakened because of the conflict. People working in the remaining health care facilities are being strained to the limit. We know humanitarian aid that has been able to get in has been very limited. So, limited supplies and resources and those health care professionals on the ground are having to make really difficult decisions about how they allocate those resources. Health care professionals working on the ground are also being directly affected by violence occurring in the war. There are health care workers who have died or lost family members and loved ones. They are also survivors in the context of this conflict.
What can be done to help mitigate the spread of disease in the conflict zone?  
Breaking news as of November 9, is that an agreement has been issued to allow for daily, four-hour humanitarian pauses to allow aid to get in. We know some aid has been coming in, several dozen trucks per day. However, those trucks do not meet the normal needs of the population. What we really need are more humanitarian pauses. Not in the length of hours, but days to make sure food, water, medicines, supplies, and temporary shelter can be provided.
Now that aid is getting through, are there any vetted organizations you would recommend for people in the United States who want to help?
I would recommend the United Nations Relief and Works Agency for Palestine Refugees in the Near East. It is a UN agency and many of the folks employed by the agency are local people.
One of the many tolls of this conflict is the loss of housing. What additional public health risks do homelessness present?
People are clustering together in refugee camp settings, but the water and sanitation capabilities in those locations are very limited, so that increases the risk of infectious diseases. For other people not in camp settings and who are unhoused, we worry about exposure to the elements. There is also increased exposure to violence and injury both in and outside of conflict zones.
Do you see linkages between rates of gender-based violence and conflict zones? Is that something we may expect to see here?
We know from other humanitarian emergencies like Hurricane Katrina and data from the Ebola pandemic that when public health and humanitarian emergencies are happening, we see increased rates of various forms of gender-based violence, including sexual exploitation, sexual violence, and intimate partner violence. That is something that is very possible here and may particularly be a risk for people who have lost their homes and may be separated from friends and family who would typically serve as protection.
What else should people know right now from a public health perspective?
Something we know from other humanitarian emergencies is that women and children are often disproportionately affected by displacement and disease. We know a large number of women and children have already been casualties. It's important to highlight that in this conflict, there are many women, children, and noncombatant men who are casualties of this conflict and who have no safe place to go. [According to WHO, there are more than 50,000 pregnant people and approximately 337,000 children under age 5 in Gaza.]
People are witnessing a lot of trauma and violence, especially children. What long-term effects could that have?
Everyone is familiar with the concept of shock. That is your brain's inability to process what has happened. It is a trauma response. Adverse childhood experiences include traumatic exposures in the home, community, and collective violence before the age of 18. All of these children we are seeing on Instagram and on the news are experiencing exactly these kind of exposures. 
People experiencing trauma, children in particular, but everyone who is exposed to this conflict—Palestinians and Israelis—is going to have impacts on their physical and mental health. There are going to be long lasting effects that will occur at the individual, community, and intergenerational level as well.