Mifepristone: Questions and Answers With Rollins Researchers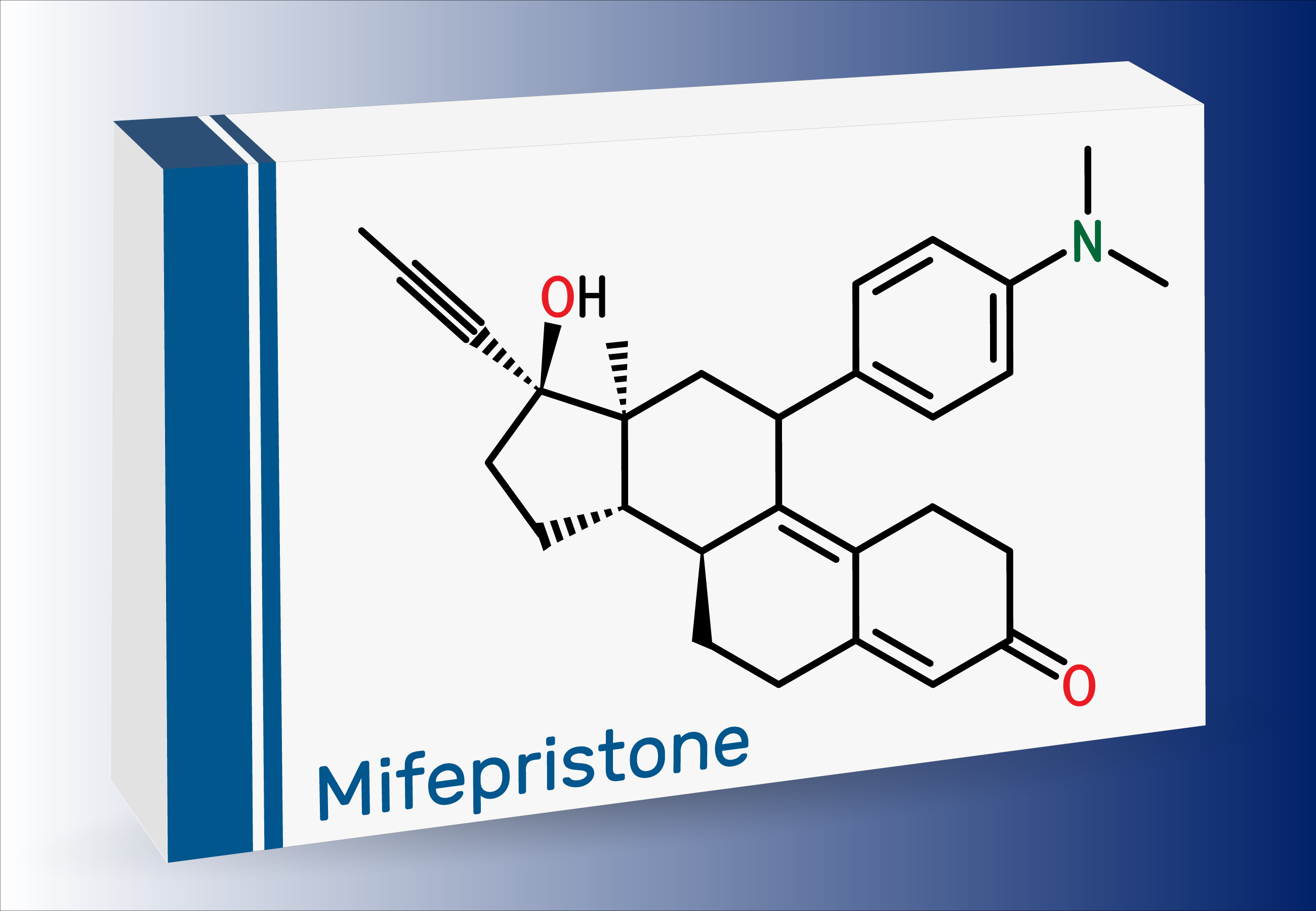 RISE researchers on mifepristone and legal challenges
Researchers from Emory Rollins School of Public Health's Center for Reproductive Health Research in the Southeast (RISE) discuss what mifepristone is, why it's important for reproductive health, and what the harms would be if access to the drug is restricted.
---
What is mifepristone and how is it currently used?
Mifepristone is a medication used to block progesterone, a hormone needed to continue a pregnancy. Mifepristone is used, usually in combination with misoprostol (a medication that induces uterine contractions), to end a pregnancy up to 10–11 weeks' gestation and manage early pregnancy loss. Mifepristone has other applications, including being used to induce labor; treat endometriosis and fibroids; treat hyperglycemia associated with Cushing syndrome; or as an emergency contraceptive. Mifepristone was first approved by the U.S. Food and Drug Administration (FDA) in 2000; updated protocols expanding access to mifepristone were issued in 2016, 2019, and 2021. Decades of rigorous, peer-reviewed research has shown that a medication abortion regimen consisting of mifepristone and misoprostol is extraordinarily safe and effective, with a 95–99% success rate and a serious complication rate of less than 1%.
How common is mifepristone use in the U.S.?
Medication abortion using mifepristone and misoprostol has grown steadily over time since the FDA approved mifepristone in 2000 and comprised 98% of medication abortions in the U.S. in 2020. According to the Guttmacher Institute, medication abortion accounted for 53% of nonhospital abortions in the U.S. in 2020. According to the Centers for Disease Control and Prevention, medication abortion accounted for 61% of abortions in Georgia in 2020.
Why is mifepristone access important for reproductive health?
Mifepristone access is important to reproductive health, rights, and justice in multiple arenas. As detailed above, mifepristone is used to address reproductive health needs and conditions across the course of people's reproductive lives. Mifepristone is one of the medications used in the process of ending a pregnancy with medication rather than a procedure. The mifepristone and misoprostol combined regimen for medication abortion is recommended by leading national and international public health and reproductive health professional organization guidelines, including the World Health Organization and the American College of Obstetricians and Gynecologists.
The availability of medication abortion, including mifepristone, has generally contributed to greater bodily autonomy over the circumstances surrounding abortion—such as the setting in which an abortion occurs (e.g., at home, which some people seeking abortion prefer). Access to mifepristone is especially essential in states that ban abortion in early pregnancy (e.g., Georgia and its "6-week ban"), given the severely restricted timeframe in which one must decide and seek abortion care to obtain clinic-based abortion care within state.
Medication abortion, particularly when provided via telehealth, can help address several barriers to care, for instance, reducing travel distance to the clinic, scheduling issues, and wait times, in addition to providing a way to protect privacy and confidentiality. Scheduling for procedural abortions can be time consuming, whereas medication abortion can be provided the same day a person comes into a health center to confirm their pregnancy. Telehealth medication abortion also provides an important way to reduce resource burdens. For people seeking abortion, medication abortion costs less and can reduce costs associated with travel and childcare needs. For health centers, medication abortion can streamline care and reduce physician burdens.
In addition to abortion care, mifepristone is an important medication used to manage early pregnancy loss. Use of mifepristone and misoprostol in combination has relative benefits for the safety, efficacy, and comfort of miscarriage management compared to misoprostol alone, an alternative option. Access to mifepristone therefore contributes to patient-centered reproductive health by presenting people seeking an abortion with reproductive health care options to best realize their preferences and satisfaction. Access to mifepristone also contributes to providers' ability to offer the full range of evidence-based, safe and effective care options, and meet the preferences of people seeking care.
What are the anticipated harms of barriers to administering and accessing this drug for reproductive health?
Barriers to mifepristone use limit people's autonomy to decide what medication regimen they want to pursue during a medication abortion. Barriers to mifepristone use also perpetuate abortion stigma by suggesting that mifepristone is an unsafe or dangerous medication, further spreading misinformation and disinformation about abortion care.
In settings and circumstances where mifepristone is unavailable, inaccessible, contraindicated, or otherwise personally undesired, a safe and effective misoprostol-only regimen for medication abortion can be utilized. Additionally, mifepristone has important uses outside of abortion care, including the management of early pregnancy loss, uterine fibroids, and endometriosis. Limiting mifepristone access can cause harm for patients needing the medication for any reason.
The consequences of limited access to medication abortion are likely to affect certain population groups most. The potential new barriers to mifepristone may increase legal risk for people more likely to self-manage their abortion:
people of color,
immigrants,
those living in poverty and in rural communities,
and LGBTQ+ communities.
Acting as a de facto abortion restriction—by limiting bodily autonomy—the ruling, if enforced, may also mimic the harms that abortion restrictions create overall, including straining the health care service delivery system, worsening inequalities in access to care, and increasing pregnancy-related health risk.
Why do the recent rulings in Texas raise concern about a worrisome precedent with respect to FDA approval?
The U.S. Food and Drug Administration is a federal agency responsible for, among other things, ensuring the safety, efficacy, and security of human drugs. When considering approval of a new drug, the drug is evaluated during a rigorous, independent, and unbiased review process conducted by the FDA's Center for Drug Evaluation Research. Mifepristone (brand name Mifeprex) was initially approved by the FDA following the in-depth review process in 2000. Since its initial approval, the FDA conducted multiple additional reviews of the evidence, resulting in shifts to the mifepristone protocol to expand access to the medication, including expanding the eligibility from 7 to 10 weeks' gestation and allowing mailing of mifepristone.
On two separate occasions, in 2008 and again in 2018, the Government Accountability Office reviewed the FDA's approval and oversight of mifepristone, both times finding that the FDA followed standard protocols and procedures for approving and providing oversight of mifepristone. Given the level of scrutiny and oversight provided by two independent federal agencies regarding mifepristone's safety, and the substantial body of rigorous scientific evidence that cohesively establish mifepristone's safety and effectiveness, the unprecedented ruling by the U.S. District Court for the Northern District of Texas sets a concerning precedent that prioritizes anti-abortion ideology over decades of sound scientific evidence. The nature of this ruling could lead to attempts to call into question the authority of the FDA to regulate not only this drug, but other very safe medications based on state-level regulation, ideology, or self-interest.
Do you have any additional comments related to the benefits of mifepristone use/access?
A recent RISE analysis of House Bill (HB) 481, Georgia's ban on abortion in early pregnancy, estimated that nearly 9 in 10 (88%) of abortions in Georgia are likely banned under HB 481. RISE found that HB 481 disproportionately affected Black people, young people, and people with less education—groups already facing structural and intersectional inequities in accessing the healthcare system. Given that 60% of abortions in Georgia in 2020 were medication abortions (most of which use mifepristone), restricting access to mifepristone would even further increase barriers and reduce access for Georgians needing abortion care, particularly Georgians experiencing systemic oppression.
Could you share details about the forthcoming MOOC that RISE has been developing?
We are excited to announce the development of a new free Emory Massive Open Online Course (MOOC), "Public Health Approaches to Abortion," led by Drs. Subasri Narasimhan and Anna Newton-Levinson that will be launched this summer. This introductory public health course provides accessible and foundational knowledge on the topic of abortion in the context of a changing reproductive health landscape in the U.S., with some coverage of the global context. Highlighting expertise from RISE and Emory University researchers and community partners, this course provides an introduction to abortion from public health, medical, policy, social, and human rights perspectives for general audiences. MOOC topics include discussion of clinical abortion care, abortion access, abortion policy, abortion measurement and epidemiology, and abortion stigma. Learners will benefit from diverse learning opportunities through lectures, online resources, and self-reflection activities.
What should the public know about access to medication abortion at this current time?
As of April 13, 2023, mifepristone is still available in the U.S. Judicial rulings limiting access to mifepristone are another maneuver in a concentrated, systematic effort to restrict access to abortion in the U.S. to the greatest extent possible. However, these judicial processes are ongoing, with additional developments expected in the coming days or weeks, including the potential for the case to go to the U.S. Supreme Court. Legal experts ultimately believe the final decision for enforcement rests with the FDA. A summary of recent judicial rulings is as follows:
Friday, April 7

U.S. District Judge Matthew Kacsmaryk ruled in AHM v. FDA directing the FDA to stay mifepristone's approval.
U.S. District Judge Thomas O. Rice ruled in a separate case blocking the FDA from making any changes to mifepristone access in 17 states and the District of Columbia.

Monday, April 10

The U.S. Department of Justice appealed Kacsmaryk's ruling, calling it "extraordinary and unprecedented."

Wednesday, April 12

The 5th U.S. Circuit Court of Appeals ruled that the FDA's initial 2000 approval of mifepristone could remain in effect, reversing additional FDA approvals expanding access to mifepristone. This decision reduces the gestational eligibility for mifepristone use from 10 weeks to 7 weeks and bans dispensing mifepristone via mail.
It is important to note that abortion (including self-managed abortion) is still legal in those places where it is already permitted.
For questions about self-managed abortion and the law, individuals can reach out to If/When/How's Repro Legal Helpline, a free, confidential source: visit https://www.reprolegalhelpline.org or call 844-868-2812.
For legal advice, representation, or support with legal costs, individuals can contact Abortion Defense Network: visit https://abortiondefensenetwork.org.
---
Contributions
This Q&A was prepared collectively by experts within the Center for Reproductive Health Research in the Southeast (RISE), housed at the Emory University Rollins School of Public Health, with guidance and support from the Rollins School of Public Health Communications Team.
RISE Contributors
Whitney S. Rice, DrPH, MPH; Rollins Assistant Professor of Behavioral, Social and Health Education Sciences (BSHES) and RISE Director
Sara K. Redd, PhD, MSPH; BSHES Assistant Professor and RISE Director of Research Translation
Hayley V. McMahon, MSPH, CPH; BSHES Doctoral Student and RISE Fellow
Anna Newton-Levinson, PhD, MPH; Hubert Department of Global Health (HDGH) GEMMA Scholar, RISE Fellow and FIRST Postdoctoral Fellow in the Department of Health Policy and Management
Suba Narasimhan, PhD, MPH; HDGH Assistant Professor and RISE Affiliated Faculty
Sophie Hartwig, MPH; RISE Co-Director of Administration and Research Project Director
Johanna Pringle, MPH; RISE Co-Director of Administration and Research Project Director