Emory Leads the Way in Women's Empowerment Research

By Karina Antenucci
A recent report published by Women's Studies International Forum ranked Emory University as the No. 1 most influential institution in women's empowerment research. This recognition can be attributed to the fact that around one-third of the 47 core faculty members in the Hubert Department of Global Health have contributed to women's empowerment research in some way, notes Usha Ramakrishnan, PhD, distinguished Richard N. Hubert professor and chair of the department.
"The collective contributions of our faculty and students have elevated the global visibility of Emory as an institution that is leading the way in impactful research in women's empowerment and global health," says Kathryn Yount, PhD, Asa Griggs Chandler Chair of Global Health. "Emory now has an extensive pipeline of researchers with expertise in this field who are highly sought-after for research collaborations, and who are doing important programmatic work." Yount was recognized by the aforementioned Women's Studies International Forum report as being the most published author in the field of women's empowerment research and fourth for top citations over 20 years in the field.
So, what exactly is women's empowerment research? It focuses on how women can advance their capabilities individually and collectively. An important first step is for women to gain access to enabling resources, such as expanded social networks, economic resources, and human resources, like education.
"Guided by the work of Naila Kabeer, those resources are thought to provide an opportunity for women to advance their agency," says Yount. She explains that there are three types of agency: intrinsic agency, which is psychological, such as knowledge of one's rights and a sense of self confidence in one's capabilities; instrumental agency, which is the capacity to have a voice, to influence  decisions, and to act in ways that advance one's aspirations; and collective agency, which is the process by which groups develop shared goals and aspirations and act together for social change.
"Not only is women's empowerment an important end in itself, but it also benefits society to invest in women. There's a lot of evidence showing that empowering women benefits families, communities, and societies as a whole. It contributes to inclusive growth and the social and economic wellbeing of countries," says Yount.
Women's empowerment research is also critical to public health. Yount explains that the faculty and students at Emory have produced evidence to suggest that empowering women in households and communities has a cascade of benefits for alleviating poverty, improving food security, increasing the health and nutrition of children, and improving women's own health and wellbeing, from dietary diversity to mental health.
"Women are the primary caregivers, so their ability—or lack thereof—to take advantage of public health interventions all revolve around women's empowerment, and their autonomy, control, or access to resources," notes Ramakrishnan, whose own breadth of work focuses on maternal and child health. 
Yount adds, "Because Emory has an interdisciplinary group of public health experts and social scientists working on this, we have been able to see health outcomes in the global health arena."
One of the many research projects currently underway in the Hubert Department of Global Health is led by Sheela Sinharoy, PhD, assistant professor, and Bethany Caruso, PhD, assistant professor. These two faculty members co-lead the MUSE project, in which they are also developing metrics to measure women's empowerment in the context of urban sanitation programs. There were previously no validated survey tools to measure women's empowerment in water, sanitation, and hygiene (WASH) projects, so they have developed and rigorously validated survey modules within urban sanitation programs in India and Uganda. They are now doing additional data collection to further validate their survey modules in Bangladesh, India, Senegal, Uganda, and Zambia.
"This work is important because the WASH sector has historically been gender-blind and is still quite far behind other sectors in terms of awareness of the importance of gender and empowerment, and this work provides an opportunity to help the sector catch up," says Sinharoy.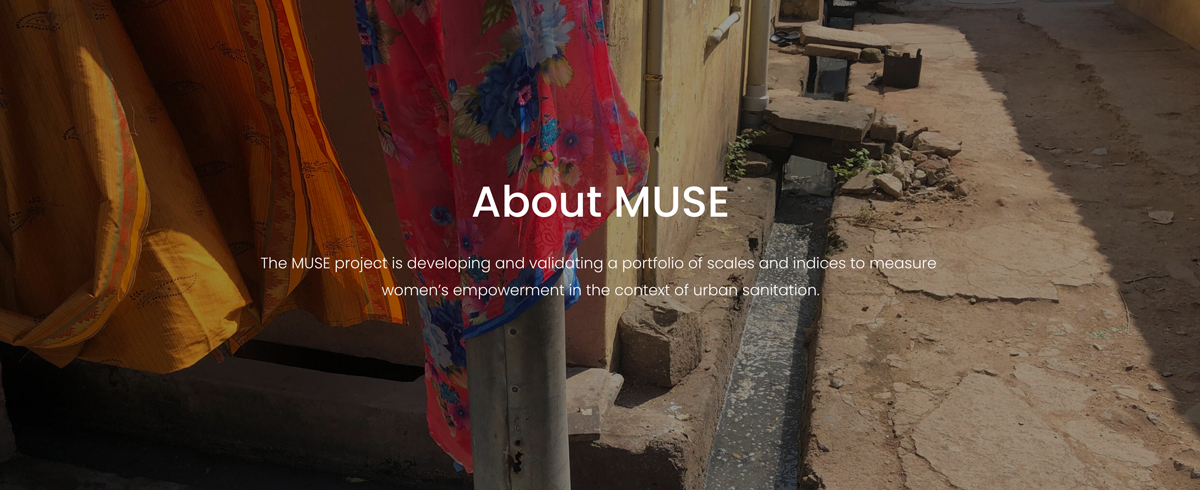 Another project she's currently working on alongside Yount is the development of two new metrics to measure women's collective agency and time-use agency. Time-use agency is an individual's critical awareness of, confidence in, and influence over the allocation of their time. Previous research had measured how individuals spend their time, such as how much time women spend on unpaid work or caregiving compared to men. However, these "time-use" measures didn't capture whether women felt that they had agency and the ability to negotiate and make decisions about their time, or whether they felt that the differences in time allocation were unfair.
"The idea of having control or agency over our time use is something that resonates with almost all of us, but has never really been measured until now," says Sinharoy.
Sinharoy, who completed both her PhD and postdoctoral fellowship at Emory, credits Yount and her work with Yuk Fai Cheong, PhD, associate professor in the Emory Department of Psychology, for establishing a new standard of rigor that she says was previously generally lacking in women's empowerment research.
"Specifically, this means combining theory with advanced statistical methods from the social sciences for psychometric validation of scales, and applying those to public health studies focused on women's empowerment," says Sinharoy. "This interdisciplinary approach has moved the whole field forward, and I've been lucky to benefit from being part of that forward movement and to have received training in these methods from Dr. Yount and Dr. Cheong."
Ramakrishnan notes the importance of social scientists and public health experts collaborating on women's empowerment research. "Social scientists have the expertise to develop the tools to measure something as complex as this while public health is facing the issues on the ground, such as infectious diseases, malnutrition, or mental health," she says.
In 2021, the Hubert Department of Global Health added a new doctoral program in Global Health and Development, with the goal of training leaders and scholars who use science to improve public health policy and practice for underserved populations globally. Graduates will acquire a solid understanding of the theoretical frameworks of implementation science and relevant methodological skills required to guide programs and policies that are designed to improve health outcomes in a variety of settings across the globe.
"Emory is training the next generation of researchers who are contributing to high-level technical and policy debates on women's empowerment as a social determinant of global health," Yount says.