Environmental Report Finds High Levels of Carcinogenic Toxin Near Oxford Campus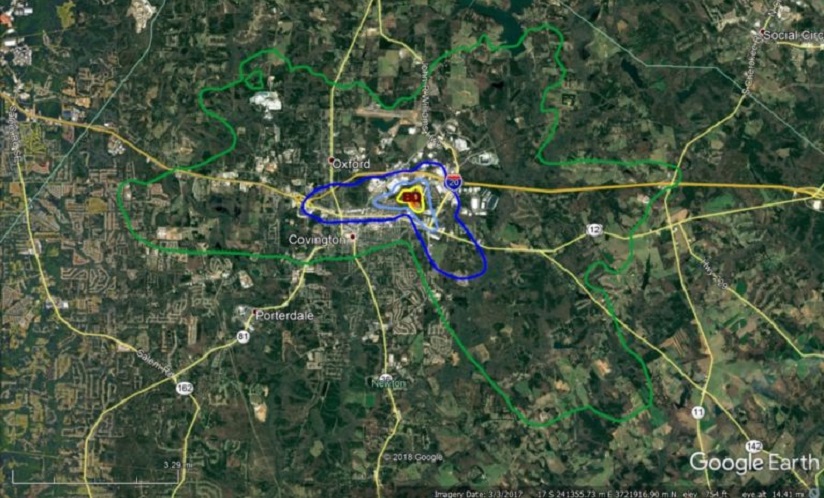 An assessment released by the Environmental Protection Agency (EPA) and a model created by the Georgia Environmental Protection Division (EPD) indicate hazardous concentrations of the cancer-causing toxin ethylene oxide in Covington, Ga., one mile from Emory's Oxford campus.
Ethylene oxide, a colorless and odorless chemical commercially used to sterilize medical equipment, is considered carcinogenic to humans, according to a 2016 study by the EPA. Exposure to the chemical occurs primarily through inhalation.
Maps within the EPA's 2018 National Air Toxics Assessment (NATA), which is based on data from 2014, depict the elevated cancer risk centered around the medical manufacturing plant BD Bard. The facility released approximately three tons of ethylene oxide into the air in 2014 which is within legal limits of the Clean Air Act. The Oxford campus is located adjacent to the area of elevated cancer risk. The report also flagged two areas in Smyrna, Ga., for having elevated cancer risks. 
The NATA measured cancer risk by comparing the likelihood that 100 in 1 million people would develop cancer if they were to breathe the same amount of air containing the same air pollutant for 70 years, across different subdivisions of a county called census tracts. If the likelihood of developing cancer is above 100 for any given census tract, that area is considered to pose an elevated cancer risk. 
According to the 2014 data, the total cancer risk for the census tract affecting Covington is 214 cases per 1 million residents. Oxford College is in an area with 71 total cases per 1 million residents, which is considered safe under EPA guidelines.
Data from 2014 was not made publicly available until 2018 when the EPA completed the NATA. The city of Covington was made aware of the report on Sunday, according to Public Relations Manager Trey Sanders. The EPA decided not to issue a press release after the 2018 NATA, according to WebMD Health News Center.
Associate Director of Media Relations Elaine Justice told the Wheel Monday night that Oxford College is not impacted by the emissions release, but emailed again later, adding, "We are continuing to look into this matter. The safety and well-being of our community is a top concern."
A Georgia EPD memo from June 2018, obtained by WebMD Health News Center, shows that BD Bard's ethylene oxide emissions exceeded the state's annual Acceptable Ambient Concentration (AAC), or the level of chemical concentration that would result in one potential excess cancer in a million, over a lifetime. The Georgia EPD model estimated concentrations of ethylene oxide in nearby residential areas to be 17 to 97 times higher than the AAC. The EPA does not consider this risk as "unacceptable," according to Chief of Georgia EPD's Air Protection Branch Karen Hays. The Oxford campus, however, is located in an area where estimated toxin levels are at the annual AAC, according to the model.
The company sterilizes medical supplies using ethylene oxide and then vents the chemical into an industrial machine that eliminates air pollutants, according to the memo.
Georgia EPD's model is based on BD Bard's plant emission data collected in 2017 and uses computer modeling to estimate ethylene oxide levels around the plant but does not use actual air samples. A risk assessment group in the division is currently evaluating the health hazards of the modeled concentrations and is expected to provide results in August, according to Hays. 
Hays said that emissions under the current Georgia EPD estimates are lower than the 2014 EPA emissions measurements because "facilities sometimes overestimate emissions" when providing data to the Toxic Release Inventory, the inventory used by the EPA. 
Georgia EPD Director of Communications Kevin Chambers told the Wheel in a July 25 press statement that the division is working with BD Bard to "implement additional voluntary improvements in their control of ethylene oxide gas."
BD Bard's Senior Director of Public Relations Troy Kirkpatrick told the Wheel in an email Monday afternoon that the manufacturing plant's ethylene oxide emission levels are "well below all requirements under the Clean Air Act," and "meets or exceeds all local, state and federal ethylene oxide emission standards in Covington." He also wrote that BD Bard hired an independent third party to conduct stack testing in accordance with permit requirements.
Although the EPA has long established the man-made chemical as potentially harmful to humans, it was only after the completion of a 10-year study in 2016 when the agency publicly recognized the extent of its detrimental health effects, classifying it as a human carcinogen. 
Kyle Steenland, a professor of epidemiology at the Rollins School of Public Health, was one of the first researchers to examine the negative health effects of ethylene oxide in the 1980s. After analyzing data from a cohort of workers who sterilize medical products, Steenland found that morality from lymphoid cancer and incidents of breast cancer was elevated among people with higher exposure to the chemical. Steenland's epidemiological findings, along with laboratory studies, were used by the International Agency for Research on Cancer to classify ethylene oxide as a definite human carcinogen. 
U.S. Rep. Hank Johnson (D-Ga.), who represents the area around Covington, told WebMD Health News Center that he wants to see air quality tests and criticized state and federal agencies for not alerting residents earlier. 
Kim McCormick-Smith, a resident of Covington since 1984, raised her daughter a mile and a half from the plant. At the age of 30, her daughter was diagnosed with stage three breast cancer. According to McCormick-Smith, some of her daughter's friends were also diagnosed with cancer.
"Three ladies who've lived within five minutes of each other, all exactly the same age, were diagnosed with the exact same, aggressive and rare type of breast cancer," she said. "The statistics of that happening, within such a close proximity, is unusual."
McCormick said the reports of elevated levels of ethylene oxide emissions only "confirmed" what she thought about her daughter's cancer. 
"There's no genetic component to it. I knew it had to be environmental," she said. "Breast cancer is something you see in older groups of women. Doctors don't even recommend mammograms for women under 40."
An online petition, signed by around 2,300 people as of Thursday night, is asking for a complete shutdown or relocation of the medical supply plant.
Update (7/25/19 at 5:20 p.m.): The article was updated to include a more precise definition of Acceptable Ambient Concentration and to include a July 25 press release from Georgia EPD.
Update (7/25/19 at 11:53 p.m.): The article was updated to include research from Professor Kyle Steenland and an interview with Kim McCormick-Smith.