Please help improve Faculty Profile solution by taking a quick Survey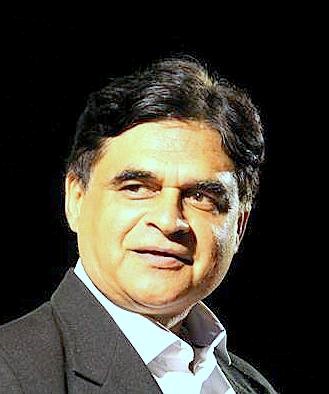 Prof. Mehrotra is an Adjunct Professor of Epidemiology at the Rollins Institute of Public Health, Emory University, Atlanta and Founder of the CHIP Foundation. He is a member of the Scientific Council of the International Agency for Research on Cancer (IARC) of the World Health Organization at Lyon, France. Earlier he directed the National Institute of Cancer Prevention and Research as well as the WHO-FCTC Global Knowledge Hub on Smokeless Tobacco Products and was the Founder-CEO of the India Cancer Research Consortium.
In addition to his academic career in various medical schools, Dr. Mehrotra has been a leading proponent of affordable cancer care. He led successful programs in a broad range of public health efforts. He has guided the Ministry of Health & Family Welfare in conceiving and implementing the Framework for Cancer Control. He was instrumental in three states take up HPV vaccination immunization against cervical cancer, the most recent one being Sikkim.
Over and above his expertise in cancer prevention, epidemiology, pathology, and public health, Prof Mehrotra has a wealth of experience leading large multi-disciplinary teams, overseeing operations, shaping and implementing national-scale strategic plans, fostering key institutional partnerships, and using evidence to influence policy. Has extensive experience collaborating with leaders in government, academia, private and not-for-profit sectors and has facilitated collaborative projects with well-known international institutions such as the US National Institutes of Health, Centers for Disease Control and Prevention, National Institute of Health Research, UK, The Union, and the World Health Organization- Framework Convention for Tobacco Control. He is an impactful researcher with more than 350 peer-reviewed publications, including The Lancet, Cancer, BMJ and Nature, numerous books/chapters, and technical reports, he sits on the editorial board of 8 medical journals and was the Principal Investigator of over 10 national and international research grants with major funding.
His research interests are focused on various aspects of health, especially non-communicable diseases, including the early diagnosis and screening of cancer, diabetes, and hypertension, tobacco control, especially the smokeless variety, and mentoring of younger scientists as well as health worker training. He is the winner of many prestigious awards, including the prestigious Dr. P.N.Wahi and Dr. Lachman award in Cancer prevention as well as the Ernest Fernandes Award of the Indian Academy of Cytologists, in addition to being its' past President.
He is a committed educator who has successfully mentored more than two-dozen graduate and post-graduate trainees in pathology, epidemiology, molecular cancer research, and global health. Dr. Mehrotra holds degrees in Medicine from the Armed Forces Medical College, Pune, MD, and a Doctor of Philosophy from the University of Allahabad as well as the Fellowship of the Royal College of Pathology from the United Kingdom.
View Resume
Areas of Interest
Cancer Prevention
Non-communicable Diseases
Tobacco Control and Prevention
Education
MBBS 1980, University of Poona Armed Forces Medical College
MD 1983, University of Allahabad Moti Lal Nehru Medical College
D Phil 2010, University of Allahabad
FRCPath 2012, Royal College of Pathology
Affiliations & Activities
CHIP Foundation
Associate, Healis Sekhsaria Institute of Public Health https://www.healis.org/
Affiliate, Cancer Foundation of India http://www.cancerfoundationofindia.org
Co-Director, ASTRA - Addressing Smokeless Tobacco Research in South Asia project from NIHR (UK) https://www.york.ac.uk/igdc/research/astra-project/
Visiting Professor, Schoool of Health Sciences, University of York, UK https://www.york.ac.uk/healthsciences/research/public-health/staff/
Member, Council of Advisors on Science and Technology, Open Health Sciences Laboratory (OHSL), USA http://www.ohsl.us/teaming/council-of-advisors-for-science-and-technology-cast/cast-membership/
Visiting Professor of Global Health, Brunel University, UK https://www.brunel.ac.uk/people/ravi-mehrotra
Member, Scientific Council of WHO-IARC, Lyon, France http://governance.iarc.fr/SC/SC56/BiosketchSC2020.pdf
Publications
Shridhar K, Aggarwal A, Rawal I, Gupta R, Masih S, Mehrotra R, Gillespie TW, Dhillon PK, Michaud DS, Prabhakaran D, Goodman M.

,

2021

,

Feasibility of investigating the association between bacterial pathogens and oral leukoplakia in low and middle income countries: A population-based pilot study in India. PLoS

,

PLoS 1

, ,

India State-level Disease Burden Neurological Diseases Collaboration, Mehrotra R.

,

2021

,

The burden of neurological disorders across the states of India: the Global Burden of Disease Study 1990-2019.

,

Lancet Global Health

, ,

Nethan ST, Kumar V, Sharma S, Sinha DN, Hariprasad R, Mehrotra R, Srivastava A

,

2021

,

Tobacco use among urban slum dwellers attending a cancer screening clinic in the National Capital Region of India: a cross-sectional study. 34158834

,

eCancermedicalscience

, ,

Marima R, Hull R, Mathabe K, Setlai B, Batra J, Sartor O, Mehrotra R, Dlamini Z.

,

2021

,

Prostate cancer racial, socioeconomic, geographic disparities: targeting the genomic landscape and splicing events in search for diagnostic, prognostic and therapeutic targets

,

Am J Cancer Res

, ,

Basu P, Tripathi R, Mehrotra R, Ray K, Srivastava A, Srivastava A.

,

2021

,

Role of Integrative medicine in the continuum of care of breast cancer patients in the Indian context

,

Cancer Causes Control

, ,

McDonald JA, Rao R, Gibbons M, Janardhanan R, Jaswal S, Mehrotra R, Pandey M, Radhakrishnan V, Ramakant P, Verma N, Terry MB.

,

2021

,

Symposium Report: Breast Cancer in India – Trends, Environmental Exposures and Clinical Implications.

,

Cancer Causes Control

, ,

Ginsberg O, Yip CH, Brooks A, Cabanes A, Caleffi M, Dunstan Yataco JA, Gyawali B, McCormack V, McLaughlin de Anderson M, Mehrotra R et al

,

2020

,

Breast cancer early detection: a phased approach to implementation.

,

Cancer

, 126,

2379-93

Hariprasad R, Tulsyan S, Babu R, Dhanasekaran K, Thakur N, Hussain S, Tripathi R, Sreenivas V, Sharma S, Sriram L, Singh S, Mehrotra R

,

2020

,

Evaluation of a Chip-Based, Point-of-Care, Portable, Real-Time Micro PCR Analyzer for the Detection of High-Risk Human Papillomavirus in Uterine Cervix in India.

,

JCO Jour Glob Oncol

, ,

Yadav A , Kumar C, Gupta PC, Sinha DN, Mehrotra R

,

2020

,

Smokeless tobacco control in India: policy review and lessons for high burden countries

,

BMJ Global Health

, PMID: 32665375,

Murray CJL, Lopez AD, Vos T, Lim SS, GBD Collaborators, Mehrotra R.

,

2020

,

Five insights from the Global Burden of Disease Study 2019

,

Lancet

, ,

Gupta AK, Nethan ST, Mehrotra R

,

2020

,

Tobacco use as well-recognized cause of severe COVID-19 disease

,

Resp Med

, ,

Mehrotra R, Kaushik N, Kaushik R

,

2020

,

Why smokeless tobacco control needs to be strengthened?

,

Cancer Control

, 27,

107327482091465 PMID:32208972

Sankaranarayanan R, Basu P... Mehrotra R

,

2019

,

Current status of human papillomavirus vaccination in India's cervical cancer prevention efforts

,

Lancet Oncology

, 20,

e637-e644

Mehrotra R, Yadav A, Sinha DN, Parascandola M, John RM, Ayo-Yusuf O, Nargis N, Hatsukami DK, Warnakulasuriya S, Straif K, Siddiqi K, Gupta PC

,

2019

,

Global scenario of smokeless tobacco control: call to action for full implementation of WHO FCTC measures.

,

Lancet Oncology

, 20,

e208-17

Naghavi M; ... Mehrotra R & Global Burden of Disease Self-Harm Collaborators

,

2019

,

Global, regional, and national burden of suicide mortality 1990 to 2016: systematic analysis for the Global Burden of Disease Study 2016.

,

BMJ

, 364,

194

GBD Group, Mehrotra R

,

2019

,

Global, regional, and national cancer incidence, mortality, years of life lost, years lived with disability, and disability-adjusted life years for 29 cancer groups, 1990 to 2017: a systematic analysis for the global burden of disease study.

,

JAMA Oncology

, ,

GBD Group... Mehrotra R

,

2019

,

Mapping 123 million neonatal, infant and child deaths between 2000 and 2017

,

Nature

, 574,

353-58

Dhillon P, Mathur P, Nandakumar A, Mehrotra R, Swaminathan S, Dandona L

,

2018

,

India State-Level Disease Burden Initiative Cancer Collaborators.The burden of cancers and their variations across the states of India from 1990 to 2016: the Global Burden of Disease Study.

,

Lancet Oncology

, ,

Sivaram S, Majumdar G, Perin D, Ashrafunnessa, Broeders M, Lynge E, Saraiya M, Segnan N, Sankaranarayanan R, Rajaraman P, Trimble E, Taplin S, Rath GK, Mehrotra R

,

2018

,

Population-based cancer screening programmes in low-income and middle- income countries: regional consultation of the International Cancer Screening Network in India.

,

Lancet Oncology

, 19,

113-22.

Mehrotra R, Hariprasad R, Rajaraman P, Mahajan V, Grover R, Kaur P, Swaminathan S

,

2017

,

Stemming the wave of cervical cancer: HPV vaccine introduction in India.

,

Jour Global Oncol

, ,

Rajaraman P, Anderson BO, Basu P, Belinson JL, D'Cruz A, Dhillon P, Gupta PC, Jawahar TS, Joshi N, Kailash U, Kapambwe S, Katoch VM, Krishnan S, Panda D, Sankaranarayanan R, Selvam JM, Shah KV, Shastri S, Shridhar K, Siddiqi M, Sudha S, Seth T, Srivastava A, Trimble TM, Mehrotra R

,

2015

,

Recommendations for screening and early detection of common cancers in India.

,

Lancet Oncology

, 16,

e352-61