Please help improve Faculty Profile solution by taking a quick Survey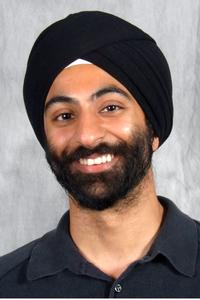 Dr. Suchdev is the Associate Director of the Emory Global Health Institute and Director of the School of Medicine Global Health & Equity Office. He holds faculty appointments in the Department of Pediatrics at the School of Medicine, the Hubert Department of Global Health at the Rollins School of Public Health, and the Program in Nutrition Health Sciences at the Laney Graduate School. He is also a medical epidemiologist with the CDC Nutrition Branch and a Pediatric Hospitalist at Children's Healthcare of Atlanta. Dr. Suchdev completed the CDC Epidemic Intelligence Service fellowship before joining Emory faculty in 2007.
Dr. Suchdev's research focuses on micronutrient malnutrition, in particular the safety and effectiveness of home fortification programs, as well as the effects of infection/inflammation on nutrition biomarkers. Dr. Suchdev has worked on collaborative research projects in over 10 countries and served on the Governance Committee of the American Society of Nutrition Global Nutrition Council. He also has a passion for global health education and spearheaded a global health track for the Emory Pediatrics residency program in 2011. He is working on expanding and standardizing global health education nationally and is the immediate past Chair of the American Academy of Pediatrics Section on Global Health.
Areas of Interest
Global Health
Health Education
Maternal and Child Health
Nutrition
Education
MD, MPH 2002, Northwestern University
Pediatrics 2005, University of Washington
Courses Taught
GH 552: Globl Elimination Malnutrition
Publications
Suchdev PS, Boivin MJ, Forsyth BW, Georgieff MK, Guerrant R, Nelson CA

,

2017

,

Assessment of neurodevelopment, nutrition and inflammation from fetal life to adolescence in low-resource settings

,

Pediatrics

, 139,

Suchdev PS

,

2017

,

What pediatricians can do to address malnutrition globally and at home

,

Pediatrics

, 139,

Suchdev PS, Namaste S, Aaron G, Raiten DJ, Brown K, Flores-Ayala R

,

2016

,

Overview of the Biomarkers Reflecting Inflammation and Determinants of Anemia Project

,

Advances in Nutrition

, ,

Raiten DJ, Ashour FAS, Ross CA, Meydani SN, Porter A, Dawson HD, Suchdev PS

,

2015

,

Inflammation and Nutritional Science for Programs/Policies and Interpretation of Research Evidence (INSPIRE)

,

J Nutrition

, ,

Suchdev PS, Breiman R, Stoll BJ

,

2014

,

Global child health: A call to collaborative action for academic health centers

,

JAMA Pediatrics

, ,

Suchdev PS, Davis S, Bartoces M, Ruth LJ, et al

,

2014

,

Soil-transmitted helminthic infection and nutritional status among urban slum children in Kenya

,

AJTMH

, 90,

299-305

Suchdev PS, Neufeld LM

,

2013

,

Micronutrient powders for young children

,

Lancet

, 382,

1171

Suchdev PS, Shah A, Patel M, Jefferds ME, Eleveld A, Ruth L

,

2013

,

Sustainability of market-based community distribution of Sprinkles in western Kenya

,

Maternal & Child Nutrition

, 9,

Suchdev PS, Shah A, Derby K, at al

,

2012

,

A Proposed Model Curriculum in Global Child Health for Pediatric Residents

,

Academic Pediatrics

, ,

Suchdev PS, Ruth L, Woodruff BA, Mbakaya C, Mandava U, Flores-Ayala R, Jefferds ME, Quick R

,

2012

,

Selling Sprinkles Reduces Anemia, Iron Deficiency and Vitamin A Deficiency among Young Children in Western Kenya: A Cluster-randomized Controlled Trial

,

AJCN

, ,

De-Regil LM, Suchdev PS, Pena-Rosas JP

,

2011

,

Home fortification of foods with multiple micronutrient powders for health and nutrition in children under two years of age

,

Cochrane Database of Systematic Reviews

, ,

Suchdev PS, Leeds I, McFarland D, Flores R

,

2010

,

Is it time to change guidelines for iron supplementation in malarial areas?

,

Journal of Nutrition

, 140,

875