Return to Faculty Listing
Manoj
Jain
Adjunct Asst Professor
Adjunct Professor
Adjunct or Visiting, Health Policy and Management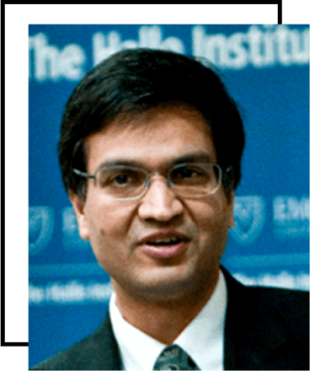 Manoj Jain, MD MPH is an infectious disease physician, a writer, and a national leader in healthcare quality improvement.
He received his engineering, doctorate, and public health degree from Boston University. He did his residency, fellow and executive public health training at Boston City Hospital, New England Medical Center, Tufts University and Harvard School of Public Health, respectively. He has served as a consultant to the World Bank on HIV, and has been interviewed by CNN and National Public Radio. Over the past 15 years, Dr. Jain has given over 150 talks, and published numerous scientific articles, chapters, and books. Dr. Jain has conducted research on HIV epidemiology, quality improvement, and spirituality & meditation.
Presently, Dr. Jain is an Infectious disease consultant at Baptist Memorial Hospital and Methodist Hospitals in Memphis. He is also a Clinical Associate Professor at University of Tennessee, Memphis and Rollins School of Public Health at Emory University in Atlanta.
Education
Bachelors in Engineering 1985, Boston University
Masters in Public Health 1989, Boston University
Residency 1992, Boston City Hospital
Doctorate in Medicine 1989, Boston University
Fellowship 1995, New England Medical Center/Tufts University
Affiliations & Activities
Writings for Washington Post, New York Times and Commercial Appeal.
Washington Post Columns – 22 columns since April 2007
Commercial Appeal Columns – 67 columns since February 2003
National Public Radio – Talk of the Nation
Jain MK, Plan-Do-Study-Act Cycle Rejuvenates a Marriage Ann Intern Med 2008 140:209-210
Jain MK, Jain L, Dalal T. Jain Food: Compassionate and Healthy Eating. (176 page – hardcover cookbook) July 2005
Jain MK, Mathai, Management of Infectious Diseases, Jaypee Brothers, New Delhi, India. July 2005.
Jain L, Jain MK, Indian Cuisine Made Easy: Vegetarian Dishes any ABCD can Make, July 2004 (200 page cookbook).
Jain M. Weddle J, Wildman L., Errors of underuse and overuse among Tennessee hospitals for selected clinical conditions in Medicare Patients. Tenn Med. 2003 Sep;96(9):425-7
Jain M. Weddle J. Community acquired pneumonia–how does Tennessee measure up?Tenn Med. 2003 Jun;96(6):271-4.
Jain, MK, Butler J, Mirvis D. Heart failure: do we deliver quality care? Tenn Med. 2003 Feb:96(2):81-4.
Butler J, Arbogast PG, BeLue R, Daugherty J, Jain MK, Ray WA, Griffin MR. Outpatient adherence to beta-blocker therapy after acute myocardial infarction. J Am Coll Cardiol. 2002 Nov 6;40(9):1589-95.
Dusek JA, Sherwood JB, Freidman R, Myers P, Bethea CF, Levitsky S, Hill PC, Jain MK, Kopecky SL, Mueller PS, Lam P, Benson H, Hibberd PL. Study of the Therapeutic Effects of Intercessory Prayer (STEP): study design and research methods. Am Heart J. 2002 Apr;143(4):577-84.
Ghorbani RP, Ghorbani AJ, Jain MK, Walker DH. A case of scrub typhus probably acquired in Africa. Clin Infect Dis. 1997 Dec;25(6):1473-4.
Jain MK Chapter on "Parasitic and Tropical Diseases Textbook of Primary Care Medicine, Editor John Noble 2000.
Status and Trends of the Global HIV/AIDS Pandemic. Satellite Symposium of the XI International Conference on AIDS in Vancouver Canada. (Consensus Statement Participant), 1996.
George S, Jacob M, Jain MK, et al. Risk Factors for HIV infection in STD Clinic in Vellore, India. (Accepted for publication in JAIDS).
Jain M, John TJ. (Letter) Lancet. HIV epidemic in India, 348(9024):412-3,Aug10, 1996.
Jain MK, DeMaria, A. Chapter on "Parasitic and Tropical Diseases, and Advice for Travelers" Pg 855-884. Textbook of Primary Care Medicine, Editor John Noble 1996.
Jain MK, John TJ, Keusch GT: Review of HIV Infection in India. JAIDS, Nov 1994, 7(11):1185-94.
Jain MK, John TJ, Keusch GT: Epidemiology of HIV and AIDS in India, AIDS 1994, 8 (suppl 2):S61-S75.
Dasgupta PR, Jain MK, John TJ, Government response to HIV/AIDS in India, AIDS 1994, 8 (suppl 2):S83-S90.
Jain L., Jain M.:Melody of India Cuisine: Tasteful New Vegetarian Recipes Celebrating Soy and Tofu, Santa Barbara,CA, Woodbridge Press, 1992. (224 page book on soybean nutrition and recipes).
Referral to the Community for Continuing Medical Care of Newly Identified Patients with HIV Infection:Experience from a Diagnostic Evaluation Unit. H Libman, JH Samet, KA Freedberg, M Jain, DE Craven.Abstract presented as a poster at 1992 Society of General Internal Medicine Meeting, Washington DC.
Jain L., Jain M.: Indian Soy Cuisine, Singapore, American Soybean Association, 1988. (A booklet being sold and distributed in India and USA)
Jain M.: "Educating Villagers in India on the Dietary Uses of Soybean", Food and Nutrition Bulletin, Dec.,1988.
Jain M.,Colburn S., Gallagher D.: "Determination of Binaural Hearing Critical Bandwidth through Interaural Correlation", Journal of Acoustical Society of America, in press.