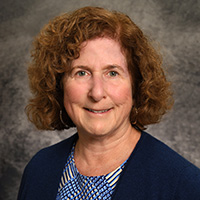 I am the Jules and Uldeen Terry Distinguished Professor of Women's Health. My research is focused on the epidemiology of ovarian and breast cancers. My group in 'Integrative Epidemiology' combines excellence in study design with state of the art genomic analyses. This is applied across cancer research into causation, prevention, and prognosis. This will lead to the development of causal analysis methods for application in population-based and clinical health sciences.
The goal of integrative epidemiology is to accelerate the translation of scientific discoveries to population health impact. Integration of the emerging wealth of data–including "omics" data, epidemiologic and clinical data, and behavioral and geographical data–will lead to the construction of "system" models. These models will enhance our understanding of the mechanisms underlying cancer risk and the macro-level factors (e.g., social determinants and health care policy) that may influence outcomes, generate hypotheses for future research, and identify possible targets for prevention or clinical intervention.
"Integrative epidemiology" combines epidemiologic study design with rapid advances in analytic systems and biostatistical and bioinformatic tools in order to extend the boundaries of molecular epidemiology. In order to facilitate this integrative approach, it is necessary to:
Promote a model of research that is cross-disciplinary and collaborative. Shared data and related biospecimens are essential to support this approach.
Develop systematic approaches to manage and display complex datasets.
Coalesce and mine data from disparate sources, using the tools developed by the field of data science.
Develop approaches for synthesis and translation of multi-level information within the framework of cancer epidemiological research.
Areas of Interest
Cancer Prevention
Epidemiology
Genetic Association Studies
Genetic Epidemiology
Genomics
Health Disparities
Education
BS 1978, Pennsylvania State University
MPH 1982, Yale University
PhD 1987, Yale University
Courses Taught
EPI 584: Epidemiology of Cancer
Affiliations & Activities
Publications
Peres LC, Bethea TN, Camacho TF, Bandera EV, Beeghly-Fadiel A, Chyn DL, Harris HR, Joslin CE, Moorman PG, Myers E, Ochs-Balcom H, Rosenow W, Setiawan VW, Wu AH, PhD, Rosenberg L, Schildkraut JM.

,

2021

,

Racial Differences in Population Attributable Risk for Epithelial Ovarian Cancer in the OCWAA Consortium

,

Journal of the National Cancer Institute

, in press,

Manichaikul A, Peres LC, Wang XQ, Barnard ME, Chyn D, Sheng X, Du Z, Tyrer J, Dennis J, Schwartz AG, Cote ML, Peters E, Moorman PG, Bondy M, Barnholtz-Sloan JS, Terry P, Alberg AJ, Bandera EV, Funkhouser E, Wu AH, Pearce CL, Pike M, Setiawan VW, Haiman CA; African American Breast Cancer Consortium (AABC); African Ancestry Prostate Cancer Consortium (AAPC), Palmer JR, LeMarchand L, Wilkens LR,Berchuck A, Doherty JA, Modugno F, Ness R, Moysich K, Karlan BY, Whittemore AS, McGuire V, Sieh W, Lawrenson K, Gayther S, Sellers TA, Pharoah P, Schildkraut JM.

,

2019

,

African American Cancer Epidemiology Study (AACES) and the Ovarian Cancer Association Consortium (OCAC). Identification of novel epithelial ovarian cancer loci in women of African ancestry

,

Int J Cancer

, ,

Cannioto RA, Trabert B, Poole EM, Schildkraut JM.

,

2017

,

Ovarian cancer epidemiology in the era of collaborative team science.

,

Cancer Causes Control

, 28,

487-495

Schildkraut JM, Abbott SE, Alberg AJ, Bandera EV,l Barnholtz-Sloan J, Bondy M, Cote ML, Funkhouser E, Peres LC, Peters ES, Schwartz AG, Terry P, Crankshaw S, Camacho F, Wang F, Moorman PG.

,

2016

,

Association between Body Powder Use and Ovarian Cancer: the African American Cancer Epidemiology Study (AACES)

,

Cancer Epidemiol Biomarkers Prev.

, 25,

1411-1417

Schildkraut JM, Iversen ES, Akushevich L, Whitaker R, Bentley RC, Berchuck A, Marks JR.

,

2013

,

Molecular signatures of epithelial ovarian cancer: analysis of associations with tumor characteristics and epidemiologic risk factors

,

Cancer Epidemiol Biomarkers Prev.

, 22,

1709-1721