Return to Faculty Listing
Eric
Pevzner
Adjunct Asst Professor
Adjunct Associate Professor
Adjunct or Visiting, Behavioral/Social/Health Educ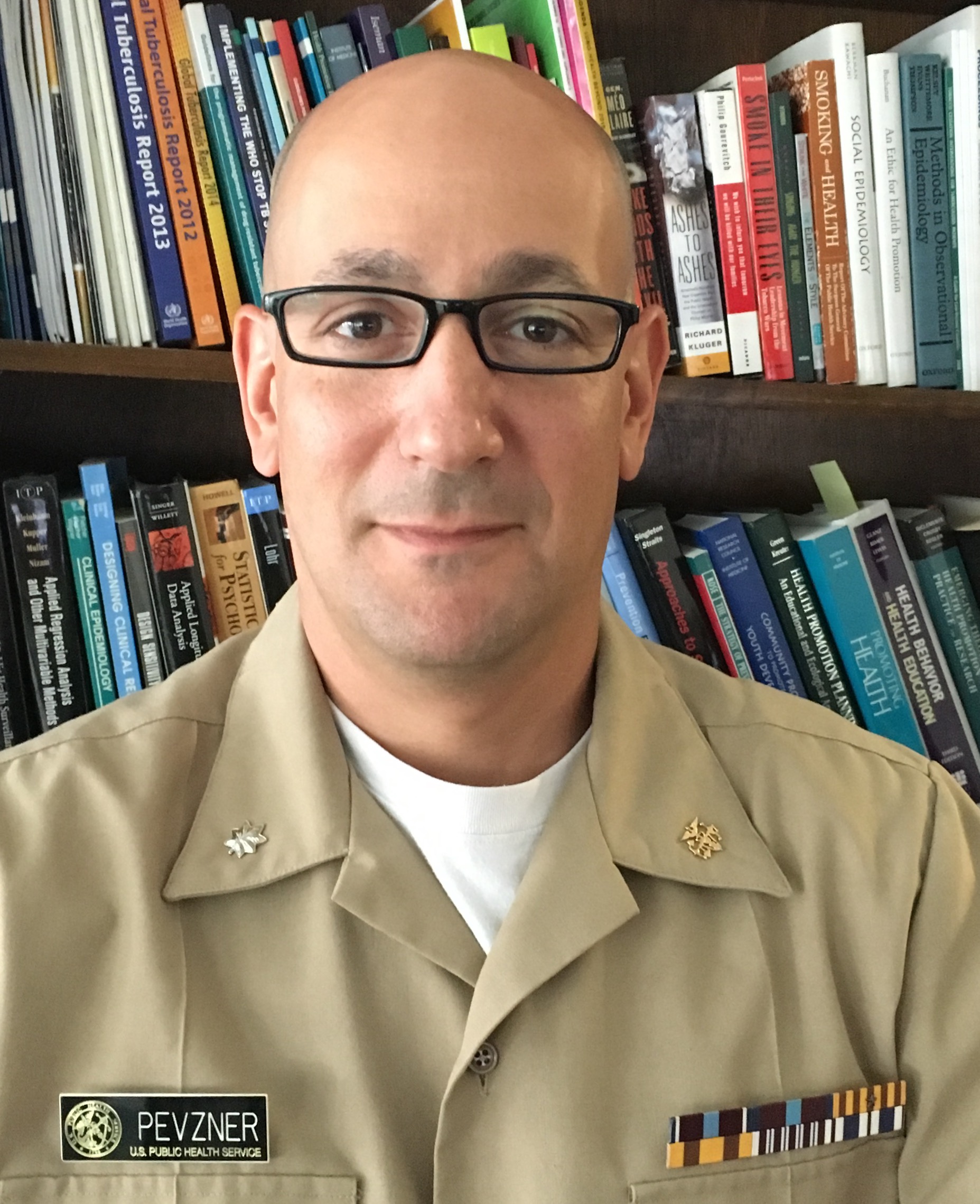 My career in Public Health began as an MPH student at the Rollins School of Public Health in the department of Behavioral Science and Health Education (BSHE) in 1996. I graduated with my MPH in 1998 and joined the U.S. Centers for Disease Control and Prevention as a Presidential Management Fellow (PMF) in the Epidemiology Branch of the Office on Smoking and Health. I was fortunate to have extraordinary scientific mentors and to have joined OSH as the U.S. Government was entering into a Master Settlement Agreement (MSA) with the tobacco industry. I joined OSH during a period of unprecedented funding and opportunity for youth tobacco use prevention. We worked to develop a state-based Youth Tobacco Surveillance System (YTSS) and a National Youth Tobacco Survey (NYTS) to provide data to inform local, state, and national initiatives to reduce and prevent youth tobacco use in the United States.
In 2001, I left CDC to pursue a PhD in Heath Behavior and a minor in Epidemiology at the Gillings School of Public Health at the University of North Carolina at Chapel Hill. As I was completing my dissertation research on youth tobacco use prevention, I was offered some contract work with a former mentor at CDC to work with the World Health Organization (WHO) to evaluate a program to prevent HIV infection among teachers and students in sub-Saharan Africa. My unexpected career shift towards Global Health continued after I completed my PhD in 2005 and returned to CDC as an Epidemic Intelligence Service (EIS) Officer matching with the Global TB Branch originally with the Division of TB Elimination and now with the Division of the Global HIV and TB. Since 2005, I have had the transformative experience of working with Ministry of Health staff and other colleagues in Africa and Asia to design and implement studies and evaluate programs and policies to address the TB/HIV syndemic.
I am fortunate to be an Adjunct Faculty member of the RSPH where I have the opportunity to guest lecture in several courses, serve on the Community Advisory Board, and work with MPH students.
Areas of Interest
Behavior and Health
Chronic Diseases
Epidemiology
Global Health
Health Promotion
Infectious Disease
Education
MPH 1998, Rollins School of Public Health at Emory University
PhD 2005, Gillings School of Public Health at the University of North Carolina at Chapel Hill
Publications
Pathmanathan I, Pevzner ES, Marston BJ, Hader SL, Dokubo EK

,

2016

,

Insights from the Ebola response to address HIV and tuberculosis.

,

The Lancet Infectious Diseases

, 16,

276-278

Jackson-Morris A, Fujiwara AM, Pevzner E.

,

2015

,

Clearing the smoke around the TB-HIV syndemic: smoking as a critical issue for TB and HIV treatment and care.

,

Int J Tuberc Lung Dis

, 19,

1003-1006

Pevzner ES, Vandebriel G, Lowrance DW, Gasana M, Finlay A

,

2011

,

Evaluation of the rapid scale-up of collaborative TB/HIV activities in TB facilities in Rwanda, 2005-2009.

,

BMC Public Healt

, 11,

550

Aburto NJ, Pevzner ES, Lopez-Ridaura R, Rojas R, Lopez-Gatell H, Hernandez M, Lazcano-Ponce E, Harrington TA.

,

2010

,

Knowledge and adoption of community mitigation efforts in Mexico during the 2009 H1N1 pandemic.

,

American Journal of Preventive Medicine

, 39,

395-402

Pevzner ES, Robison S, Donovan J, Allis D, Spitters C, Ijaz K, Oeltmann J.

,

2010

,

Responding to More Than a Decade of Tuberculosis Transmission Fueled by Methamphetamine and other Substance Abuse – Snohomish County, WA, 1991-2006.

,

American Journal of Public Health.

, 100,

2481-2486