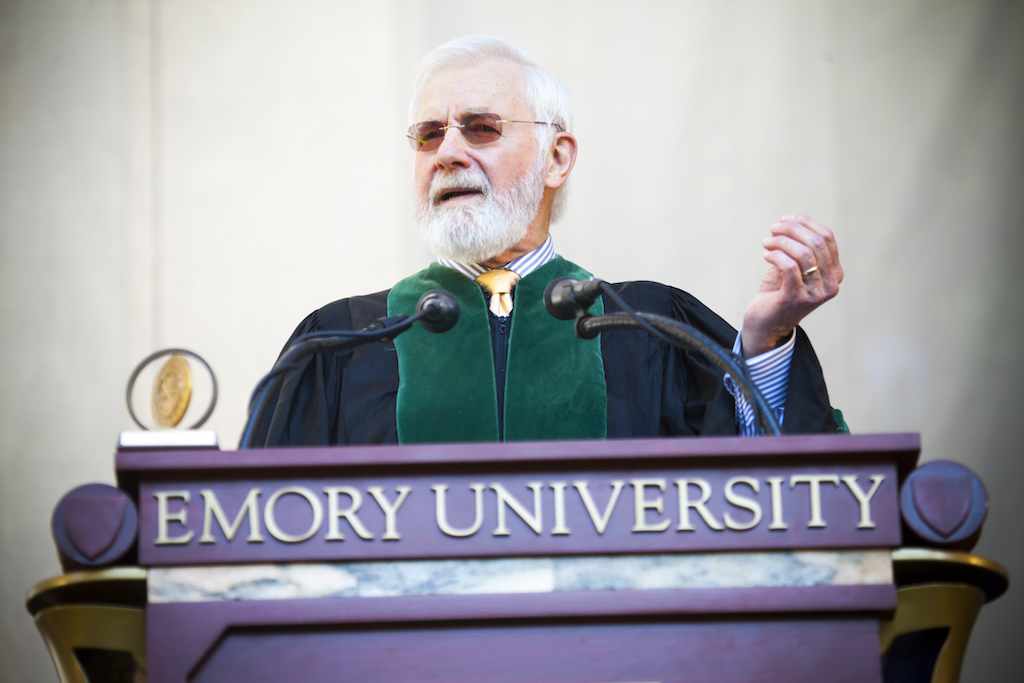 "We must keep promoting the idea of global citizenship, to erase the divisions between nations, cultures, religions, and races." - William H. Foege, MD, MPH
Dr. William H. Foege is a physician and epidemiologist well known for his global health contributions that led to the eradication of smallpox in the late 1970s. Dr. Foege was born March 12, 1936, in Decorah, Iowa. Inspired by his uncle, a Lutheran missionary in New Guinea, he attended medical school at the University of Washington. During this time, he worked at the Seattle-King County Health Department, which sparked his interest in public health. From 1961-1962 he interned at the United States Public Health Service in Staten Island, and he was a Centers for Disease Control and Prevention (CDC) Epidemic Intelligence Service officer in Colorado from 1962-1964. After a brief service with the Peace Corps in India, Dr. Foege pursued a Master of Public Health from the Harvard School of Public Health, receiving his degree in 1965. 
Dr. Foege joined the CDC's ongoing effort to eradicate smallpox in West and Central Africa in the late 1960s, and within a few years, he was named the chief of the Smallpox Eradication Program. As a young medical missionary and epidemiologist in eastern Nigeria, he pioneered a technique known as "surveillance/containment" to combat the spread of smallpox despite vaccine shortages. His approach allowed public health workers to focus their limited resources on areas that, through surveillance, they knew to be high risk for outbreaks, and to contain those outbreaks by vaccinating only the residents of those particular regions. Prior to Dr. Foege's intervention, health authorities believed that in order to contain smallpox, they had to vaccinate 80 to 100 percent of the population. Dr. Foege and his team inoculated approximately 50 percent of the population, and successfully eradicated an infectious disease for the first time in human history.
In recognition of his extraordinary leadership, President Jimmy Carter appointed Dr. Foege as CDC Director in 1977. After serving six years as the head of the CDC, Dr. Foege co-founded the Task Force for Child Survival and Development, now the Task Force for Global Health, in 1984. Dr. Foege joined The Carter Center in 1986 as its first executive director and fellow for health policy. He resigned in 1992 in order to continue his role with the Task Force.
In January 1997, Dr. Foege joined the faculty of Emory University, where he was a Presidential Distinguished Professor of International Health at the Rollins School of Public Health. Three years later, Dr. Foege became a senior medical adviser for the Bill & Melinda Gates Foundation, steering billions of dollars into childhood immunizations, vaccine research, and disease prevention in the world's most underserved regions. Dr. Foege retired from Emory University in December of 2001, and he remains active in the Emory community as Presidential Distinguished Professor Emeritus of International Health. He recently retired from his role at the Gates Foundation, and as a friend to the Gates family, he continues to contribute to their work in global health.
Dr. Foege has championed many issues, but child survival and development, injury prevention, population, preventive medicine, and public health leadership are of special interest, particularly in the developing world. He is a strong proponent of disease eradication and control, and he took an active role in the global efforts to eradicate Guinea worm, polio, and measles, and the successful elimination of river blindness. Dr. Foege is the recipient of many awards, holds honorary degrees from numerous institutions, and is the author of more than 125 professional publications. Dr. Foege is prolific in his lectures and writing, and by sharing his experience and knowledge so generously with the world, he has succeeded in broadening public awareness of public health issues and bringing them to the forefront of domestic and international health policies.
In 2012, President Barack Obama awarded Dr. Foege the Presidential Medal of Freedom, the nation's highest civilian honor. His lifelong dedication to promoting global public health serves as an inspiration to the medical and public health communities worldwide, and it will continue to inspire future generations of public health leaders.
"Bill Foege is one of those rare individuals who combine brilliant science with a moral vision that inspires everyone around him to work harder and accomplish more." - James W. Curran, MD, MPH; James W. Curran Dean of Public Health, Rollins School of Public Health, Emory University