Rollins Ask an Expert: Public Mental Health With Dean M. Daniele Fallin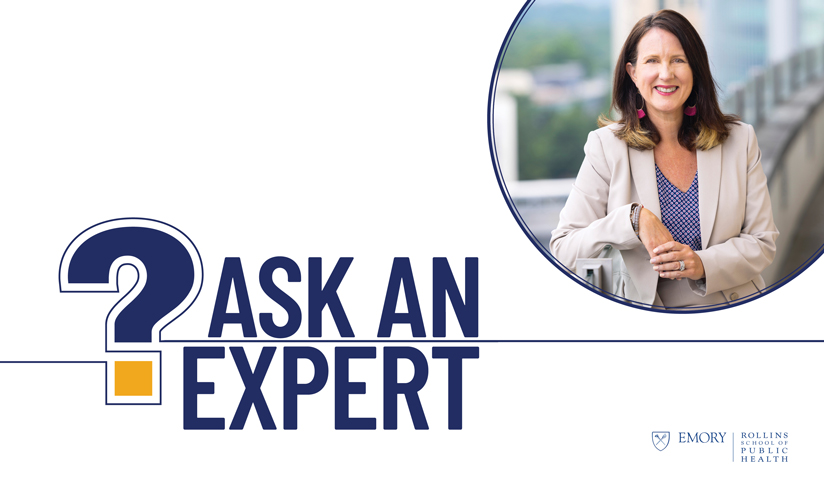 Rollins Ask an Expert is an ongoing series from the Rollins School of Public Health that aligns research experts with pressing public health topics.
---
The state of our nation's mental health is a critical area of concern that has continued to increase in severity and prevalence, with serious consequences to longevity and vitality. One in four adults has a diagnosable mental health condition in any given year. And, the estimates for mental health symptoms like psychological distress are even higher (approximately 65 percent of adults).
Further factors like the inability to access care—due to financial or geographical barriers and health care workforce shortages—the persistent stigma surrounding mental health issues, easy access to guns, and an increasing opioid epidemic further exacerbate the issue in the United States. Despite these challenges, progress is being made. Educators and researchers at Rollins are working diligently to elicit change by training the next generation of public health professionals in public mental health and conducting impactful research.
In this first installment of our Ask an Expert series, we sit down with Dean M. Daniele Fallin, PhD, to discuss mental health at large, her hopes for the future, and everyday tips for improving overall mental health and wellbeing. 
---
May is Mental Health Awareness Month. What overarching messages about mental health do you want to share?
I want people to know that mental health challenges are incredibly common [numbers listed above are reflective of rates seen all over the world], but  they are also treatable and even preventable.  Our perception that these challenges aren't common is likely because we as a society, particularly among our workforce and in many families, don't talk about mental illness given the enduring stigma still associated with mental health challenges. 
These are treatable conditions and you can live a complete and fulfilling life with these diagnoses. I think most people still do not truly believe that. I would go as far to say that not only are these treatable, but many of these are preventable and we are not focusing our efforts in this way as a society.  
What are a few examples of effective prevention tactics?
Fifty percent of all lifetime mental illness begins by age 14, and 75 percent by age 24. This is one of the reasons why focusing on child and adolescent mental health is so important. An example of an effective training I often talk about is a universal prevention offered to six-year-olds called the Good Behavior Game, a classroom intervention that teachers employ over a school year that teaches group adaptation, self-efficacy, and several other coping strategies.
There have been beautiful randomized trials that show this year-long intervention has lifelong impacts on mental health, suicidality, and academic performance.  It may even have transgenerational effects. Researchers are now studying parenting styles among people, now in adulthood, who participated in the Good Behavior Game when they were in first grade.
We know that for the negative experience of something like depression or anxiety, you can build skills before severe onset of symptoms.
For suicide specifically, there's a separate set of considerations for prevention and one of the most consistent ones is removal of means. In this country, the most common means of suicide completion is by gun. So, restricting access to guns can make a huge difference. In other countries it's poisoning, so restricting access to poisons can prevent death. Restricting access to bridges and other high places, and other means by which people harm themselves, can have powerful results. These may seem obvious, but take resources, collaboration, and work. 
How have you approached the subject of mental health with your children?
We've talked about it from day one in two lanes. The first is explaining that people's brains work in different ways and giving grace to others whose brains may work differently than yours. When they got older, we started talking to them about grace as well as empathy—understanding that someone may behave meanly or strangely due to issues that have nothing to do with you and could instead be due to their own challenges. We've also normalized therapy and medication for mental health challenges.  
Building empathy in the next generation seems like an excellent step toward removing stigma. As a culture, we've gotten a little bit better, but what are some barriers that remain?
This idea of being perceived differently is still a big problem. We're all more aware that depression exists in our communities, but are not comfortable saying, "I'm one of those people," because of the perceived negative impact it may have on opportunities for relationships, career advancement, and education. It's a real problem. There's still the pervasive feeling of moral failing or self-efficacy flaws and an attitude of, "Get over it, change your mindset, move on."
Because so many experienced significant psychological distress during the pandemic,  more people recognize the true disruption mental health challenges can have on a person's ability to function, and that you can't always "will yourself" out of it, but there is still much work to be done.
The U.S. Surgeon General issued an advisory this week that "calls attention to the growing concerns about the effects of social media on youth mental health." What does this advisory mean for parents, youth, and for researchers?
As a parent of a teen and preteen, I feel this concern deeply. Navigating screen time and social media is a constant struggle and we don't have a clear roadmap based on evidence about what is best for our children and feasible in our society. What we can do today as parents is to pay attention to the behaviors of our own youth, to what strategies and limits we use in our own families, and to keep paying attention to new evidence and government advice. A key point the surgeon general made is that we have to help parents because it has been entirely on their shoulders to navigate this so far. He is trying to think of ways the government can put guardrails in place going forward to support parent decision-making and build an evidence base. 
From the youth perspective, a lot of them are saying that social media is too much for them, but often this realization is coming after significant negative experiences. They can't see the challenges when they start, and are programmed developmentally to not follow all the advice parents may be giving. They only see it once it's really harmful to them. We need to figure out ways to increase dialogue with youth about this, particularly peer-to-peer, that helps with self-regulation while at the same time building structural limits and protections. Unfortunately, youth are at ages where self-regulation is not developmentally fully in tact just yet, so they need our help. 
Another issue the report highlights is the need for more data and research. Many people have the sense that social media can be bad. And there has been some research, particularly around body image and girls that shows this to be true, but there is a lot of research that hasn't been done. For example, are there healthy amounts of social media? The report highlighted that some of the major social media companies have not been cooperative in sharing data with researchers, so it is very hard to do this research when you are limited by access. While we can work on that front to push for data access, we need also to think of other ways to get this kind of research done because unfortunately neither parents nor the government have great guidance about what to do. We simply don't have a strong evidence base. So, this is really a call to action for researchers.
What are a few healthy habits people can incorporate into their daily lives to improve their mental health?
Find a moment in each day where you practice some form of mindfulness. It doesn't have to be long or involved. It can just be five minutes where you focus on a particular sound or how your body feels. There are several places online where you can find short, free meditation scripts or other tips to practice mindfulness.
Find joy every day. If you haven't found it yet today, block five minutes and find it (time with your dog, your favorite song, time with your loved one). This sounds obvious, but we go several days in a row without finding joy.
Create a gratitude practice. Literally list the things that are going well in your life and what you're grateful for.
Incorporate physical activity into your day, even if just for a few minutes.
Prioritize sleep.
These last two are known to be really helpful for improving mental health and preventing mental health challenges. Those are the things we let slip when we get too busy. 
I also want to add that it's important we have this conversation about mental health in the context of public health. We often think of it through the lens of psychology, psychiatry, or social work, but mental health intersects with all aspects of public health. The more we recognize and think about mental health in the fabric of what we do, the more impact we can have in improving the public's health.
---
Daniele Fallin is the James W. Curran Dean of Public Health. Fallin's globally-recognized research focuses on applying genetic epidemiology methods to studies of neuropsychiatric disorders including autism, Alzheimer's disease, schizophrenia, and bipolar disorder and to developing applications and methods for genetic and epigenetic epidemiology, as applied to mental health and development.