2nd Annual Rollins Day ON Promotes Civic and Community Engagement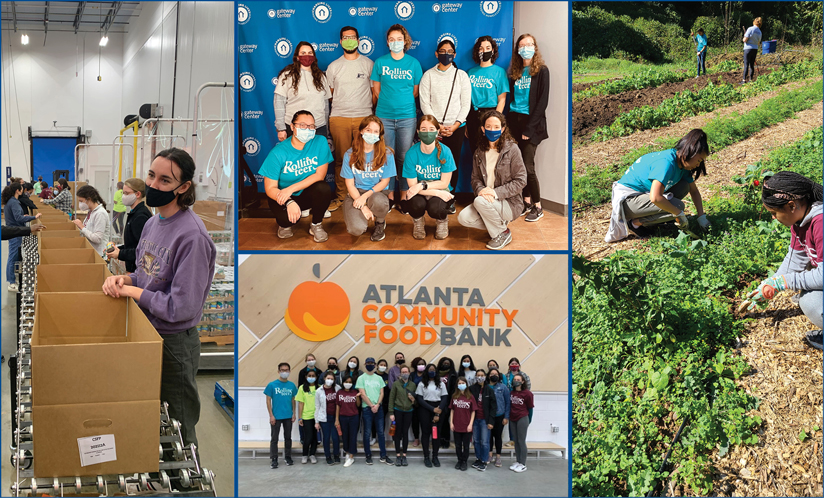 By Christa Ishimwe 
On November 2, Rollins Election Day Initiative (REDI) hosted the 2nd annual Rollins Day ON- an effort aimed at promoting voting and volunteering within the Emory community. This year's Rollins Day ON brought together students, faculty, and staff to participate in local elections and volunteer at community partner sites in the spirit of civic engagement.  
The event was a collaborative effort across Rollins and in partnership with various organizations across Emory. Six student organizations co-led service sites with REDI and facilitated volunteer activities. The student organizations involved were: Emory Reproductive Health Association, Queer/Trans Collaborative at Rollins, Rollins International Student Association, Students For Social Justice, WASH Action Research Program and Scholars In Action. First and second-year MPH/MSPH students, PHD students, dual degree students, staff, and faculty volunteered. 
"Rollins Day ON 2021 set an important precedent for years to come. With the Rollins administration declaring Election Day as an official Rollins holiday, the importance of local civic engagement gained momentum,"says Mohinee Mukherjee, first-year MPH student and co-chair of Community Engagement for REDI.
Ruwenne Moodley, MPH, program coordinator for student engagement at Rollins, helped organize the event and underscored the importance of Rollins' civic engagement. "As global citizens, we understand the importance of voting," she says. "REDI recognizes that many members of our faculty, staff, and student body and are unable to vote in U.S elections. REDI has worked to bring these Rollins members into the voting realm through civic engagement." 
Overall, 66 volunteers participated and volunteered at the six service sites:Atlanta Community Food Bank, Concrete Jungle, Gateway Center, International Women's House, Lost 'n Found, and The Salvation Army.   
REDI also hosted virtual events for Rollins Day ON. The five virtual events were attended by 31 students, staff, and faculty included one voter education event titled, "Fair District GA Redistricting 101" and four different voting-related events that involved phone banking, social media monitoring, and voter protection roles with four respective organizations.   
Rollins Day ON looks different this year than it did its inaugural year, with more emphasis placed on local municipal elections instead of Presidential Elections. Ellie Fuqua, first-year MPH student and co-president of REDI shared, "We thought it was crucial to raise awareness of the importance of these local elections and getting involved civically beyond voting. I think we were quite successful in engaging RSPH community members to sign up for our volunteering and educational events, and in emphasizing voting in local races."
The REDI team hopes to continue building momentum around local civic engagement at Rollins in the years to come. Chenmua Yang, second-year MPH student and co-president of REDI, expressed excitement for future Rollins Day ON events. He notes, "This year was just one step to ensuring that we as future public health professionals continue the traditions of voting and civic engagement long after our time at Rollins ends." 
Follow REDI on social media to follow their efforts and events; 
Instagram; @emory.redi | Twitter; @emoryredi | Facebook; @Emory.REDI