COUNTDOWN TEDx: Climate Change and Environmental Justice in the Black Community Held at Rollins on October 30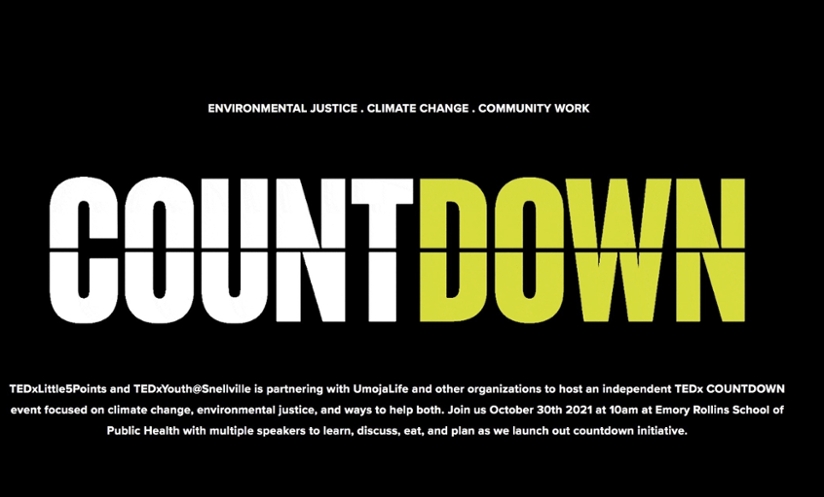 On October 30, members of the Association for Black Public Health Students (ABPHS) and Rollins alumni will host a TEDx-style event titled, COUNTDOWN TEDx: Climate Change and Environmental Justice in the Black Community, in collaboration with community organization UmojaLife, TEDx Little Five Points, and TEDxYouth@Snellville.
Free and open to the public, the event will bring together middle and high school students, graduate students, alumni, and community members for a meaningful conversation surrounding environmental health/justice, climate change, and social determinants of health. Among the goals of the event are to, "expose middle and high school students to minority professionals and STEAM leaders who are creating innovative solutions with 'ideas worth spreading' to address climate change" as well as "to challenge student participants to become climate change-agents in their local communities for this school year and beyond."
Speakers included in the day's agenda include:
Diamond Spratling, MPH, founder and president of Millennials 4 Environmental Justice (Rollins alum)
Sabina Emerenini, MPH, public health educator at MPHI (Rollins alum)
Mathew McCurdy, MPH, director of programs at Health DesigneED and co-founder of BLKHLTH (Rollins alum)
Khadijah Ameen, MPH, co-founder and executive director of BLKHLTH (Rollins alum)
John Reed III, program director at Eagles Educational Services/SFAYC
Sheridan Alford, environmental educator and co-founder of Black Birders Week
Following each speaker, breakout sessions will take place where youth, Rollins students, and speakers can engage in in-depth discussions related to climate change and environmental justice in Black communities.
The event will take place from 10 a.m.-2 p.m. EST in both the CNR Auditorium and Rollins courtyard and will also be live-streamed. Check-in is at 9:30 a.m. Please register to attend at Umojalife.org/tedx. Lunch will be provided to in-person attendees.