Please help improve Faculty Profile solution by taking a quick Survey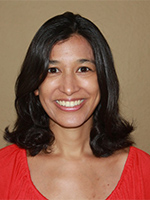 Dr. Goswami is an Assistant Professor in the Infectious Disease Division with a joint appointment in the Department of Epidemiology at the Rollins School of Public Health. Her research focuses on improving engagement in care by HIV-infected persons in the U.S. through the use of systems-based approaches. She is the recipient of an NIH K23 award entitled, "A Geospatial Approach to Target HIV-Infected Populations Poorly Engaged in Care." She is a Co-Investigator for the Emory Women's HIV Interagency Study (WIHS), which uses community-based strategies to recruit HIV-infected women from metro and rural parts of Georgia and hard-to-reach communities to characterize the epidemic in the South. Dr. Goswami also serves as Co-Investigator for Project RETAIN, a randomized control trial using an integrated navigation intervention to improve retention in care for HIV-infected crack cocaine users in Atlanta. In addition, Dr. Goswami provides care to patients infected with tuberculosis at the Fulton County TB clinic and works in TB-related public health activities with the Georgia Department of Public Health. She furthermore serves on the leadership committee of the Atlanta Tuberculosis (TB) Task Force.
Dr. Goswami is a graduate of the Johns Hopkins School of Medicine and completed her internal medicine residency and infectious diseases fellowship at Duke University Medical Center. She completed her Master's in Public Health at the University of North Carolina, Chapel Hill.