Please help improve Faculty Profile solution by taking a quick Survey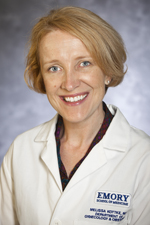 Dr. Kottke is an Associate Professor in the Emory University School of Medicine, Department of Obstetrics & Gynecology, Division of Family Planning. In addition, she is the Director of the Jane Fonda Center for Adolescent Reproductive Health at Emory. Melissa also serves as Medical Director of the Teen Services Clinic at Grady Memorial Hospital in Atlanta, Georgia.
Dr. Kottke is also Associate Director of the Center for Reproductive Health Research in the SouthEast (RISE) and also serves as a Research Core Co-Director. She is a Principal Investigator for the Changing Landscape of Georgia's Publicly Funded Reproductive Healthcare study and a Co-Investigator for the Confidentiality and Parental Involvement study.
View Resume
Areas of Interest
Adolescent Health/Child Health
Reproductive Health
Sexual Health/Behavior
Women's Health
Education
MD 2001, University of Minnesota School of Medicine
Department of Obstetrics and Gynecology 2005, University of Texas Southwestern School of Medicine
MPH 2009, Rollins School of Public Health at Emory University
MBA 2012, Goizueta School of Business at Emory University