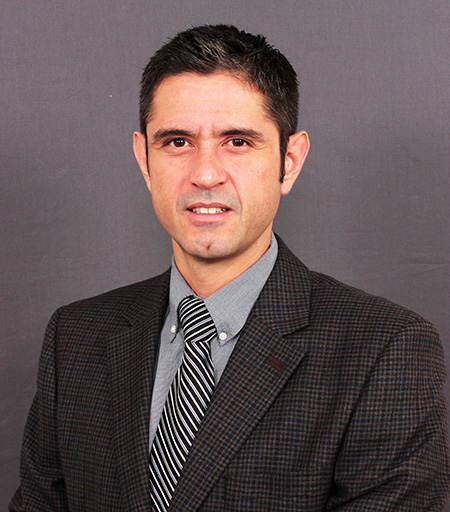 Dr. Jorge Vidal studied Medical Laboratory Science (Honors) at the University of Puebla, Mexico, and then obtained a Master Degree (Honors) in Microbiology (2001, Escuela Nacional de Ciencias Biologicas) and a PhD in Cellular Microbiology (2006, Center for Research and Advanced Studies) both from the National Polytechnic Institute in Mexico city after which he moved to the University of Pittsburgh School of Medicine were he conducted post-doctoral research in bacterial genetics (2006-2009) in the Laboratory of Professor Bruce A. McClane. Jorge was recruited by the Department of Global Health in September 2009, to work with a research group led by Professor Keith Klugman. Dr. Vidal has been working on global molecular epidemiology of bacterial pathogens and he is currently leading a research unit focused on investigating S. pneumoniae and other respiratory pathogens. He is also a visiting researcher of the respiratory diseases branch at CDC and holds adjunct faculty positions at the Emory's Population Biology Ecology and Evolution (PBEE) graduate program and other graduate international programs. Dr. Vidal has published during his career more than 50 papers in high impact factor journals; playing the role of first or senior author in at least 30 of them. His research laboratory has been funded through grants from the NIH, BMGF, Pfizer, Cempra pharmaceuticals, Atlanta Clinical Translational Science Institute and others.
View Resume
Areas of Interest
Antibiotic Resistance
Bioterrorism
Disease Pathogenesis
Infectious Disease
Laboratory Science
Education
PhD 2006, Center for Research and Advanced Studies, Mexico
Post Doct 2009, University of Pittsburgh, School of Medicine
MSc 2002, National School of Biological Sciences, Mexico
BS 1999, Autonomous University of Puebla, Mexico
Affiliations & Activities
2009-Present. Visiting Researcher, Respiratory Pathogens Branch, Centers for Disease Control and Prevention (CDC), Atlanta, GA
2012-Present. Associate faculty member, program in Population Biology Ecology and Evolution (PBEE), Graduate Division of Biological and Biomedical Sciences (GDBBS), Emory University.
2013-Present. Associate Faculty Member, Graduate Program in Medical Sciences, University of Sinaloa School of Medicine. Sinaloa Mexico.
Follow us at:
Laboratory website:
Research Gate Profile:
Publications
E. Gonzalez-Nuñez, Vidal, J. E., Nidia León-Sicairos, Jorge Velazquez-Roman, Héctor Flores-Villaseñor, Fernando Navarro-Garcia and Adrian Canizalez-Roman

,

2012

,

Enteropathogenic (EPEC) Escherichia coli is the most prevalent pathotype isolated from food and water in Northwest Mexico

,

In preparation

, ,

Vidal, J.E., Menglin Ma, Julian Saputo, Francisco A. Uzal and Bruce A. McClane

,

2012

,

Evidence that the Agr-like Quorum Sensing System Regulates the Toxin Production, Cytotoxicity and Pathogenicity of Clostridium perfringens Type C Isolate CN3685

,

Molecular Microbiology

, 83,

179-194

Caitlin Worrell, Ning Xiao, Vidal, J. E., Lin Chen, Bo Zhong, Justin Remais

,

2011

,

Field Detection of Schistosoma japonicum Cercariae in Environmental Water Samples by Quantitative PCR

,

Applied and Environmental Microbiology

, 77,

2192-2195

Li, J., Chen, J., Vidal, J.E. and B. A. McClane

,

2011

,

The Agr-like Quorum Sensing System Regulates Sporulation and Production of Enterotoxin and Beta2 Toxin by Clostridium perfringens Type A Nonfoodborne Human Gastrointestinal Disease Strain F5603

,

Infection and Immunity

, 79,

2451-2459

Vidal, J. E., Ludewick, H. P., Kunkel, R., Zähner D. and K. P. Klugman

,

2011

,

The LuxS-Dependent Quorum-Sensing System Regulates Early Biofilm Formation by Streptococcus pneumoniae Strain D39

,

Infection and Immunity

, 79,

4050-4060

Menglin Ma, Vidal, J. E., Juliann Saputo, Bruce A. McClane and Francisco Uzal

,

2011

,

The VirS/VirR Two-Component System Regulates Anaerobic Cytotoxicity, Intestinal Pathogenicity and Enterotoxemic Lethality of Clostridium perfringens Type C Isolate CN3685

,

mBIO

, 2,

e00338-10

Uzal, F.A., Vidal J. E., Gurjar A.A. and B. A. McClane

,

2010

,

Effects of Clostridium perfringens toxins on animals

,

The Open Toxinology Journal

, 3,

24-42

Elias J. Facury Filho, Antonio U. Carvalho, Ronnie A. Assis, Francisco F. Lobato, Milene A. Rachid, Augusto A. Carvalho, Paulo M. Ferreira, Ricardo A. Nascimento, Andre A. Fernandes, Vidal, J. E., and Francisco A. Uzal.

,

2009

,

Clinicopathological features of experimental Clostridium perfringens type D enterotoxemia in cattle.

,

Veterinary Pathology.

, 46,

1213-20.

Vidal, J. E., Ohtani, K., Shimizu, T., and B. A. McClane

,

2009

,

Contact with Enterocyte-like Caco-2 cells Induces Rapid Upregulation of Toxin Production by Clostridium perfringens Type C Isolates.

,

Cellular Microbiology

, 77,

5291-9.

Vidal, J. E., Enríquez-Rincón, F., Giono-Cerezo, S., Ribas-Aparicio, R. M., and P. Figueroa-Arredondo.

,

2009

,

Culture supernatant from V. cholerae O1 ElTor isolates from different geographic origins induces cell vacuolation and cytotoxicity

,

Salud Pública de México, (Public health in Mexico).

, 51,

39-47

• Uzal, F.A., Saputo, J., Sayeed, S., Vidal, J.E., Fisher, D.J., Poon, R., Adams, V., Fernandez-Miyakawa, M., Rood, J.I. and B.A. McClane.

,

2009

,

Development and application of new mouse models to study the pathogenesis of Clostridium perfringens type C enterotoxemias.

,

Infection and Immunity.

, 77,

5291-9

Vidal, J. E., Chen, J., Li, J. and Bruce A. McClane.

,

2009

,

Use of an EZTn5-based random mutagenesis system to identify a novel toxin regulatory locus in Clostridium perfringens strain 13.

,

PLoS ONE

, Jul 14;4(7),

e6232.

Sayeed, S., F. A. Uzal, D. J. Fisher, J. Saputo, Vidal, J. E., M. E. Fernandez-Miyakawa, Y. Chen, P. Gupta, J. I. Rood and B. A. McClane.

,

2008

,

Beta toxin is Essential for the Virulence of Clostridium perfringens Type C Isolate CN3685 in a Rabbit Ileal Loop Model.

,

Molecular Microbiology

, 67(1),

15-30

Vidal, J. E., Bruce A. McClane, Juliann Saputo, Jaqueline Parker and Francisco A. Uzal.

,

2008

,

Effects of Clostridium perfringens Beta Toxin (CPB) on the Rabbit Small Intestine and Colon.

,

Infection and Immunity.

, 76,

4396-4404

Vidal, J. E. and F. Navarro-García.

,

2008

,

EspC translocation into epithelial cells by enteropathogenic Escherichia coli requires a concerted participation of type V and III secretion systems.

,

Cellular Microbiology.

, 10,

1975-1986

Vidal, J. E., A. Canizalez-Roman, Gutierrez-Jiménez J. and F. Navarro-García.

,

2007

,

Molecular pathogenesis, epidemiolgy and diagnosis of enteropatogenic Escherichia coli (EPEC).

,

Salud Pública de México, (Public health in Mexico)

, 49(5),

376-386

Navarro-García F., Canizalez-Roman, A. Burlingame KE, Teter K and Vidal, J. E.

,

2007

,

Pet, a Non-AB Toxin, is Retrograde Transported and Translocated into Epithelial Cells.

,

Infection and Immunity

, 75,

2101-2109

Vidal, J. E., Giono-Cerezo, S., Ribas-Aparicio, R. M., Enríquez-Rincón, F. and P. Figueroa-Arredondo. 2007.

,

2007

,

Vibrio cholerae O1 strains of different ribotypes have similar hlyA RFLP patterns but different vacuolating ability

,

American Journal of Infectious Diseases

, 3(2),

98-109

Vidal, J. E. and F. Navarro-García.

,

2006

,

Efficient translocation of EspC into epithelial cells depends on enteropathogenic Escherichia coli and host cell contact.

,

Infection and Immunity

, 74,

2293-2303