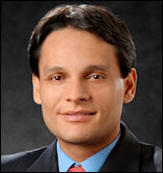 Felipe Lobelo, M.D., Ph.D., FAHA, is an Associate Professor in the Hubert Department of Global Health at Emory's Rollins School of Public Health and Physician Director for Epidemiology, Public Health and Preparedness as well as as Consultant for Population Health Research, Department of Quality and Patient Safety, The Southeast Permanente Medical Group, Kaiser Permanente Georgia.
His interests are in chronic disease prevention, implementation science, mHealth and population health and quality improvements leveraging clinical-community linkages. He has authored more than 120 peer-reviewed scientific publications and directs the Exercise is Medicine Global Research and Collaboration Center. Dr. Lobelo has a special interest in global health and health disparities in both non-communicable and infectious diseases.
From 2008 to 2010 he served as an Epidemic Intelligence Service (EIS) officer at CDC and was involved in international epidemiological field investigations, having an active role in CDC's H1N1 response; investigating the outbreak abroad and serving as CDC's spokesperson for Hispanic/Latino populations. His work with H1N1 took him to the White House, where he served as the CDC representative in the first-ever Spanish Town Hall Meeting alongside President Obama and around the nation for vaccine campaign outreach events for at-risk populations/minorities. From 2010 to 2014, Dr Lobelo served in various roles as a Medical Epidemiologist at CDC's National Center for Chronic Disease Prevention in their Office of the Director and their Diabetes Translation and Nutrition, Physical Activity and Obesity divisions. In 2012 was selected as Fellow of the American Heart Association and currently Chairs their Physical Activity Committee.
Dr. Lobelo believes in "practicing what you preach" and strongly advocates for doctors to become healthy role models. He enjoys soccer and plays for the US Medical Soccer Team, the US representative in the Annual "World Cup for Doctors".
Follow @felipelobelo and @EIMGRCC
HONORS
2006 – Paffenbarger-Blair Award for Research on Physical Activity Epidemiology, American College of Sports Medicine
2008 – Doctoral Achievement Award, Arnold School of Public Health, University of South Carolina
2008 – Dean's Award for Excellence in Graduate Study, The Graduate School, University of South Carolina
2008 – Delta Omega Honorary Society in Public Health, Mu chapter
2008 – Outstanding Doctoral Student Award, Department of Exercise Science, University of South Carolina
2012 – Fellow, American Heart Association, Council on Lifestyle and Cardio-metabolic Health
2013 – Fellow, CDC's Office of the Associate Director for Science
View Resume
Areas of Interest
Cardiometabolic Diseases
Chronic Diseases
Clinical Research
Epidemiology
Exercise Science/ Physical Activity
Health Informatics
Health Services Research
Education
MD 2002, Rosario Medical School
MEQ 2004, Rosario University, Bogota, Colombia
PhD 2008, University of South Carolina, Arnold School of Public Health
EIS (Post-Doc) 2010, Centers for Disease Control and Prevention
Courses Taught
GH 579: Chronic Dis.Control/Prevention
Affiliations & Activities
Director, Exercise is Medicine Global Research and Collaboration Center
Core Faculty, Emory Global Diabetes Research Center
Director, Emory Physical Activity Research Interest Group (EPAWG)
Member, US Medical Soccer Team
Elected/Appointed Positions
2009 - 2014 CDC Official Spokesperson
2011- Chair, Exercise is Medicine Pediatrics Committee, American College of Sports Medicine (ACSM)
2012 - United States Medical Soccer Team
2014- Advisory Board, Exercise is Medicine Initiative, ACSM;
2015 - Editorial Board, International Journal of Lifestyle Medicine
2017 - Chair, Physical Activity Committee, Council on Lifestyle and Cardiometabolic Health, American Heart Association
2015 – Director, Global Research and Collaboration Center, Exercise is Medicine Initiative
2016 – Board of Directors, Action for Healthy Kids
2017 – Chair, Physical Activity Committee, American Heart Association
2018 – National Academies of Sciences, Engineering, and Medicine: Physical Activity and Health Innovation Collaborative (PAIC); Roundtable on Obesity Solutions;
2019 – Board of Directors Parkinson's Wellness Recovery Foundation
2020 – President's Council of Fitness, Sports and Nutrition Science Board