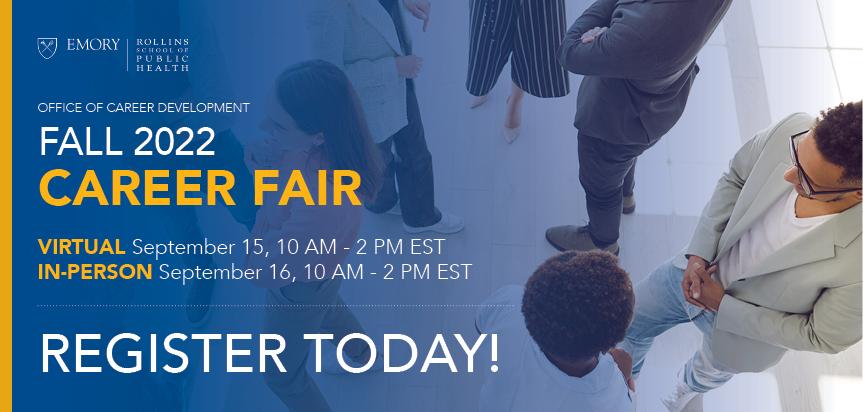 Fall 2022 Public Health Career Fairs
The need for diverse, well-trained public health practitioners has never been greater. In our commitment to ensuring the availability of opportunities for our students, the RSPH Office of Career Development offers both virtual and in-person career fairs for our students and alumni.  Career Fairs offer students and employers a highly interactive experience with the opportunity to explore and network with professionals in vast areas of public health.
Registration: Tuesday, August 30th, 9am - Monday, September 12th, 9pm (EST)
RSPH Career Connection
Students need to register through RSPH Career Connection powered by 12Twenty platform. Additionally, students will be able to view the list of employers and their information, schedule virtual appointments, and much more. To login to your RSPH Career Connection student account, please click HERE.
Preparing for the Public Health Opportunities Fair
Students are encouraged to utilize the following resources in preparation:
Career Fair Prep Workshop – viewable on RSPH Career Connection, powered by 12Twenty, "Resource Library" under "Office of Career Development Presentations."

Career Fair Guide – Click here to review the Career Fair Guide.

Review the Career Fair Preparation Guide for Career Fair Tips.
Past Career Fairs
A listing of participating organizations can be found below.
2022 - 2023
Fall 2022 Public Health Career Fair
2021 - 2022
Spring 2022 Public Health Opportunities Fair
Fall 2021 Public Health Opportunities Fair
2019-2020
Spring & Fall 2020 Public Health Opportunities Fair
Fall 2019 Public Health Opportunities Fair
2018-2019
Spring 2019 Public Health Opportunities Fair
Fall 2018Public Health Opportunities Fair
2017-2018
Spring 2018 Public Health Opportunities Fair
Fall 2017 Public Health Opportunities Fair
2016-2017
Spring 2017 Public Health Opportunities Fair
Fall 2016 Public Health Opportunities Fair
2015-2016
Spring 2016 Public Health Opportunities Fair
Fall 2015 Public Health Opportunities Fair
2014-2015      
Spring 2015 Public Health Opportunities Fair
Fall 2014 Public Health Opportunities Fair
2013-2014
Spring 2014 Public Health Opportunities Fair