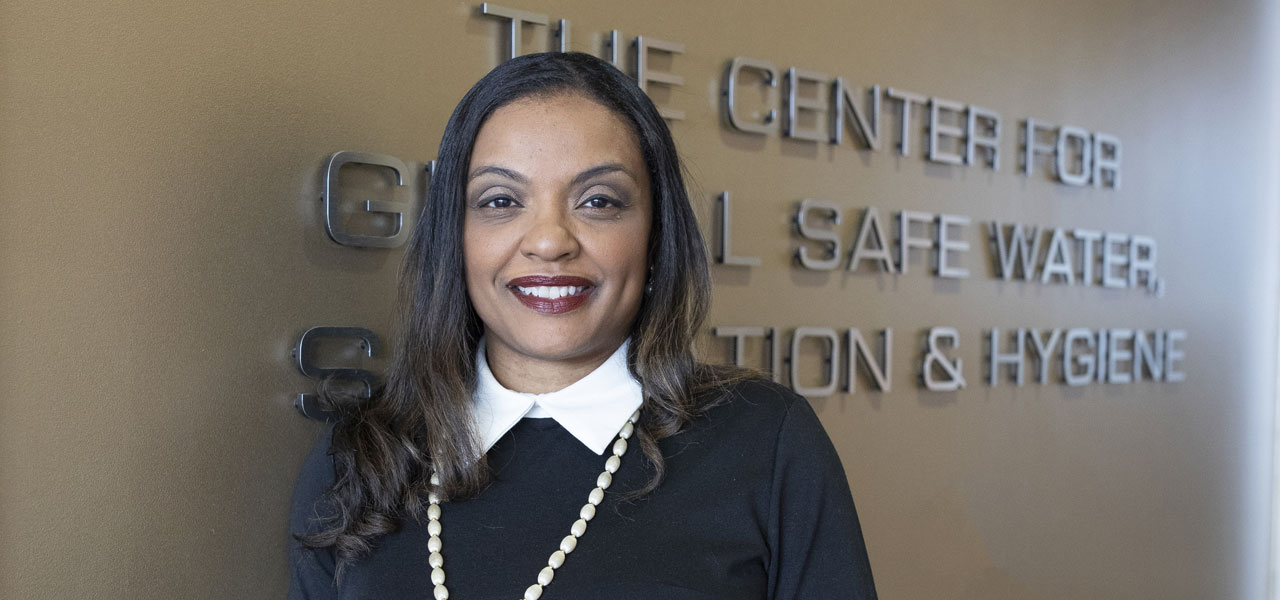 Assistant Research Professor, Hubert Department of Global Health
Associate Director, Center for Global Safe WASH
"I've come to understand that you're not going to be able to serve populations and people and certainly not countries if you don't pick up as much as you can in terms of your education, training, and the perspective from which you address a problem."

 
Joanne A. McGriff takes a multidisciplinary approach to public health, both in her areas of research and in her education, which help to round out her skillset as a public health educator, practitioner, and advocate.
"I've come to understand that you're not going to be able to serve populations and people and certainly not countries if you don't pick up as much as you can in terms of your education, training, and the perspective from which you address a problem," she says.
McGriff first became interested in water, sanitation, and hygiene (WASH) and connected with Emory University while working as executive director of a nonprofit in Haiti from 2008-2012. She supervised a medical clinic in her role there and was looking to expand the clinic's access to safe water when she stumbled upon Emory's Center for Global Safe WASH and Dr. Christine Moe. The two connected and discussed strategies, which ultimately led to a friendship. A few years later when Moe was seeking an associate director for the center, she hired McGriff.
Now, as associate director of the center and faculty in the Hubert Department of Global Health, McGriff performs a number of functions, which includes facilitating the WASH certificate program at Rollins—the only formal certificate program of its kind in the United States. She also conducts various WASH research studies, many of which are tied to WASH in health care settings in low-income countries.
One of her current studies is working to compare the effects of good WASH health care settings versus poor WASH settings on women who have undergone C-sections. "The overall current state (of WASH in health care facilities) is atrocious," she says.
"How could we—as a medical or public health community— have allowed the conditions that we are seeing? Forty percent of facilities do not have appropriate places for health staff or patients to wash their hands, and yet we have these studies that demonstrate poor handwashing compliance among health providers in low- and middle-income countries. Can we really talk about compliance if we have not addressed the basics, in terms of whether they have water in the hospital at all?"
Equipped with her experience and with her Juris Master degree (which gives her a new angle on how to effectively communicate with policymakers and decision makers), McGriff has been doing her part to improve WASH globally and to help communities with limited access to resources or clean water to find solutions and funding opportunities.
Last year, McGriff and colleagues within the Center for Global Safe WASH hosted monthly webinars for partners in the field to educate them about the current state of WASH in health care facilities, as well as best practices and current research. Practitioners and organizations took note. Recently, UNICEF invited McGriff and her group to design an e-learning course for their field workers in different countries who are working on WASH in health care facilities.
At a local level, McGriff teaches two classes at Rollins—Evidence Based Policy, Research and Programs in Global Health and Monitoring and Evaluation— and also serves as a faculty mentor for the Hubert Department of Global Health Mentoring Advisement Community (a new, small group that provides mentoring for global health students). She's also involved with Atlanta-based research. She's collaborating with Morehouse School of Medicine on a project that examines the mental health status of Haitian immigrants living in Atlanta, especially as it relates to those impacted by the 2010 earthquake.
"Preliminary data from our surveys are finding quite a bit of post-traumatic stress disorder, even 10 years or so after, and a great deal of depression in the community," she says. "We're trying to understand why we're seeing what we're seeing, and if it is really residual from the earthquake, or if there are other issues as to why Haitians are not accessing mental health services, even though those services are available in America."
When contemplating her varied areas of research, she adds, "I'm becoming totally comfortable with the idea that there's nothing wrong with a researcher or someone who's pursuing scholarship to have more than one line of research. And I think for me to have a non-communicable disease line (of research) and an infectious disease line (of research), is pretty much global health, right?"
When she talks with Rollins students about finding their own public health paths, she encourages them to follow their interests like she has and to take classes at Emory's neighboring graduate schools like the School of Business or School of Law. She also reminds students that they can find someone at Rollins who can help them do what they want to do and to develop those skills. "That's what makes this place so inspiring."