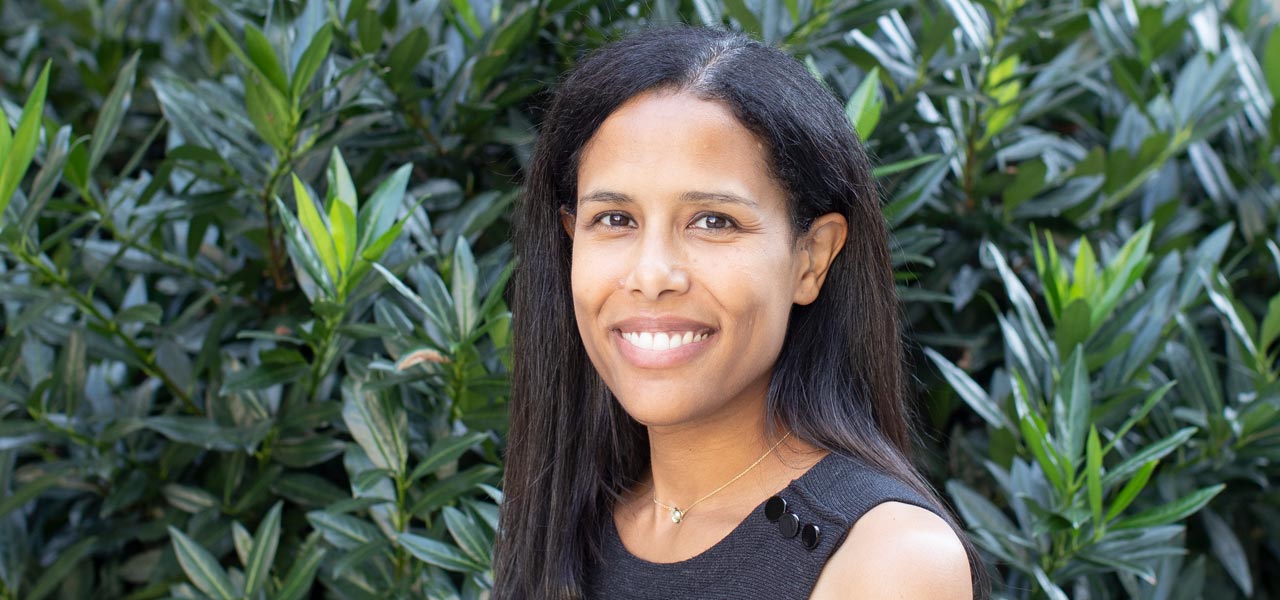 Associate Professor, Department of Behavioral, Social, and Health Education Sciences
"What's really exciting is people are already aware of the issues, but we are starting to see how youth can lead the way. A lot of my work is focused on shifting the power to these youth and realizing their capacity."

 
Briana Woods-Jaeger embraces the uncomfortable. Her research in mental health inequities requires her to closely examine daily injustices and traumas, particularly among America's youngest and most marginalized populations. Though it could be tempting to feel discouraged working in this area, Woods-Jaeger faces her work with a sense of purpose and possibility.
Like many students and faculty at Rollins, empathy has long been intrinsic to Woods-Jaeger's makeup. It was while she was serving with AmeriCorps and as a community health worker when her eyes were opened to the realities of the perpetual cycles of trauma that plague many communities and the vast unmet mental health needs that result. Tasked with assisting adolescents who were having problems in the school system, she saw teenagers walking around with layers upon layers of multiple traumas, chronic stress, and a life spent in trauma all stacked on top of each other. She was startled by how pervasive this reality was.
"It was almost like people weren't alarmed," she recalls. "I remember thinking, Ok, I want to work on trauma and how to promote resilience, but on top of that, I really want to bring in the community to effect change."
Woods-Jaeger decided to study clinical psychology to help her better serve families dealing with trauma, particularly youth of color living in poverty. She studied at the University of Washington, completed her clinical internship at the University of Illinois at Chicago, then did her post-doc at UNC Gillings School of Public Health, which was when she pivoted more fully toward public health.
In her role as an associate professor in the Department of Behavioral, Social, and Health Education Sciences at Rollins, Woods-Jaeger is currently juggling a number of research projects across the country, all of which are focused on mental health promotion in some way. In Kansas City, she's working on promoting resilience after community violence exposure. "That project is really about figuring out what we can do on a community level to nurture and support these youth as they are trying to heal from their experiences."
In Minnesota, she and her collaborators are providing trauma-informed programming in schools. The innovative project is taking a trauma-informed approach that emphasizes racial trauma, and is working with youth of color in six different school districts in Minnesota where there are significant disparities in discipline as well as school violence. "We're really coming in with the equity lens" she says. The programming includes psychological first aid that supports youth after trauma and teaches people how to have those difficult conversations with kids and connect them with the available resources and support.
Meanwhile, in Atlanta, Woods-Jaeger is focusing her lens on the juvenile justice system. In this project, she's working with the caregivers of teenagers ages 14-17 who have been exposed to community violence and are in the justice system. "We're asking, before they are released back into the community, how are we supporting their caregivers? How are we welcoming these kids back to their communities and working with them to get back in school and get access to resources?" Woods-Jaeger is partnering with parents, juvenile justice staff, and youth in the community who have experienced violence to really understand what those priorities are to prevent recidivism.
"What's really exciting is people are already aware of the issues, but we are starting to see how youth can lead the way. A lot of my work is focused on shifting the power to these youth and realizing their capacity. They're innovative and are committed to enacting change in their communities. If we give them opportunities, support them, and listen to them they could become incredible partners."
Next, she'll be working on a CDC-funded project that looks at economic security policies and the ways in which they could serve as primary prevention interventions for violence.
"When I think about my long-term goals, I'd love for us to get to a place where we no longer have these stark inequities related to trauma. That really requires thinking about policies and addressing this issue on a structural level," she says. "I want to work to reduce the disproportionate burden of trauma in communities of color and provide opportunities for everyone to be resilient and to really think about what that means from an equity standpoint."