Oral History Project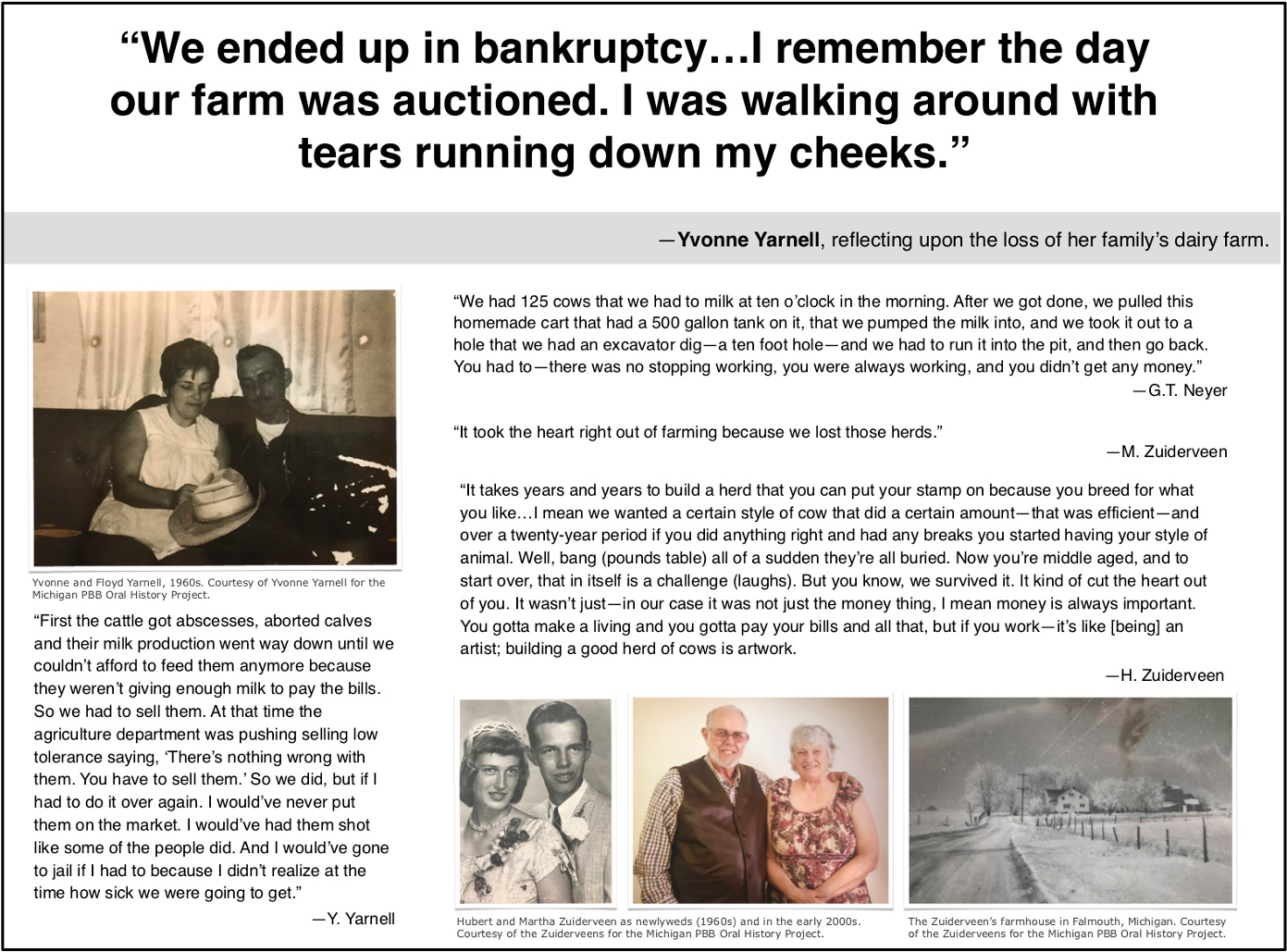 What have we learned from those who lived through the PBB contamination?
Click here to read the publication on the PBB Oral History Project and the community leadership and knowledge of those who lived through the PBB contamination event 
The Oral History Project documents the history of the PBB mix-up through a series of audio-recorded interviews. To date, the project team has conducted oral history interviews with 68 individuals, collected more than 70 hours of audio recordings, and gathered many significant photographs and personal papers. The oral histories will be preserved at the Museum of Cultural and Natural History at CMU in Mt. Pleasant, MI. The PBB Oral History Project is a collaboration between community partners, Central Michigan University, Emory University, and the University of Michigan and was funded by the National Institute of Environmental Health Sciences, with additional support provided by the Museum of Cultural and Natural History, Department of History, and Office of Research and Graduate Studies at CMU. 
PBB Oral History Excerpts
"We were blessed once we found out it wasn't our fault. There really was a reason."

Bonnie Davis, on discovering her farm's exposure to PBB

"We ended up in bankruptcy...I remember the day our farm was auctioned. I was walking around with tears running down my cheeks."

Yvonne Yarnell, reflecting upon the loss of her family's dairy farm
PBB oral histories are stories of resilience and persistence. They call for accountability when accidents occur. They also demonstrate that community experiences matter. Finally, your stories will inform and inspire future generations.
We asked every participant at the end of each oral history interview: what do you hope others might take from your story? Here are some of the responses, which highlight the significance of your experiences, as well as of this history: 
"We need to be aware of the human element that took place in this. And I do believe that oral history is going to accomplish that task, because that's important."

Barbara Rowe, PBB Community Advisory Board Member

Farming as a way of life "was totally disrupted through this tragedy--and it affected these people's psyches for years...there's a face behind the tragedy and it's hard for the local community to even begin to understand how these people lived it and coped with it."

F.K., explaining the long-term mental health impact of PBB on farm families

"It's an important story--PBB is an important part of the history of this nation, not just Michigan."

Christine Muldoon, reflecting upon the legacy of PBB