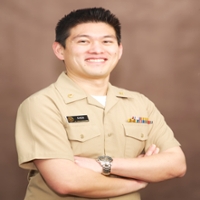 Emergency Response Coordinator
U.S. Public Health Service- Food and Drug Administration
After graduating from Rollins, LCDR Mark Chen joined the Food and Drug Administration as a civil servant investigator in San Jose, CA.  After a year and a half, he commissioned into the US Public Health Service Commissioned Corps as an Environmental Health Officer, and continued to work at the FDA. 
During his time as an investigator, he worked on numerous foodborne disease investigations as part of the California Rapid Response Team, CalFERT.  In 2014, he took on the role of Emergency Response Coordinator with FDA's New York District, where he continues to work with state counterparts in developing the New York Rapid Response Team to increase the state's ability to respond to foodborne outbreaks. 
In addition to managing emergencies affecting FDA's regulated industries, he also holds responsiblity for the district's all-hazards preparedness.  As a Public Health Service officer, LCDR Chen serves as an Assistant Safety Officer on Rapid Deployment Force 3, and was recently deployed for the unaccompanied children humanitarian mission along the southern border of the US.  He currently lives in Brooklyn, NY, and maintains his interest in marine biology and the intersection between marine environments and human health, which is what brought him to public health in the first place.