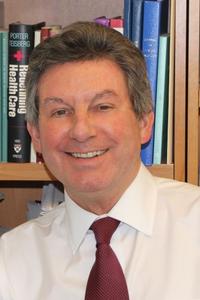 Joseph Lipscomb, PhD., is Professor of Health Policy and Management and Georgia Cancer Coalition Distinguished Cancer Scholar at the Rollins School of Public Health and also Associate Director for Population Sciences at Emory's Winship Cancer Institute. From 1999 until arriving at Emory in 2004, he was Chief of the Outcomes Research Branch at the National Cancer Institute. At NCI, he co-chaired the Cancer Outcomes Measurement Working Group, chaired the trans-agency Quality of Cancer Care Committee, and was NCI lead for a collaborative Federal effort to establish a project at the National Quality Forum to develop consensus measures of cancer care quality. He has published widely on various topics in health economics and outcomes research, including on patient-reported outcomes assessment, quality-of-care evaluation and improvement, and the theory and practice of cost-effectiveness analysis. He was co-editor for the volume, Outcomes Assessment in Cancer: Measures, Methods, and Applications (Cambridge University Press, 2005); co-editor of a Journal of the National Cancer Institute Monograph (2004) on cancer outcomes research; co-editor for a special issue of Value in Health on, "Moving the QALY Forward: Building a Pragmatic Road" (2009); co-editor of a Medical Care supplement on, "Health Care Costing: Data, Methods, and Future Directions" (2009); and co-editor of Journal of the National Cancer Institute Monograph on "Combining Epidemiology and Economics for Measurement of Cancer Costs" now in preparation.

Dr. Lipscomb is principal investigator on two research grants from the Centers for Disease Control and Prevention, one examining optimal screening for those at elevated risk to breast and colorectal cancer and the other investigating the quality of cancer care for those diagnosed with breast or prostate cancer in Georgia. He is also principal investigator on a grant from the Association of Schools of Public Health and the CDC (funded by NCI and the Georgia Cancer Coalition) to augment the Georgia Comprehensive Cancer Registry with administrative and clinical data from multiple public and private sources to support quality-of-care assessment. He is a member of the Steering Committee for the Georgia Comprehensive Cancer Control Plan, which has entered its implementation phase. He serves on national committees to improve cancer outcomes and quality at both the American College of Surgeons' Commission on Cancer (CoC) and the American Cancer Society (ACS). For the ACS, Dr. Lipscomb has chaired the Health Services Research Advisory Committee and is a member of the Mission Outcomes Committee and the Quality of Life Measurement Workgroup. For the CoC, he has served as co-chair of the Participant User File (PUF) Task Force for the National Cancer Data Base, and as a member of the Quality Integration Committee, whose current charge is to conduct a national pilot test of the Rapid Quality Reporting System (RQRS) that seeks to institutionalize rapid case ascertainment in support of cancer quality improvement.
He received his PhD in economics from the University of North Carolina at Chapel Hill in 1975, and a BA in mathematics from Vanderbilt University in 1970. From 1975 until joining the National Cancer Institute, he was on the faculty at Duke University with primary appointments in the Sanford School of Public Policy and the Department of Community and Family Medicine. At Duke, he received the Alumni Distinguished Undergraduate Teaching Award in 1979 and was nominated for this prize on multiple other occasions. From 1989-1992, he directed the VA Physician Requirements Study at the Institute of Medicine in Washington. From 1993-96, he was a member of the U.S. Panel on Cost-Effectiveness in Health and Medicine, whose influential recommendations continue to shape the debate about the application of CEA to medical technology evaluation.
Courses Taught
HPM 564: Health Outcomes
HPM 798R: Pre-Candidacy Research
HPM 799R: Dissertation Research
Publications
Lipscomb J, Gillespie TW, Goodman M, Richardson LC, Pollack LA, Ryerson AB, Ward KC.

,

2012

,

Black-white differences in receipt and completion of adjuvant chemotherapy among breast cancer patients in a rural region of the U.S.

,

Breast Cancer Research and Treatment

, 133,

285-296

Flowers CR, Fedewa SA, Chen AY, Nastoupil LJ, Lipscomb J, Brawley OW, Ward EM

,

2012

,

Disparities in the early adoption of chemo-immunotherapy for diffuse large B-cell lymphoma in the United States.

,

Cancer Epidemiology, Biomarkers & Prevention

, 9,

1520-30

Wu X-C, Lund MJ, Kimmick GG, Richardson LC, Sabatino SA, Chen VW, Fleming ST, Morris CR, Huang B, Trentham-Dietz A, Lipscomb J.

,

2012

,

Influence of race, socioeconomic status, insurance, and hospital type on receipt of guideline-concordant adjuvant systemic therapy for locoregional breast cancers.

,

Journal of Clinical Oncology

, 30,

142-150

Basch E, Abernethy AP, Mullins D, Reeve BB, Smith ML, Coons SJ, Sloan J, Wenzel K, Chauhan C, Eppard W, Frank ES, Lipscomb J, Raymond SA, Spencer M, Tunis S.

,

2012

,

Recommendations forincorporating patient-reported outcomes (PROs) into clinical comparative effectiveness research (CER) in adult oncology, from the Center for Medical Technology Policy (CMPT).

,

Journal of Clinical Oncology

, ,

Hamilton AS, Wu X-C, Lipscomb J, Fleming ST, Lo M, Wang D, Goodman M, Ho A, Owen JB, German RR.

,

2012

,

Regional, provider, and economic factors associated with the choice of active surveillance in the treatment of men with localized prostate cancer.

,

Journal of the National Cancer Institute Monograph

, 45,

213-220

Shenoy PJ, Malik N, Nooka A, Sinha R, Ward KC, Brawley OW, Lipscomb J, Flowers CR.

,

2011

,

Racial differences in the presentation and outcomes of diffuse large B-cell lymphoma in the United States.

,

Cancer Journal

, 117,

2530-2540

Lipscomb J, Gillespie TW.

,

2011

,

State-level cancer quality assessment and research: Building and sustaining the data infrastructure.

,

Cancer Journal

, 17,

246-256

Howard DH, Kauh J, Lipscomb J.

,

2010

,

The value of new chemotherapeutic agents for metastatic colorectal cancer.

,

Archives of Internal Medicine

, 170(6),

537-542

Bian J, Fisher DA, Gillespie TW, Halpern MT, Lipscomb J.

,

2010

,

Using VA administrative data for measuring colorectal cancer screening adherence among average-risk non-elderly veterans.

,

Health Services and Outcomes Research Methodology

, 10,

165-177

Lipscomb J, Barnett PG, Brown ML, Lawrence W, Yabroff KR.

,

2009

,

Advancing the science of health care costing.

,

Medical Care

, 47(7) Suppl 1,

S120-S126

Lipscomb J, Yabroff KR, Brown ML, Lawrence W, Barnett PG.

,

2009

,

Health care costing: data, methods, current applications.

,

Medical Care

, 47(7) Suppl 1,

S1-S6

Lipscomb J, Drummond M, Fryback D, Gold M, Revicki D.

,

2009

,

Retaining, and enhancing, the QALY.

,

Value in Health

, 12(Supplement 1),

S18-S26

Bian J, Lipscomb J, Mello MM.

,

2009

,

Spillover effects of state mandated-benefit laws: the case of outpatient breast cancer surgery.

,

Inquiry

, 46(4),

433-447

Lipscomb J.

,

2008

,

Estimating the cost of cancer care in the United States: A work very much in progress (editorial).

,

Journal of the National Cancer Institute

, 100(9),

607-610

Lipscomb J, Snyder CF, Gotay CC.

,

2007

,

Cancer outcomes measurement: through the lens of the Medical Outcomes Trust framework.

,

Quality of Life Research

, 16,

145-164

Lipscomb J, Reeve BR, Abrams JA, Watkins Bruner D, Burke LB, Denicoff AM, Ganz PA, Gondek K, Minasian LM, O'Mara AM, Revicki DA, Rock EP, Rowland JH, Sgambati M, Trimble EL.

,

2007

,

Patient-reported outcomes assessment in cancer trials: taking stock, moving forward.

,

Journal of Clinical Oncology

, 32,

5133-5140

Lipscomb J, Gotay CC, Snyder CF.

,

2007

,

Patient-reported outcomes in cancer: a review of recent research and policy initiatives.

,

CA: A Cancer Journal for Clinicians

, 78,

278-300

Lipscomb, J., Donaldson, M.S., and Hiatt, R.A.

,

2004

,

Cancer outcomes research and the arenas of application

,

Journal of the National Cancer Institute Monograph

, 33,

1-7

Lipscomb J, Donaldson MS, Arora NK, Brown ML, Clauser SB, Potosky AL, Reeve BB, Rowland JH, Snyder CF, Taplin SH

,

2004

,

Cancer outcomes research.

,

Journal of the National Cancer Institute Monograph

, 33,

178-97

Bian, J., Oddone, E.Z., Samsa, G.P., Lipscomb, J., and Matchar, D.B.

,

2003

,

Racial differences in survival post cerebral infarction among the elderly

,

Neurology

, 60,

285-290

Lipscomb, J., and Donaldson, M.S.

,

2003

,

Outcomes research at the National Cancer Institute: measuring, understanding, and improving the outcomes of cancer care

,

Clinical Therapeutics

, 25(2),

699-712

Lipscomb J, Snyder CF.

,

2002

,

The outcomes of cancer outcomes research: Focusing on the National Cancer Institute's quality-of-care initiative

,

Medical Care

, 40 ,

III-3–III-10

Lipscomb, J., Parmigiani, G., and Hasselblad, V.

,

1998

,

Combining expert judgment by hierarchical modeling: an application to physician staffing

,

Management Science

, 44(2),

149-161