Return to Faculty Listing
Melissa (Moose)
Alperin
Asst Professor
Research Assistant Professor
Faculty, Behavioral/Social/Health Educ
Faculty, Executive MPH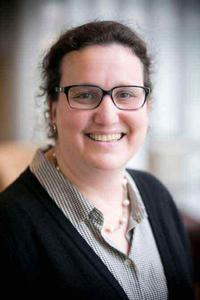 Melissa (Moose) Alperin, EdD, MPH, MCHES: Moose is the Director of the Executive MPH program. In addition, she is the Director and PI for the Region IV Public Health Training Center and she also holds a Research Assistant Professor faculty appointment in the Department of Behavioral Sciences and Health Education at Rollins.
Since 1989, Moose has been the Co-PI or Project Director/Coordinator on numerous leadership training, workforce development, and public health practice initiatives including the Region IV Public Health Training Center, Emory Public Health Training Center, Emory Center for Public Health Preparedness, Applied Public Health Informatics Curriculum Project, Evaluation of the Older Driver Safety Design Train-the-Trainer Workshop, and Assessment of Immunization Training Needs and Educational Products and Programs for Medical Assistants. For more than 20 years, she has taught Epi Info to public health professionals throughout the US, Caribbean, Mexico, Panama, and Thailand.
Moose has taught in the EMPH program since 2001. In the spring, she teaches a class called PRS 535D: Questionnaire Design and Analysis and in the summer she teaches PRS 542D: Curriculum Development for the Public Health Workforce.
Moose is active in professional organizations including the American Public Health Association (APHA), Society for Public Health Education (SOPHE), and Georgia SOPHE Chapter. Moose is also a long time member of the Georgia Public Health Association and currently serves as the Affiliate Representative to the Governing Council of the APHA. She received the Judith R. Miller Award from the Public Health Education and Health Promotion Section of APHA in 2013 and the Kathy Miner Health Education and Health Promotion Award from GPHA in 2014. Moose has a master of public health degree in health promotion and education from Emory University and an EdD in Higher Education Management from the University of Georgia. She is a Master Certified Health Education Specialist (MCHES).
View Resume
Education
MPH 1991, Emory University
AB 1988, Brown University
EdD 2015, University of Georgia
Courses Taught
PRS 535D: Questionnaire Desgn & Analysis
PRS 542D: Curr.Dev.for PH Workforce
PRS 597D: Directed Study
AEPI 597D: Applied EPI Directed Study
APHI 599R: Thesis
AEPI 599R: Thesis
PRS 599R: Thesis
APHI 597D: Directed Study
Publications
Freedman, A.M., Simmons, S. Lloyd, L. Redd, T., Alperin, M., Salek, S., Miner, K.

,

2014

,

Public health training center evaluation: A framework for using logic models to improve practice and educate the public health workforce

,

Health Promotion Practice

, ,

Apatu, E.J.I., Alperin, M., Miner, K.R., & Wiljer, D.

,

2013

,

A drive through web 2.0: An exploration of driving safety promotion on Facebook

,

Health Promotion Practice

, 14(1),

88-95

Buyum, A., Dubruiel, N.M., Torghele, K., Alperin, M., & Miner, K.R.

,

2009

,

Can summits lead to curricula change? An evaluation of emergency preparedness summits for schools of nursing in Georgia

,

Journal of Continuing Education in Nursing

, 40(5),

210-215

Torghele, K., Buyum, A., Dubruiel, N., Augustine, J., Houlihan, C., Alperin, M., & Miner, K.R.

,

2007

,

Logic model use in developing a survey instrument for program evaluation: Emergency preparedness summits for schools of nursing in Georgia

,

Public Health Nursing

, 24(5),

472-479

Escoffery, C., Miner, K.R., and Alperin, M.

,

2003

,

Ten informative web sites on distance education

,

American Journal of Health Behavior

, 27,

464-465

Alperin, M., and Escoffery, C.

,

2003

,

Using epi info 2002: A step-by-step guide

,

Soquel, CA: ToucanEd Publications

, ,

Alperin, M., and Escoffery, C.

,

2001

,

Using epi info: A step by step guide.

,

Soquel, CA: ToucanEd Publications

, ,

Brownstein, J.N., Oberle, M.W., Miner, K.R., Alperin, M., Howze, E., and Patrick, K.

,

1997

,

CHINs: A public health perspective (chapter 7) in Brennan, P.F., Schneider, S.J., & Tornquist, E. Information Networks for Community Health. New York: Springer-Verlag

,

, ,

Alperin, M., and Miner, K. R.

,

1997

,

Using epi info: A step by step guide

,

Soquel, CA: ToucanEd Publications

, ,

White, F.M.M., Miner, K.R., Monteil, S., Alperin, M., Thompson, N., and Brachman, P.

,

1994

,

Epidemiology training initiatives in the English speaking Caribbean: Preliminary evaluation.

,

West Indian Medical Journal

, 443,

19 (suppl. 1). (abstract)

Alperin, M., and Miner, K. R.

,

1993

,

Professional relevance: Meeting the contemporary public health agenda

,

Journal of Health Education

, 24,

299-304