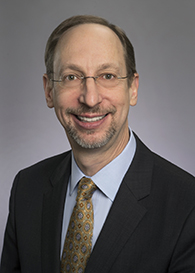 Executive Vice President for Health Affairs | Emory University
Executive Director | Woodruff Health Sciences Center
CEO & Chairman of the Board | Emory Healthcare
Jonathan Lewin, MD, is currently the Executive Vice President for Health Affairs, Emory University; Executive Director, Woodruff Health Sciences Center; and CEO and Chairman of the Board, Emory Healthcare. He also serves as Professor of Radiology and Imaging Sciences and Professor of Biomedical Engineering in the Emory School of Medicine and Professor of Health Policy and Management in the Rollins School of Public Health. Lewin is a national leader in academic medicine strategy and integrated health care delivery and an international scientific leader in interventional and intraoperative MRI.
Prior to his Emory appointment, Dr. Lewin served as the Martin Donner Professor and Chairman of the Russell H. Morgan Department of Radiology and Radiological Science at Johns Hopkins University and the Radiologist-in-Chief at Johns Hopkins Hospital from 2004 until 2016, with secondary appointments as Professor of Oncology, Neurosurgery, and Biomedical Engineering. From 2012-2016 he also served as Co-Chair for Strategic Planning and from 2013-2016 as Senior Vice President for Integrated Healthcare Delivery for Johns Hopkins Medicine. Before joining the faculty of Johns Hopkins, Dr. Lewin was the Director of the Division of Magnetic Resonance Imaging at University Hospitals of Cleveland and Professor and Vice Chairman for Research and Academic Affairs in the Department of Radiology at Case Western Reserve University.
Dr. Lewin received his undergraduate degree in chemistry from Brown University in 1981 and his Doctor of Medicine from Yale University in 1985. Following his internship in pediatrics at Yale-New Haven Hospital and residency in diagnostic radiology at University Hospitals of Cleveland, he completed a magnetic resonance research fellowship in Germany, a neuroradiology fellowship at the Cleveland Clinic, and additional training in head and neck radiology at the Pittsburgh Eye and Ear Hospital.
Dr. Lewin has been a pioneer in interventional and intraoperative MR imaging and has published more than 200 peer-reviewed scientific manuscripts and over 70 book chapters, reviews, commentaries, and other invited papers on topics including the basic science and clinical aspects of interventional MR imaging, functional MRI, head and neck imaging, MR angiography, and the imaging of acute stroke.
Dr. Lewin holds 28 U.S. and seven international patents and has been PI or co-PI on NIH and other federal and state grants with awards of more than $54 million, as well as a co-investigator on a number of other grants and projects. He is a Fellow of the International Society for Magnetic Resonance in Medicine and of the American College of Radiology and has lectured around the world on a number of topics in magnetic resonance imaging, interventional radiology, neuroradiology, and leadership in academic medicine. He has served on numerous national committees, editorial boards and grant review groups for foundations and the NIH, and on the task force on minimally invasive cancer therapy for the National Cancer Institute. Dr. Lewin is past president of the Society of Chairs of Academic Radiology Departments, the American Roentgen Ray Society, the Association of University Radiologists, the International Society for Strategic Studies in Radiology, and the Academy for Radiology Research.
Modern Healthcare named him one of the 50 Most Influential Physicians of 2017. He was also named one of the Most Influential Atlantans of 2016, 2017, 2018, and 2019 by the Atlanta Business Chronicle and one of the 100 Most Influential Georgians of 2018 and 2019 by Georgia Trend. He recently was presented with Gold Medal Awards from two professional societies for distinguished service to the field, the American Roentgen Ray Society and the Association of University Radiologists and is the 2019 recipient of the National Medical Fellowships Pioneer Award. In 2019, he was elected a Fellow of the National Academy of Inventors.