Executive MPH Program Offering Online MPH for 2023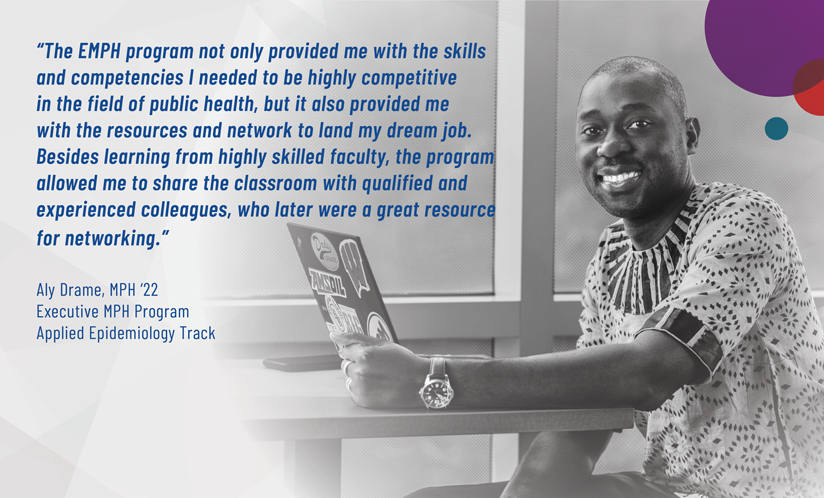 The distance learning Executive Master of Public Health program (EMPH) has offered a master's-level public health degree for busy working professionals for the past 30-years allowing them to pursue an MPH without sacrificing the community and camaraderie you get in a residential program. The EMPH hybrid format offered working professionals the best of both worlds: face-to-face instruction and collaboration with faculty and peers during the on-campus sessions AND the convenience of online learning during the interim 12 weeks of the semester.  
The program will now offer an Executive MPH in a 100% online format with no requirement for in-person weekend sessions. Students will continue to learn from faculty who are experts in their field through an asynchronous online program. EMPH students will still have the opportunity to come to campus for optional residency sessions where they can meet faculty and other students in the program. The 100% online format will be offered at the start of the fall 2023 semester to new incoming students.   
Students in the EMPH program focus their studies in one of two concentration areas or tracks: Applied Epidemiology and Prevention Science.  
Applied epidemiology tracks diseases and disease indicators in populations. It is the scientific foundation of public health research that seeks to reduce risk factors and improve health. The discipline also contributes to public health practice and policy, and research in other related fields such as medicine and pharmacy. 
Prevention science is concerned with the study of effective preventive interventions within systems. The target audience of this type of study may be individuals and/or broader social settings such as families, work or school settings, communities, and policies. The Prevention Science track emphasizes the development and assessment of community or population-based interventions. 
"As career professionals, EMPH students are more mature with their thoughts, and have made important real world public health connections through their careers and other experiences. The EMPH program leverages this maturity and these experiences by integrating critical public health training that can be seamlessly translated and shared from the EMPH student body to those in need." - W. Michael Caudle, PhD, Research Associate Professor
---