Moose Alperin Elected to APHA Executive Board and Awarded the Chair's Citation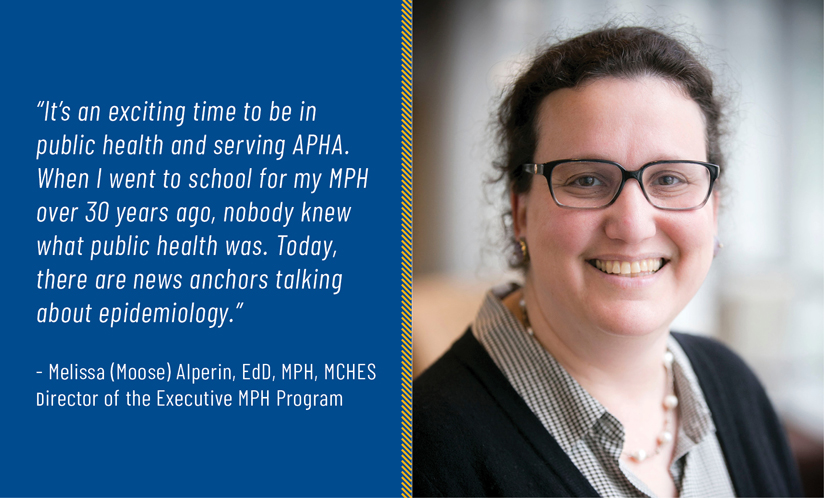 By Karina Antenucci
Melissa (Moose) Alperin, EdD, MPH, MCHES, director of the Executive MPH Program, and PI and director of Region IV Public Health Training Center at Rollins, was elected to the American Public Health Association's (APHA) executive board and awarded the Chair's Citation by the APHA Council of Affiliates in October 2021. Her election and award were announced at the annual APHA meeting, which was a hybrid event held in-person in Denver and remotely over Zoom.
"The APHA has been my professional home for over 30 years," says Alperin, who has taken on a number of positions within the organization including immediate past chair of the Council of Affiliates, the APHA entity that bridges the 53 state and regional affiliates with the association.
The Chair's Citation award is given by the Council of Affiliates Chair at their discretion in recognition of an individual's service to the council. Alperin also received it two years ago.
"This award was a lovely surprise and thank you. I'm very grateful to my affiliate colleagues," says Alperin.
Alperin decided to run for the board seat as her service with the Council of Affiliates was winding down this year. 
"I have served the organization in a variety of capacities, and being a part of the executive board feels like the next step for me," says Alperin.
In her new role as an executive board member, Alperin will work to ensure the organizational and fiscal health of APHA including a focus on increasing membership engagement and retention. Alperin also would like to focus on the organization's diversity, equity, and inclusion initiatives, and make sure that entering the organization is accessible to meet the needs of the full spectrum of the public health workforce.
"It's an exciting time to be in public health and serving APHA. When I went to school for my MPH over 30 years ago, nobody knew what public health was. Today, there are news anchors talking about epidemiology," Alperin says.
She adds, "It is also a time when, a recent report indicated that in the U.S. alone, our local and state health departments need another 80,000 public health positions to provide basic public health services. Now more than ever, we need APHA, an organization that has a strong collective voice to advocate for evidence-based science and practice."
Alperin's volunteer work for APHA is a continuation of her work at Rollins, of what she cares for and values: training and supporting public health professionals.
Find out more about APHA and how to become a member here.