Dean Curran receives lifetime achievement award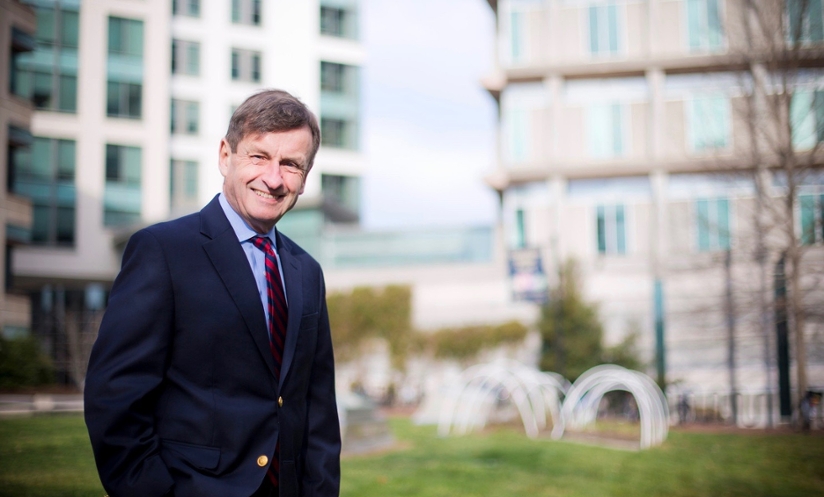 James W. Curran, MD, MPH, received a lifetime achievement award for his work in HIV/AIDS from the Fulton County Board of Health during #StopHIVATL's World AIDS Day breakfast at The Carter Center on November 30. The breakfast served to recognize Atlanta-area leaders working in HIV/AIDS and timed with the 30th anniversary of World AIDS Day.
Kathleen Toomey, MD, MPH, district health director, introduced Curran at the event and presented him with his award.
"I feel fortunate to receive a lifetime achievement award while I'm still alive," said Curran during his acceptance speech and keynote. Curran spoke about working on the front lines of AIDS during the earliest days of the epidemic and touched upon some of the milestones—and challenges—over the course of the last 37 years of AIDS. Curran incorporated a moment of silence into his speech and mentioned the names of several people he has known who have lost their lives to the illness. He ended his talk on a hopeful note and, echoing Winston Churchill, he challenged the crowd to, "Never give up, never give up, never, never, never, never give up in the fight against AIDS."
Aside from Curran's award, several additional members of the Atlanta community working on HIV/AIDS received Community Honor Awards recognizing their contributions toward AIDS prevention and research. "You and your colleagues are the crucial difference in response to the epidemic and even more is needed for the future in order to vanquish AIDS," said Curran as he congratulated the winners. 2018 marks the first year the Fulton County Board of Health has instituted these awards.
"We wanted to create a signature event for the year related to our #StopHIVATL media campaign that would recognize the work of persons who have worked throughout the year to stop HIV as well as recognize someone who has devoted their career to stopping HIV," says Derick Wilson, director of sexual health promotion at the Fulton County Board of Health.
About James W. Curran
Dean Curran's involvement with AIDS work can be traced back to 1981 when he was asked by the Centers for Disease Control and Prevention (CDC) to lead a task force that would investigate what was behind the mysterious new disease we now recognize as AIDS. His work during that period was partially featured in the book and movie of the same name, And the Band Played On.
Curran served in a leadership capacity at the CDC for more than 25 years before joining the Rollins School of Public Health as dean and professor of epidemiology in 1995. He co-directs the Emory Center of AIDS research and is jointly appointed at the Emory School of Medicine and the Nell Hodgson Woodruff School of Nursing.
Recommended Reading 
How to Survive a Plague- by David France
Gardening in Clay- by Ron Valdiserri