December 1 is World AIDS Day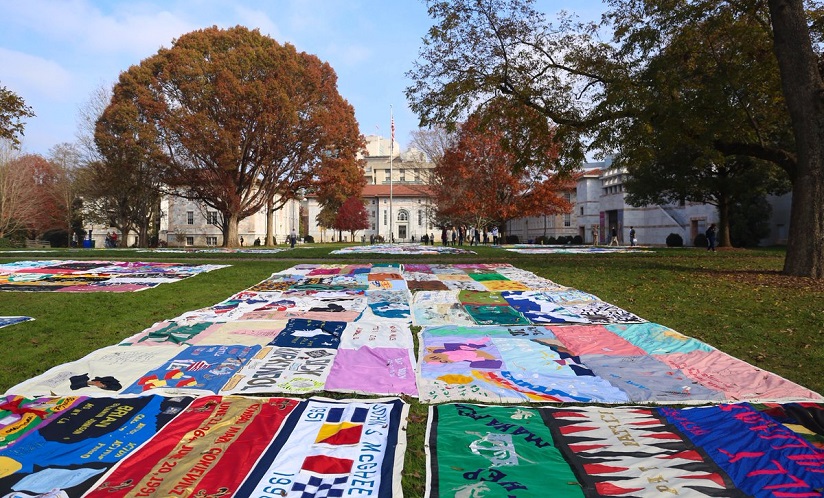 December 1, 2018, marks the 30th anniversary of World AIDS Day, a date dedicated to raising HIV awareness, supporting those currently diagnosed with HIV and commemorating those who have lost their lives to AIDS. Read on to learn about a few of the events Emory is hosting for World AIDS Day as well as updates surrounding HIV/AIDS research projects at the Rollins School of Public Health. 
Free HIV Testing at WoodPEC, November 29, 10 a.m.-4 p.m.
To help increase awareness of World AIDS Day, Emory's Office of Health Promotion will offer free and confidential rapid HIV testing for all interested Emory students, faculty and staff on Thursday, November 29, from 10 a.m. to 4 p.m. at the WoodPEC.
Quilt on the Quad: Friday, November 30, 10 a.m.-4 p.m.
On Friday, in partnership with The NAMES Project Foundation, Emory University will host its 14th annual Quilt on the Quad. Co-sponsored by the Emory Center for AIDS Research (CFAR), this event is open to the public and features dozens of quilts comprising more than 48,000 panels highlighting the names and stories of more than 96,000 people who have lost their lives to AIDS. The NAMES Project AIDS Memorial Quilt was founded in 1987 in San Francisco and is now headquartered in Atlanta. The longstanding goal of this project is to establish an ongoing memorial for those who have died of AIDS and to help others understand the longstanding impacts of the disease. 
Emory Center for AIDS Research Celebrates 20 Years
Emory CFAR marked a major milestone this year— 20 years of NIH funding! Emory CFAR supports the research of more than 550 students, staff, and scientists at Emory University dedicated to improving HIV care, lowering incidences of HIV/AIDS and developing a cure. To time with this milestone, Emory hosted the 2018 National CFAR Meeting this November, which featured a full-day scientific symposium on November 8. Plenary talks highlighted the work of global health leaders such as Anthony Fauci, director of the National Institute of Allergy and Infectious Diseases; Robert R. Redfield, director of the Centers for Disease Control and Prevention; and Ambassador Deborah Birx, director of the Office of the Global AIDS Coordinator in the President's Emergency Program for AIDS Relief. Read a full recap of the symposium or watch a recording of the symposium.
COMPASS Initiative® Announces 2019 Transformative Grant Recipients
In recognition of World AIDS Day and in support of the united efforts to address HIV/AIDS-related disparities in the Southern United States, the three Coordinating Centers for the COMPASS Initiative®—the Rollins School of Public Health, Southern AIDS Coalition and University of Houston Graduate College of Social Work—announced their 2019 Transformative Grantees. The funded partners included myriad passionate and diverse organizations serving the nine Deep South states with innovative proposals addressing disparities through service expansion, stigma reduction campaigns, leadership and coalition development, community-based interventions and much more. Read about the 2019 Transformative Grant recipients.
PRISM's Ongoing Research Projects
Programs, Research & Innovation in Sexual Minority Health at the Rollins School of Public Health (PRISM Health) is currently conducting more than 20 projects surrounding HIV/AIDS. A few current, ongoing projects include: 
AIDSVu is an online interactive mapping tool depicting the prevalence of HIV nationwide. In addition to real-time HIV data, the map allows users to search for HIV Pre-Exposure Prophylaxis (PrEP) providers in their area.
PrEP@Home is a service that works to limit the number of in-person visits required for PrEP patients by providing a home support package for PrEP patients.
The Emory Coalition for Applied Modeling for Prevention (CAMP) is a 5-year cooperative agreement funded by CDC/NCHHSTP to further modeling efforts in HIV, tuberculosis, sexually transmitted diseases, viral hepatitis and school/adolescent health. Emory CAMP works to develop models that can be used to support public health decision-making at the local, state and national levels. 
View descriptions of all current PRISM Health projects.