Emory's Dr. Manoj Jain Named Recipient of the Jeffrey P. Koplan Global Health Award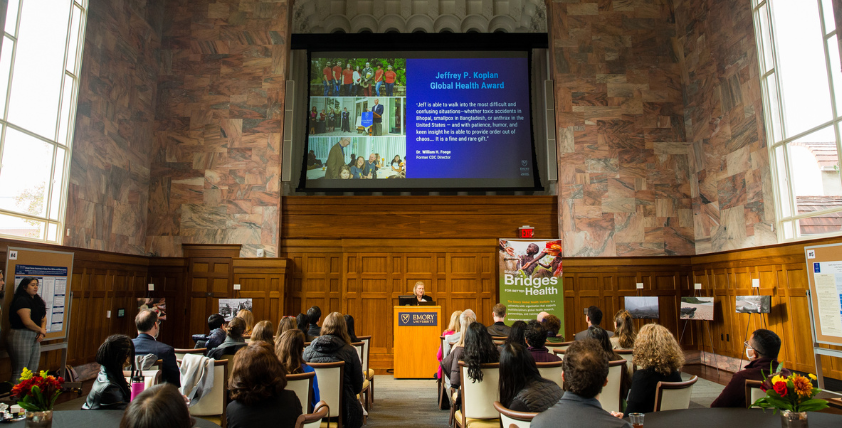 EGHI Recognizes Emory Leadership and Impact to Improve Health Equity Worldwide
The Emory Global Health Institute (EGHI) has named Manoj Jain, MD, MPH—of Emory University's School of Medicine and Rollins School of Public Health—as the inaugural recipient of the Jeffrey P. Koplan Global Health Award.
The award endowment, established in 2022, recognizes Jeffrey P. Koplan, MD, MPH, EGHI founder and former U.S. Centers for Disease Control and Prevention Director, for his contributions to global health, including inspiring many generations of global health leaders. The award celebrates Emory University's innovative students, faculty, or staff as they lead change in a relentless pursuit to improve health equity worldwide.
The first honoree, Dr. Manoj Jain, was announced on November 16 at EGHI's event, InFocus: Emory excellence in global health. Dr. Jain was recognized for his efforts to address tuberculosis (TB) in India through training and quality improvement via the Collaboration to Eliminate Tuberculosis Among Indians (CETI), founded by Drs. Jain and Salil Bhargava.
Tuberculosis is a preventable and treatable, infectious disease that kills more than 4,000 people every day. The disease saw a 4.5-percent increase in global cases in 2021 during the COVID-19 pandemic. "Dr. Jain's work could not be more urgent," Dr. Koplan said during the EGHI InFocus program. "This is the first time in many years that we are seeing an increase in the number of TB cases globally and, in particular, drug-resistant TB." 
Watch Dr. Jain's acceptance of the Jeffrey P. Koplan Global Health Award.