Student Organization: Emory Reproductive Health Association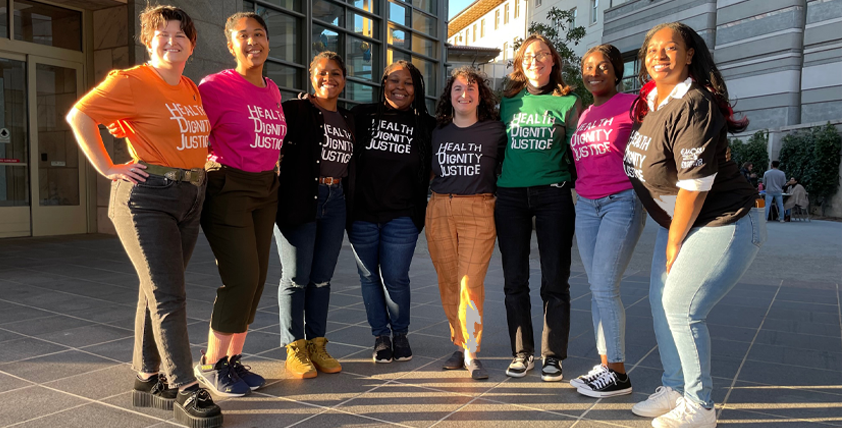 By Chris Avery
The Emory Reproductive Health Association (ERHA) is a student-led organization that focuses on creating a diverse and inclusive space for all students by developing sexual and reproductive health projects, programs, and events at Emory University. The organization was founded by Lindsey Lubbock and Maureen McDonald who wanted to create an empowering environment for reproductive justice, abortion rights, and health education on campus. The founders were instrumental in developing the vision and identity of the organization. Dr. Roger Rochat, professor emeritus of global health and epidemiology who started the GEMMA fund, was the organization's founding advisor who helped establish and support the organization. ERHA currently has 62 members in the organization including the eight board members: Quasheba Allen (BSHES) and Aliza Barnett (GH), co-presidents; Daryn Ellison (EPI), vice president/communications chair; Chloe Billstrom (GH), secretary; Veronica Joseph (BSHES), community liaison; Madison Gardener (GLEPI), volunteer & engagement chair; Chloe Hultman (GH), treasurer; and Enid Swatson (GH), GEMMA chair. The current faculty advisor is Subasri Narasimhan, PhD, MPH.  
The organization's mission is to not only provide a safe space, but to educate and provide opportunities to students who want to engage with the community through events, workshops, creative programming, and volunteering opportunities.
They extend beyond just inclusion of students and aim to engage with communities in not only Rollins and Emory Campus, but also the greater Atlanta Metro community. They host events to engage, collaborate, partner, and highlight the experiences of marginalized communities such as LGBTQIA+ communities, BIPOC, and immigrants. Some examples include the National Black HIV/AIDS Awareness Campaign, Black Sexual and Maternal Health Networking Night, Dignity Pack Project, Global Elimination of Maternal Mortality from Abortion (GEMMA) Night, and Sexual Health Art Show and Gallery (SHASE).  
The ERHA board members have demonstrated advocacy, leadership, and compassion for sexual and reproductive health and have been proponents in sharing the research and knowledge to the campus. Community impact is also an important topic for this organization as they want to help not just students, but people nationwide. The ERHA board members have expressed that the organization has helped them in multiple facets of life and enriched their graduate experience to the fullest.   
The ERHA board members believe it is a great organization to be a part of and learn from, so they urge members who are interested to join and enjoy the pleasures of being in an exemplary and historical organization. ERHA Co-President and second-year student, Aliza Barnett, shares how it feels being in this organization. "I love being on the board, it's one of the things that I've loved most about being at Rollins but it's a lot of work. However, it is made special by the people that I'm on this board with. ERHA Board is full of really incredible, creative, intelligent, and passionate people that I'm just really glad to work with."   
Barnett also shares how unique it is to be able to talk to first- and second-year students who are so passionate and creative about reproductive health. "It shows how expansive reproductive health can truly be. I feel it's important Rollins encourages and promotes diverse discussions on the topic of reproductive health," says Barnett.   
The ERHA board members are committed to accessibility and inclusivity at events "We make sure our content and events are accessible for a variety of audiences including those who are neurodiverse and those who are not on campus," says ERHA Co-President and second-year student, Quasheba Allen. "We think of multiple ways to ensure students are engaged with our content and not turned away. Sexual and reproductive health is a sensitive topic and needs to be addressed. It's intrinsically linked with different oppressive systems, so that's why I'm grateful to be a part of such an open community that can talk about these different topics."  
The ERHA board members had an eventful and successful semester and are ecstatic for their last free event, Sex in the Dark, which will be on November 16 from 6-8pm at the Claudia Nance Rollins (CNR) Auditorium. The event will include giveaways, food, an art gallery by local artists and students, and a panel of sexual health experts who will answer questions about sexuality, intimacy, and romantic relationships.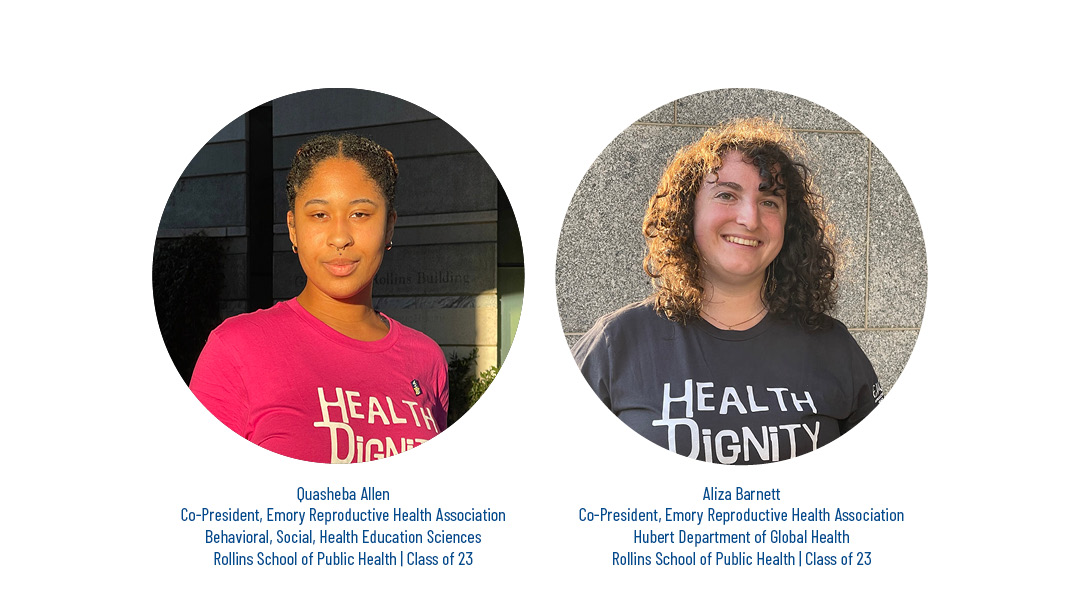 Follow @emoryreprohealth on Instagram to learn more about this student organization.