Student Organization Profile: La Alianza Latinx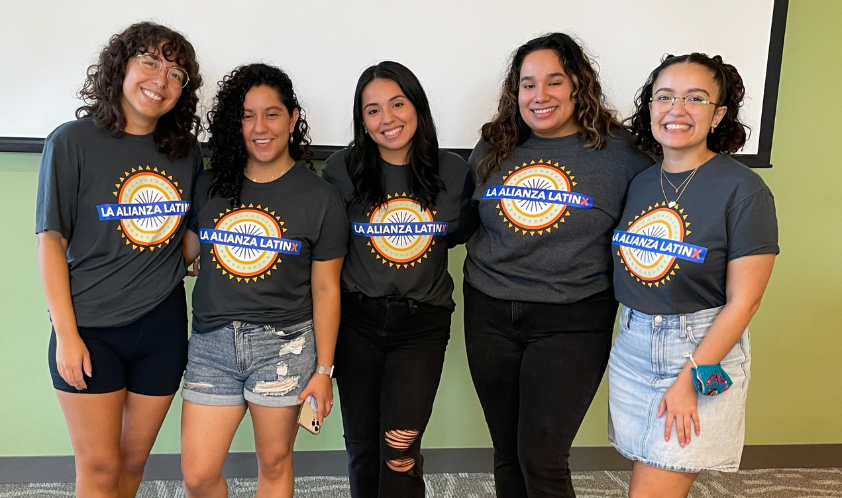 La Alianza Latinx (LAL) is a student-led organization composed of Latinx and Latin American public health students interested in issues affecting the Latinx community at the Rollins School of Public Health, in the metro Atlanta area, internationally, and throughout the United States. 
LAL executive board members consist of eight first- and second-year MPH students: Alexa Aburto and Janelly Gonzalez (co-presidents), Laura Bosque Ortiz and Dayanna Ramirez (events and outreach chairs), Fernanda Carlosama Ruiz and Leslie Serrano (communications chairs), and Jackie Bonilla and Ileana Lopez-Martinez (treasurer and secretary). LAL strives to strengthen and build a Latinx community at Rollins by creating a space that enables students to excel academically, professionally, and socially. LAL is committed to building community, supporting mentorship, uplifting educational advancement, and promoting advocacy for and improvement of Latinx health, and Latinx students at Emory University.
The LAL student organization was founded in 2020 during the COVID-19 pandemic and originated from two different organizations. Aburto, mentions how it was difficult in the beginning setting up the foundation and logistics for the club due to most of the members being virtual.
 "The ultimate goal when we merged together was to build a space where you can find people who have those same values as you and for others to learn about Hispanic culture, heritage, and special holidays," says Aburto.
The organization continues to grow as they now have 65 members including the eight board members. Gonzalez believes the recent growth is attributed to their recruitment efforts. "Promoting our events and having smaller gatherings helps create that bond and space for people to feel comfortable in participating and joining us. Additionally, we also created a monthly newsletter that helps us communicate with our members and other organizations who want to partner with us." 
Some of the LAL members shared what it meant to be a part of LAL and how the student organization enriched their Rollins experience. Lopez-Martinez, enjoys the connections and networking opportunities that come with being a part of LAL. 
"I have classes with some of the other board members at LAL, which made it easier for me to make friends at Rollins. I really enjoy being together with them, the group conversations, and planning events to make Latinx students have a voice and space on this campus. They are my support system and watching some of our members graduate last year and seeing them transition and doing amazing things makes me excited to see the next step for our members," she says. 
Serrano notes, "Creating a space for our community is our ultimate goal right now and we want to foster it for the next group that comes after us. We want to see our friends, members, and Latinx community succeed because we know what it means to our families and loved ones graduating from such a prestigious university." 
LAL board members are excited to celebrate National Hispanic Heritage Month and are looking forward to more students participating in their events. The next big event they are preparing for this fall is Day of the Dead (Día de Muertos) which is a holiday that originated in Mexico where Latinx and Hispanic communities celebrate the life and death of deceased loved ones.