James W. Curran Recognized as 2022 Hatcher Award Recipient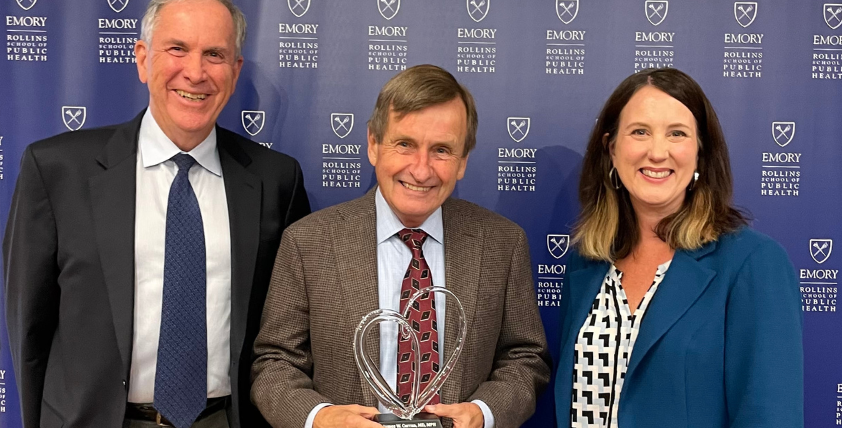 On September 8, James W. Curran, dean emeritus and professor of epidemiology and global health, was honored as the 2022 recipient of the Charles R. Hatcher Jr., MD Award for Excellence in Public Health. Established in 1996, the award honors the legacy of Charles R. Hatcher, Jr., former vice president for health affairs and director of the Robert W. Woodruff Health Sciences Center, for his long service and support of public health. This annual award was created to honor faculty members of the Health Sciences Center who, through their lifetime of work, exemplify excellence in public health. 
The event was held in the Lawrence P. and Ann Estes Klamon Room at Rollins and featured a welcome address from David S. Stephens, vice president for research with Woodruff Health Sciences Center and interim executive vice president for health affairs, and an introduction from M. Daniele Fallin, dean of the Rollins School of Public Health. Fallin began with a moment of silence honoring the recent death of Professor A. Cecile J.W. Janssens before turning her attention to recognize Carlos del Rio, executive associate dean at Emory School of Medicine and Grady Health System, who was the 2021 award recipient.
When introducing Curran, Fallin recognized his substantial contributions to public health through leadership roles with the Centers for Disease Control and Prevention (CDC) and Emory.
"Talk about excellence in public health," she said. "Jim has had two careers of excellence in public health. First at the CDC where he was literally transformative in important public health activities and then he came here and was transformational again into making this school what it is today. We are grateful for his contributions to our school, but also to his impression on the field of public health and the university."
Curran, in his acceptance, also acknowledged and applauded del Rio, before sharing his history with Hatcher and the award—which he helped establish. 
"Charlie Hatcher was a real risk-taker," he said. "He was the first to do all sorts of cardiac surgery in Georgia himself, and really revolutionized cardiovascular care at Emory School of Medicine. Then, he was a bold enough guy that when he closed the dental school he said, let's start a school of public health. When he retired, we wanted to capture both of those 'hearts' with this award."
Jim Curran joined the Rollins School of Public Health as dean and professor of epidemiology in 1995, following 25 years of leadership at the CDC. He is emeritus director of the Emory Center for AIDS Research, and holds faculty appointments in the Emory School of Medicine and the Nell Hodgson Woodruff School of Nursing.
Curran is internationally known for heading the 1981 CDC Task Force charged with investigating the first cases of what later became known as AIDS and was a key figure in the interactions between the CDC and the NIH during the two agencies' efforts to investigate the epidemiology and cause of HIV. While at the CDC, he attained the rank of assistant surgeon general.
After graduating from the University of Notre Dame, Curran received his MD from the University of Michigan and a Master of Public Health from Harvard University. Author or co-author of more than 300 scholarly publications, he was elected to the Institute of Medicine of the National Academy of Science (now the National Academy of Medicine) in 1993.
Curran has served in numerous leadership positions, including Chair of the Office of AIDS Research Council and Chair or Co-Chair of two IOM Committees on International HIV policies and programs. In 2015 he was elected to the American Academy of Arts and Sciences. He has also been a member of the Board of Public Health, State of Georgia since 2011 and served as Chair since 2019.
In 2009, the Rollins School of Public Health Dean's position was named the James W. Curran Dean of Public Health in his honor.
On July 1, 2022 Curran stepped down as dean and remains on the faculty of the Rollins School of Public Health as emeritus dean and professor of epidemiology and global health.