Rollins Mourns the Passing of Dr. Eugene J. Gangarosa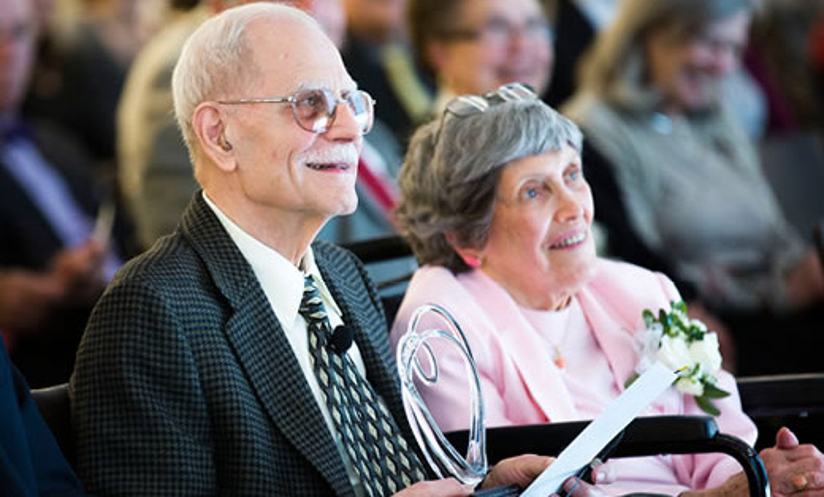 Dear Rollins Community, 
I am writing to share the sobering news that our longtime friend and colleague, Dr. Eugene J. Gangarosa, passed away on August 11 at the age of 96.
Though I did not get the chance to know him personally, it is clear that he was part of the founding fabric of this school and a true hero of public health. He was greatly beloved here at Rollins and I am so sorry to hear of his passing. 
Dr. Gangarosa began teaching in Emory's Master of Community Health Program (the precursor of the MPH program) in 1975 when it was first established by Emory. As director of the MPH program from 1983-1990, Dr. Gangarosa worked to build the MPH program, and paved the way for the founding of Emory's first new school in 72 years in 1990.  To honor his legacy, the Department of Environmental Health was named in his honor in 2020. Up until recently, Dr. Gangarosa taught the occasional class at Rollins in his role as emeritus professor and was actively involved with the Center for Global Safe Water, Sanitation, and Hygiene—a center that he helped establish. 
During his service in World War II, Dr. Gangarosa worked to rebuild water and sanitation systems in Naples, Italy. His interest in medicine and enteric pathogens took him to Walter Reed Army Institute of Research, where his intestinal biopsy studies are credited with the widespread adoption of rehydration therapy, which has dramatically influenced the standard operating procedure for treating cholera and saves approximately 1 million children a year. His various public health roles have included serving as director of the University of Maryland's Pakistan Medical Research Center, working in various leadership positions at the Centers for Disease Control and Prevention which included leading the Epidemic Intelligence Service, and serving as dean of public health at the American University of Beirut.  
He and his wife, Rose, have been married more than 70 years and spent much of their lives traveling the world and advocating for public health through philanthropy. The Gangarosas' many gifts to the Rollins School of Public Health include the school's first global field experience fund, three endowed distinguished professorships, a scholarship fund, and an unrestricted endowment for the GangarosaDepartment of Environmental Health.
Jim Curran recently remarked that Dr. Gangarosa's numerous legacies...science, public health action, education, mentoring, and philanthropy....will inspire and assure public health success for decades to come.
He will be dearly missed, and we are grateful for the impact he has made on us all. Please keep Dr. Gangarosa's family in your thoughts during this difficult time. I will send along memorial information as soon as it is available.  
Emory's Faculty Staff Assistance Program is available for counseling and emotional support services for those who may be feeling overwhelmed by this sudden loss. http://www.fsap.emory.edu/emotional-physical-health/index.html. 
With sympathy and gratitude, 

M. Daniele Fallin, Ph.D.
James W. Curran Dean of Public Health
Rollins School of Public Health
Emory University