Student Organization: Rollins Environmental Health Action Coalition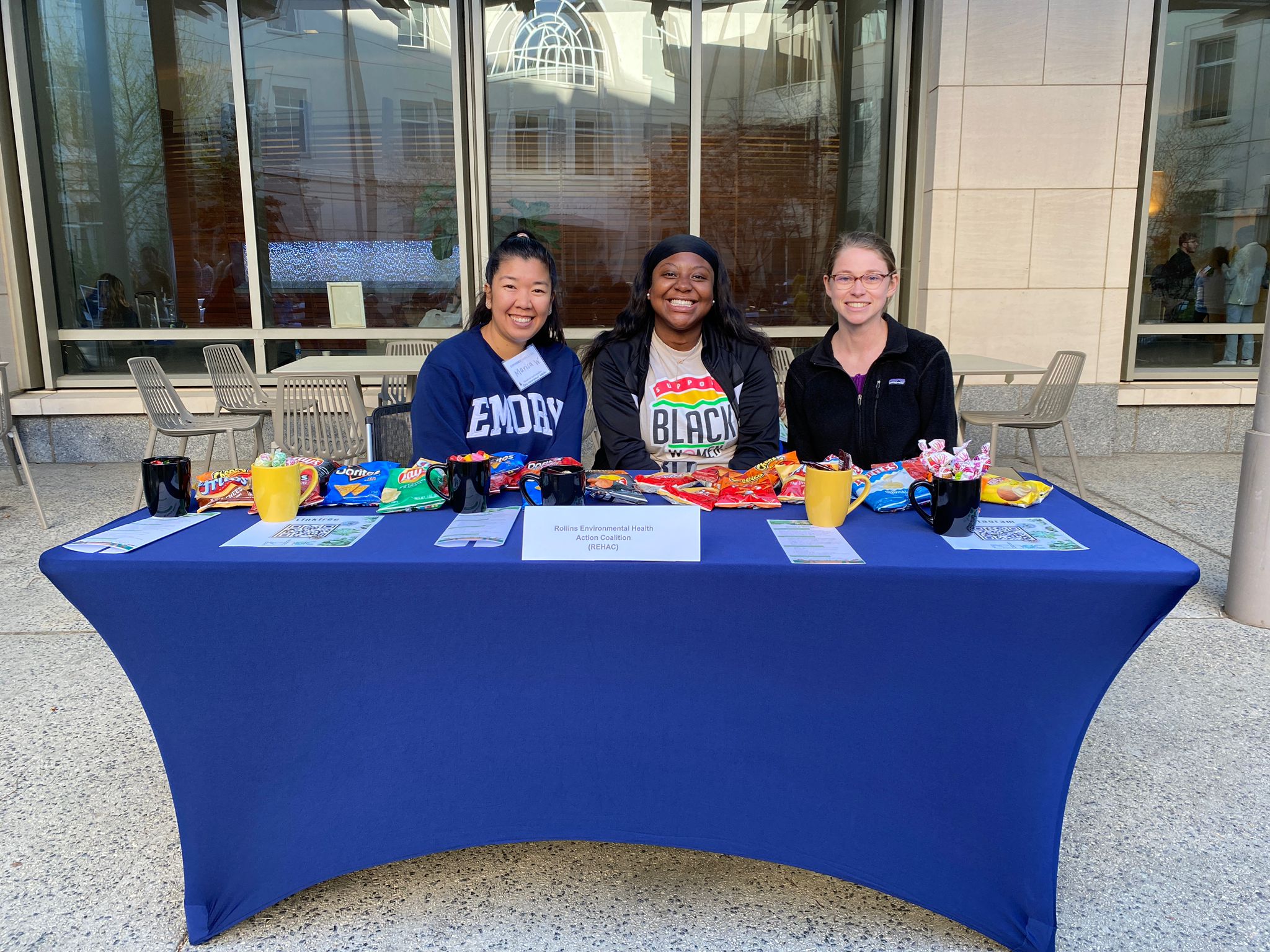 By Christa Ishimwe
The Rollins Environmental Health Action Coalition (REHAC) is a student organization that serves to promote a just and sustainable existence within Rollins. Through locally focused and collaborative environmental health education and action, REHAC advocates for reducing pollutants, pathogens, and physical hazards while promoting a harmonious relationship with nature. 
REHAC's executive board consists of five first-year MPH students: Marisa Wong (president), Alexandra Shoemaker (vice president), Margaret Olawoyin (sustainability coordinator), Caitlin Duffy (treasurer), and Veronica Joseph (social/communications chair). The organization's leadership team works in collaboration with multiple Rollins organizations involved in student life and environmental health to host sustainability initiatives and events all year. One such ongoing initiative is the weekly Spring Gardening Hour every Thursday from 1-2pm, in front of the Michael Street parking deck."It's is an opportunity for the Rollins community to educate ourselves on how to be sustainable, and the importance of growing things in your own backyard," says Olawoyin.
This engagement and partnership in sustainable living is exactly why REHAC was founded. "REHAC seeks to engage all Rollins students in environmental health education to inspire action and learn more about the communities that are involved in doing environmental work around Atlanta, and all the work that they themselves can do," says Wong.
In anticipation of Earth Day on April 22, REHAC has planned several events open to members of the Rollins community.
On Tuesday April 19, REHAC and the Gangarosa Department of Environmental Health will be hosting a Green Networking Night, where professionals in the field will be invited to come and network with students interested in the environmental field. The event will be held virtually on Zoom from 11:30am-1pm.
On Wednesday April 20,REHAC is partnering with the Student Engagement team and Scholars in Action to host a Fuel Up for Finals & FREEHAC event in the RSPH Courtyard. Students will be able to take a break from studying and learn how to make a terrarium, with snacks and refreshments.
On Thursday April 21, REHAC will be hosting a Sips & Succulents event where Rollins students are encouraged to bring reusable containers from home and learn how to plant succulents, while creating terrariums, unwinding with beverages, and connecting with nature before finals week. This event will happen take place from 5-7pm, at the Rollins Garden in front of the Michael Street parking deck. No green thumb necessary!
Through events like these, REHAC hopes to inspire Rollins students to build a connection with members of the Emory community and the City of Atlanta committed to developing sustainability and environmental justice initiatives. "We want REHAC to be at the forefront of advocacy for human and environmental health efforts while making lasting impacts and promoting an overall healthy well-being at Emory," says Olawoyin.
The organization's executive board also hopes that the return to in-person events will encourage more students to get involved in climate action at Rollins and beyond. Wong shares, "I would really hope for students to see that this organization is not only an opportunity to learn about issues related to environmental health, but also an opportunity to take action on these issues."
Follow REHAC on social media to learn about upcoming events and ways to engage with the student organization on Instagram via @rollins_rehac and/or monitor their Linktree for updates.